Trump's 'Two-for-One' Regulation Executive Order
Will the president's plan to reduce the cost and burden of rules work? And is it even necessary?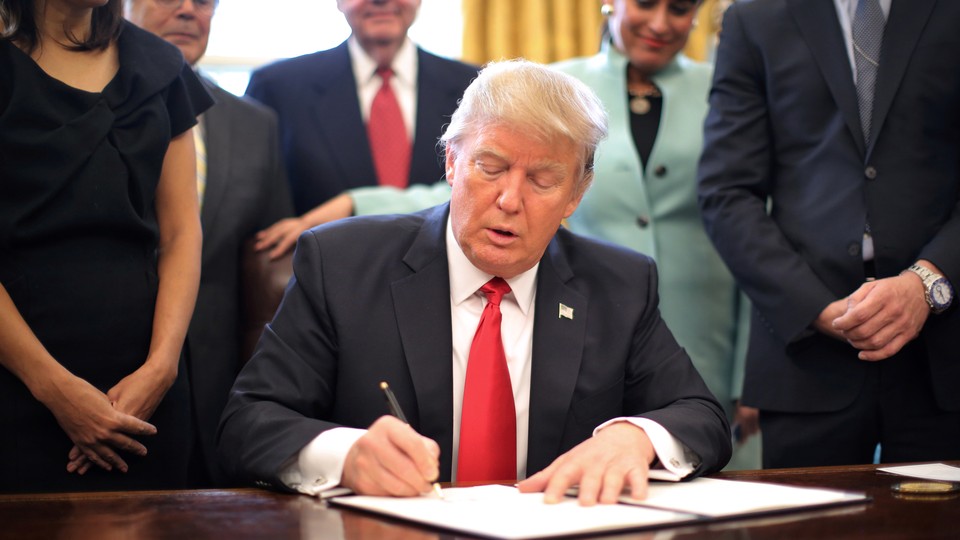 On Monday morning, President Donald Trump signed yet another executive order, following the 17 wide-ranging executive actions enacted during his first week in office. This latest order tackles yet another one of Trump's campaign talking points and will require federal agencies to cut two existing regulations for every new regulation they implement.
"If there's a new regulation, they have to knock out two. But it goes far beyond that, we're cutting regulations massively for small business and for large business," Trump said during the signing of the order, while surrounded by small-business leaders. He stressed that the new measure is meant to ease the opening and expansion of small businesses, and said that America's small businesses "have been treated very badly" and that it was "virtually impossible to expand your existing business because of regulations."
Trump has long stated that overregulation is hampering America's economic growth, and plans for decreasing regulation got top billing in his 100-day action plan, released in November. In past remarks, Trump has targeted specific regulations which he believes are hampering job growth, including the Waters of the U.S. Rule (which protects rivers and wetlands) and the EPA's Clean Power Plan—which limits carbon pollution from power plants and is currently on hold under a Supreme Court stay.
Last week, Trump met with business executives from some of America's largest companies and promised to cut regulation by 75 percent. He also ordered a freeze on all new and pending regulation at the federal level via a memorandum—save for emergencies relating to "health, safety, financial, or national security matters,"—until a Trump-appointed department head could review prospective regulations.
But the details of Monday's executive action aimed at reducing federal regulation are still vague. In the official language of the executive order, the reduction of regulation is tied to controlling costs, and excludes many regulations including: those concerning "a military, national security, or foreign affairs function of the United States"; regulations related to an agency's organization, management or personnel; or "other category of regulations exempted by the Director." Trump's executive order specifies that the incremental cost for new regulations for 2017 will be $0, and that agencies will be tasked with identifying which two regulations would be repealed if they choose to issue a new one.
In a working paper released in December, Marcus Peacock, a research professor at George Washington University's Regulatory Studies Center, explored what the ramifications of a "two-for-one" regulatory requirement might look like. Peacock states in the paper that such a measure raises a number of issues, including the definition of a "new" regulation, how offsets should be measure, the workload and enforcement involved, and  how likely it is that this policy would survive in future administrations. It's also questionable whether regulation has really hampered small businesses, or whether it stems from popular political rhetoric in times of economic uncertainty.
Already, the action has raised questions, with some speculating that this regulation reduction might just result in regulations that are longer and more complex. Some have questioned the logic of the "two-for-one" approach, and still others have taken to social media to suggest that the measure is reminiscent of tidy-guru Marie Kondo's minimalist philosophy.