Trump Takes Office, Kills TPP
The controversial trade deal put together by President Obama and supported by many Republicans falls under the weight of the new president's populism.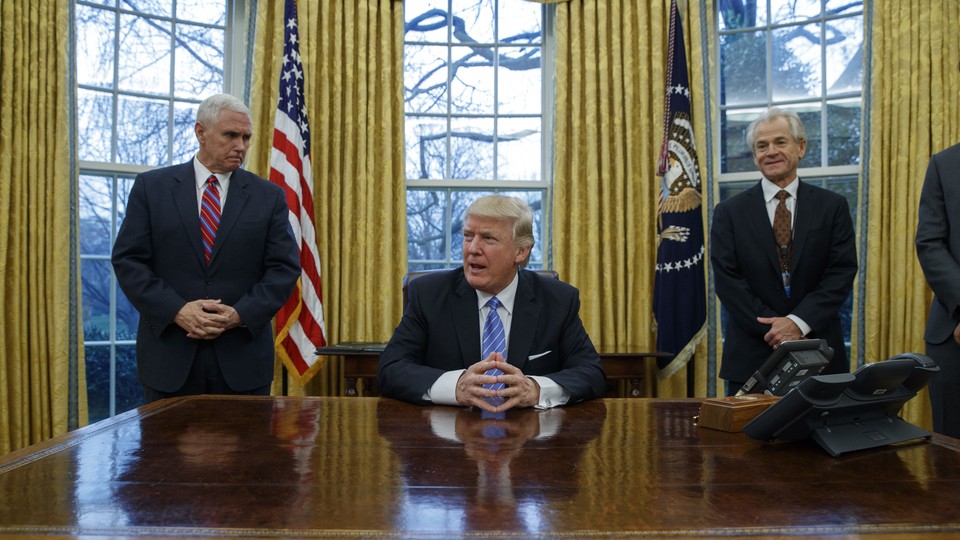 Updated January 23 at 3:40 p.m.
On Monday, President Trump followed through on his campaign promise to immediately pull the United States out of negotiations for the Trans-Pacific Partnership (TPP). The mammoth trade deal between the United States and 11 Pacific countries was the centerpiece of former President Obama's trade policy. With the TPP, Obama attempted to create an economic pivot toward Asia while also using the ties forged by the pact as a counterweight to China's rising economic growth and influence in Asia.
Though it enjoyed some popularity, particularly among the Republican party leadership, the TPP—along with NAFTA—was frequently derided by President Trump on the campaign trail. The deal, which had yet to be approved by Congress and would have slashed tariffs among the 12 nations, brought with it fears that it also would harm American workers and lead to the off-shoring of manufacturing jobs. "Not only will the TPP undermine our economy," Trump said in June, "but it will undermine our independence."
In dedicating one of his first actions as president to pulling the United States out of the agreement, Trump delivers on some of the "America First" economic populism he expressed in his inaugural speech on Friday. As he signed the order on Monday, the president declared that the move will be a "great thing for the American worker." Trump's decision also places him, however briefly, in common cause with some of his opponents. Senator Bernie Sanders was an outspoken critic of TPP throughout his presidential run. And Hillary Clinton also spoke out against the deal (albeit less frequently), but also had a more complicated relationship to the agreement since she helped outline the goals of the deal as secretary of state during President Obama's first term.
While Trump's decision was hardly surprising, the TPP's proponents will see lost potential in its swift end. The dashing of the trade pact, whose members comprised about 40 percent of the global economy, now leaves an opening for China to clinch a similar deal with its neighbors and further exert its influence in the Pacific Rim. (Indeed, in a statement on Monday afternoon, Senator John McCain characterized the withdrawal as "a serious mistake" for that very reason. ) Others suggest that the American middle-class workers that the deal might have harmed in some ways may nevertheless suffer without its enactment. As my colleague Alana Semuels wrote back in November, the trade pact "could have established stringent labor and environmental laws in other countries that could have driven up the cost of labor there, thus making American workers more appealing." That's just one possibility that will never come to be.