The Trump Administration's Not-So-Internal Monologue on How to Pay for the Wall
In one afternoon, the White House offered a confusing statement on Mexican imports, leading many to believe a massive tariff was coming, and then backed away.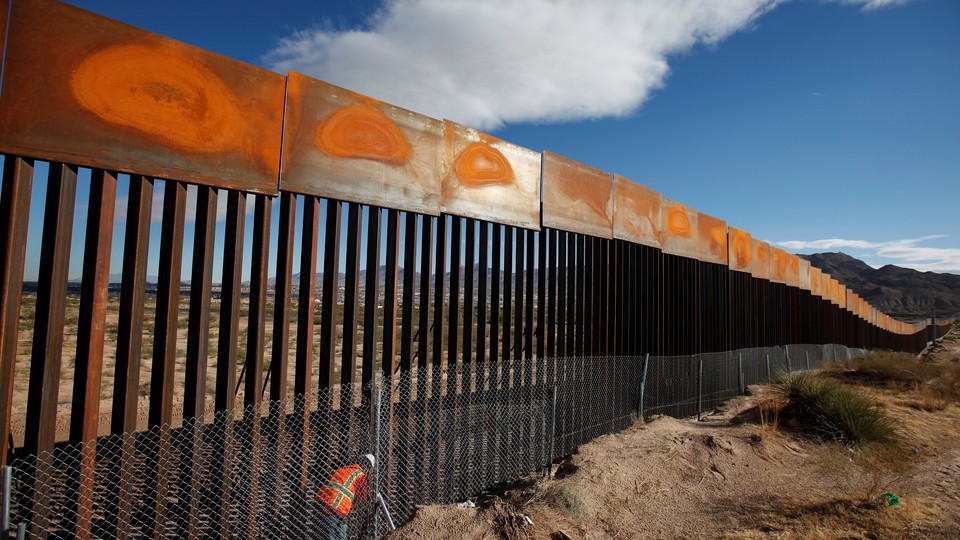 At around 3:30 PM on Thursday afternoon, one day after President Trump signed an executive order to build a border wall with Mexico, White House spokesman Sean Spicer told reporters on Air Force One that the administration had figured out a way to pay for it: A 20 percent tax on all Mexican imports—or so it initially seemed. "Right now, our country's policy is to tax exports and let imports flow freely in, which is ridiculous," Spicer said, adding that a tax would "easily pay for the wall" by providing $10 billion a year.
Stories were quickly filed, alerts went out. Declaring his love for Mexican beer, tequila, and margaritas, Senator Lindsey Graham tweeted his disapproval of the plan, citing the likelihood of higher prices. Others, noting that Mexico is the fourth-largest supplier of oil to the United States and its third-largest good trading partner registered alarm.
Within minutes, another theory emerged. Spicer hadn't actually meant an import tax on Mexican goods, but rather the border adjustment plan suggested by Republicans in Congress. In this plan, companies that import goods for sale in the United States (from Mexico or anywhere) would be taxed on those imports, and wouldn't be able to write off the cost of the imports as a business expense. But companies that exported American goods for sale abroad would be exempt from the tax. Republicans have floated the idea in an effort to offset the America's various trade deficits. Trump had alluded to such a plan earlier in the day at a Republican retreat in Philadelphia. "We're working on a tax reform bill that will reduce our trade deficits, increase American exports and will generate revenue from Mexico that will pay for the wall if we decide to go that route," said Trump. Stories took pains to note that Trump had actually dismissed the idea of border adjustment less than two weeks ago. "Anytime I hear border adjustment, I don't love it," Trump told The Wall Street Journal on January 13. "Because usually it means we're going to get adjusted into a bad deal. That's what happens." At 4:25 on Thursday Senator John Cornyn tweeted out his disapproval over the border adjustment plan's "unanswered questions."
And then, just after 4:30, Spicer clarified: "BREAKING: Spicer tells me 20% tax on Mexican imports is NOT a policy proposal, but example of options how to pay for wall," Peter Alexander of NBC News tweeted. Stories were filed. Headlines were corrected. And, once again, alerts went out.