Scenes From the Inauguration: Trump Voters on the Economy
"I think he will do well because he has a business mindset. He has no loyalty to politicians."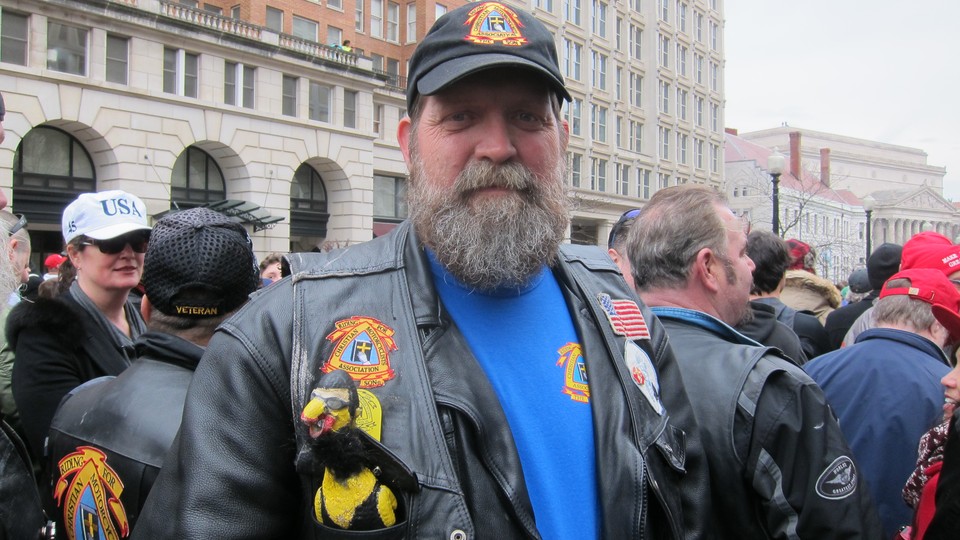 Trump supporters from across the country flew, drove, and rode motorcycles to Washington, D.C. to witness the presidential inauguration of Donald Trump on Friday. They waited in line for hours to pass through security checkpoints to view the ceremony from the National Mall. Most seemed certain that having a businessman as president would be the best thing for the American economy, and were optimistic when they talked to me about how they expect their lives to change under the new administration.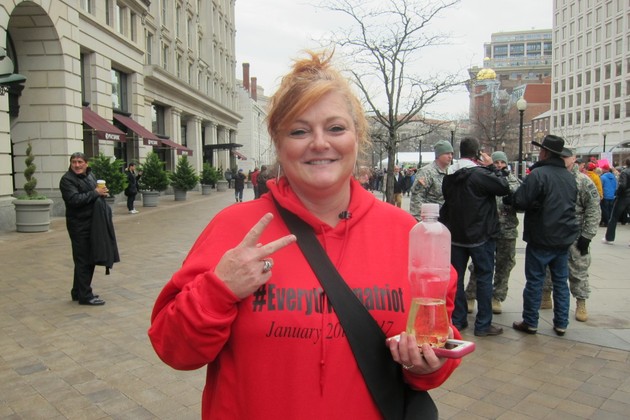 Tracy Brown considers herself the face of "middle-class America." The 49-year-old medical-claims auditor drove from South Carolina to Washington, D.C., to see the man she voted for get sworn in as the next president. "The economy sucks and Trump understands that we are being raped by China and Japan and that taxes are astronomical. I'm done with politicians right now. We need a businessman to make good deals with other countries," she told me. "My husband and I work 70 to 80 hours a week and we make good money, but we need a break, tax-wise. Middle-class America is carrying this country."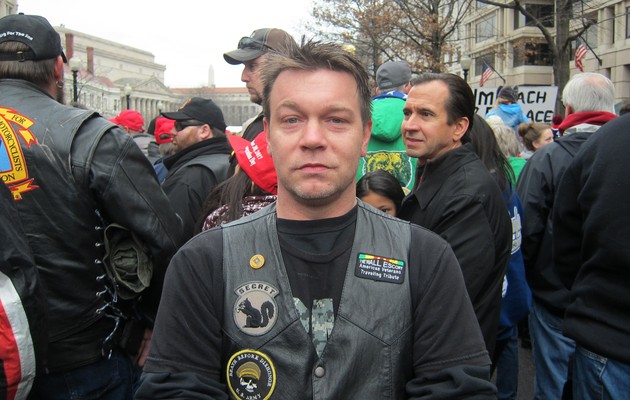 Chad Balser, 37, has been a fan of Donald Trump since childhood. "To me he epitomizes the American Dream and what is possible for anyone who is willing to work hard." Balser drove to the nation's capital from his hometown of Dayton, Ohio, a former auto-manufacturing hub that has lost thousands of factory jobs in recent decades. Balser, a disabled U.S. Army veteran, has seen firsthand how globalization has left many of his friends and relatives behind, he said. "I've noticed not only jobs disappearing and people getting laid off, but whole companies vanishing," Balser, who works in information technology, told me. "[Trump] has already changed my future because the economic boom is going to be good for small businesses, so I've decided to open my own business building hot-rod cars. It's something I've always wanted to do, but now with him as president, it felt like a sign that I should go for it."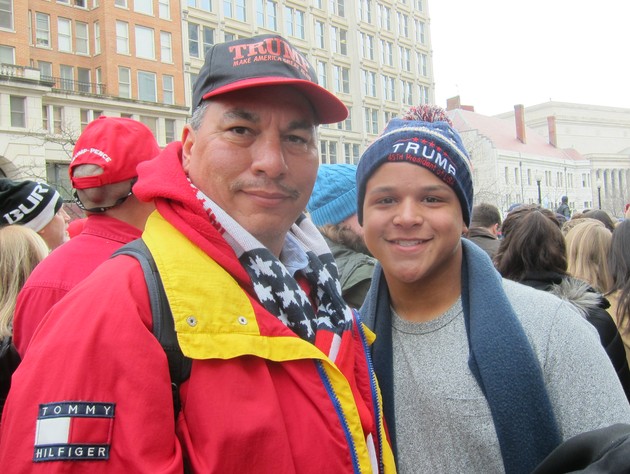 John Showers and his 16-year-old son Kaleb, from Bradenton, Florida, said they were excited to see a successful businessman take lead of the country. Like many other Trump supporters I spoke to, Showers said he believes Trump will keep jobs in the United States, and thinks that the 45th president has already started to do so by calling out companies like Carrier and Toyota for their plans to open factories in Mexico. "I think he will do well because he has a business mindset. He has no loyalty to politicians, so he is going to do what's best for the country, not what politicians want him to do," Showers said.  "We have a lot of debt in this country and he will address that ... In our area there is a lot of suffering because of the jobs that left—the electronics companies and clothing companies that moved overseas. If he can bring jobs back to the U.S. that will be good for us."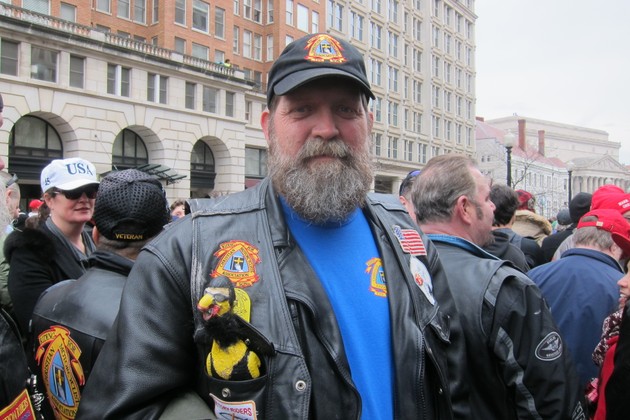 Beau "Maddog" Maddox, a retired iron welder, is slightly less optimistic that Donald Trump will be able to turn around the economy. "I think he will be able to do some good, but it may not happen during his presidency. Maybe we'll see an impact in eight years or something. I don't think he can do that much ... When I was an iron worker, luckily I had job skills that transferred even when companies moved away." Maddox traveled to Washington with fellow bikers as members of the Christian Motorcyclists Association, to watch as Trump took the oath of office.