Trump's Promises to Corporate Leaders: Lower Taxes and Fewer Regulations
In a meeting with 12 executives, the president committed to making good on his campaign pledges—and asked the heads of American business for their help.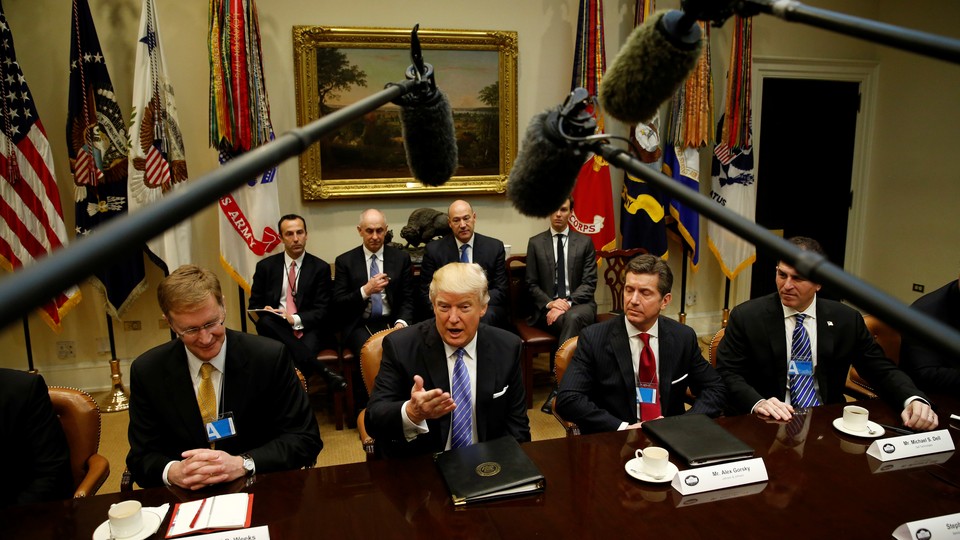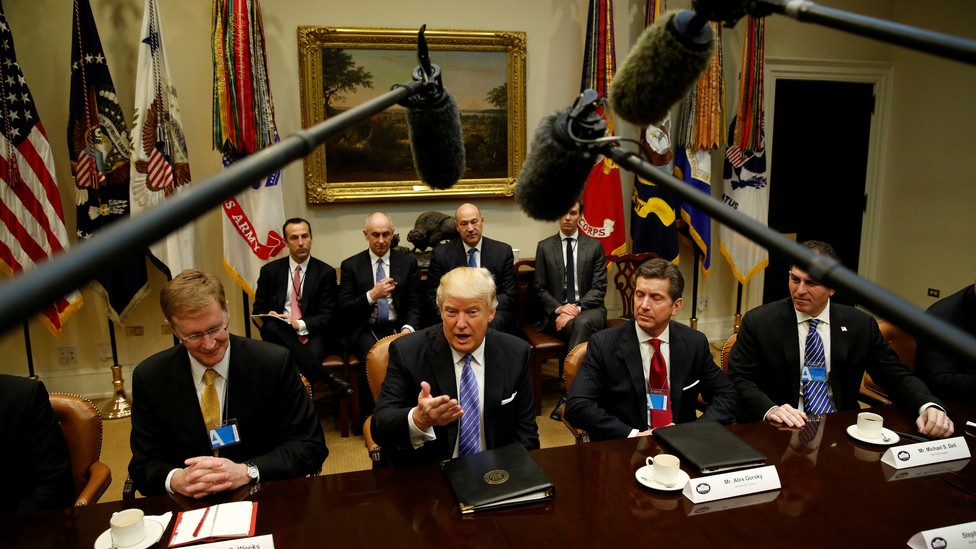 On Monday morning, President Trump met with 12 business executives from some of America's largest companies—including Johnson & Johnson, Ford, Dell, U.S. Steel, and Dow Chemical—for a "listening session." In his opening remarks, Trump told senior executives that significant cuts to both corporate taxes and regulations—promises he made for the duration of his campaign—were on the horizon. "I think we can cut regulation by 75 percent, maybe more," he said. As for the reduction of the corporate income tax rate—currently 35 percent at the federal level—Trump said "we're trying to get it down to anywhere from 15 to 20 percent."
But these pledges to reduce taxes and regulation on American businesses came with a now familiar caveat: "When you have a company here, you have a plant here," Trump told business leaders, warning that in order to partake in a less regulated private sector, businesses would have to keep operations, and jobs, on domestic soil. "We want to make our products here," he said.
Continuing a position he's become well-known for on Twitter, Trump said that American companies that outsourced to foreign countries would see a "major border tax" on incoming products , "which I think is fair," he added. Trump did not specify what that border-tax rate might be, but he believes that the incentives highlighted during today's meetings will encourage companies to keep production in the U.S., a goal that he has stated continuously since his initial bid for the presidency.
Both measures, a reduction in the corporate tax rate as well as an import tax or tariff, would require approval from Congress. In addition, Trump has reportedly charged the group at today's meeting with formulating a plan that would stimulate the American manufacturing sector. Andrew Liveris, the CEO of Dow Chemical, told reporters after the meeting that Trump gave the group 30 days to complete the task.
Neither the meeting nor the pledges made by the president are surprising: Changes to regulations and taxes were among the priorities Trump announced for his first 100 days in office. In those plans, Trump described a measure where two existing federal regulations would be eliminated for every new federal regulation that was implemented. He also described a reduction of the corporate federal-income tax rate to 15 percent.
According to Reuters, Trump's meetings today with the stakeholders of American businesses aren't over yet. He is scheduled to meet with the leaders of construction and metal-working unions this afternoon.