Why Are Banks Doing So Well Following Trump's Win?
Analysts are calling it the "Trump Bump." Will it last?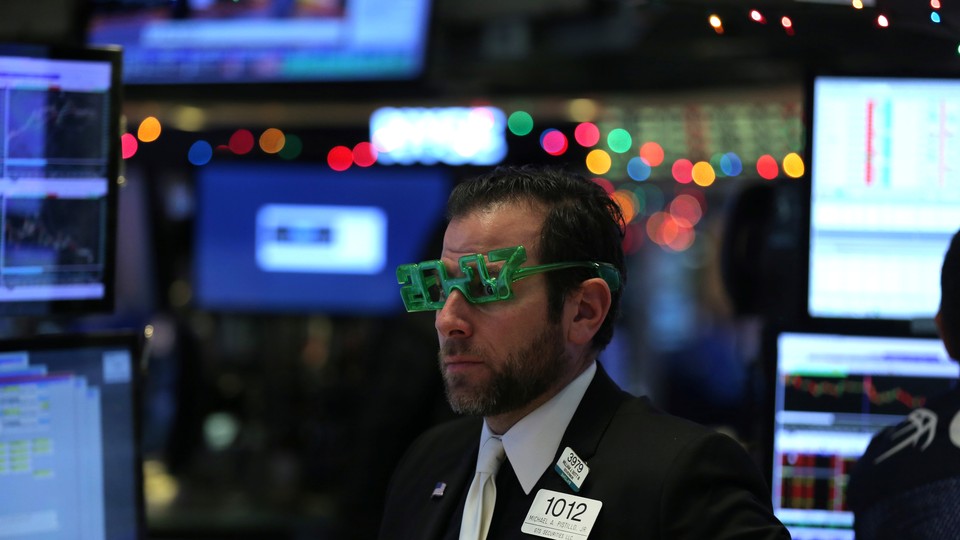 Despite anticipation that the so-called Trump rally in the markets would continue through the close of 2016, most analysts were waiting for January's bank-earnings reports before declaring the "Trump bump" official. Now those reports are in, and it's clear: Several major banks are enjoying large upticks in earnings in the wake of the election—at least for now.
On Wednesday, Goldman Sachs reported $7.1 billion in earnings for 2016 while Citigroup reported earnings of $14.9 billion—each due in part to a double-digit increase in trading revenue and with particularly strong fourth-quarter results. Earlier in the month, Bank of America reported that its fourth-quarter profit climbed 48 percent from the previous year, and JP Morgan reported record earnings of $24.7 billion for 2016. Even Wells Fargo, with its massive fake-account scandal and missed earnings expectations, enjoyed some gains from the post-election rally. These earnings bumps are partly because of the frenzy of trading that followed the election.
The relationship between trading and investor confidence is an important one. Trading revenue comes from banks buying securities then selling them to clients at a higher price. In order to boost those revenues, investors have to feel confident that its a good time to dabble in the markets. Higher bank profits help to encourage greater confidence from traders and investors, who believe that if the bank is making money, they can too. All of these parties seem to be getting a boost ahead of Trump's official start date.
According to a new report from UBS Investor Watch, a quarterly survey of over 2,000 investors with at least $1 million in assets, investor optimism has been soaring since Trump got elected. The report tracked investors for the last six months to measure their shifting mindset before and after the 2016 election and found that, in general, the end of the campaign and the election of a new president has made many feel optimistic about the future of the markets.
"It was a highly unconventional election cycle and election year and now that uncertainty is behind us. That brings a sense of relief," said Sameer Aurora, the lead researcher of the report for UBS Wealth Management Americas. Aurora says that driving the increase in confidence has been investors desire for political change, something they believe Trump will bring to Washington. They also believe that the new administration will make for a friendlier business and regulatory environment—which could also help boost earnings.
"The numbers have moved up significantly," said Aurora regarding investor optimism for both the markets and the economy overall. Between October and December, the expectations of market returns for the investors surveyed jumped from 25 percent to 68 percent after the election. Moreover, 55 percent are now actively looking for investment opportunities and 42 percent are looking to increase market investments. "The 55 percent number is a big number … even the 42 percent is a big jump from before the election where only 9 percent of the investor base were looking to increase investment in the stock market. The contrast is pretty drastic," said Aurora.
Not everyone is as euphoric. According to the UBS report, investors who supported Hillary Clinton remain much less optimistic about the economy, and worry about Trump's conflicts of interest and unpredictability. They also think that the post-election bump is only momentary: Only 44 percent of investors who supported Clinton believe the Trump rally will continue, as opposed to 90 percent for Trump supporters.
There's no clear indication of whether or not the so-called Trump rally will continue through the first quarter of 2017, in fact, some analysts are already predicting that the Trump rally might take a downward turn now that Trump is actually going to take office. Still, some are optimistic, and not without reason: Marketwatch reports that this particular stock market rally is the biggest election-to-inauguration gain since Bill Clinton's second term in 1996. And while the endurance of the Trump rally has yet to be cemented, some of Trump's stated policies, such as lower taxes and infrastructure stimulus, would likely benefit investors.
There are potential downsides for investors when looking ahead to the early days of the Trump administration. The president-elect doesn't seem shy about comments that could shake up global markets, such as his recent comment about the dollar being too strong. Other comments Trump has made about levying huge import taxes could also cause huge economic shifts. During the campaign, Trump himself warned of a stock market bubble, though he blames the Fed's monetary policy for the risk. The market rally may simply be a reaction to the end of the presidential election and the uncertainty implicit in picking a new leader. But for now, banks—and their investors—are reaping the benefits.