Why Russian Banks Have an Interest in Washington
The country's two largest state-run banks have been lobbying for relief from sanctions imposed in 2014.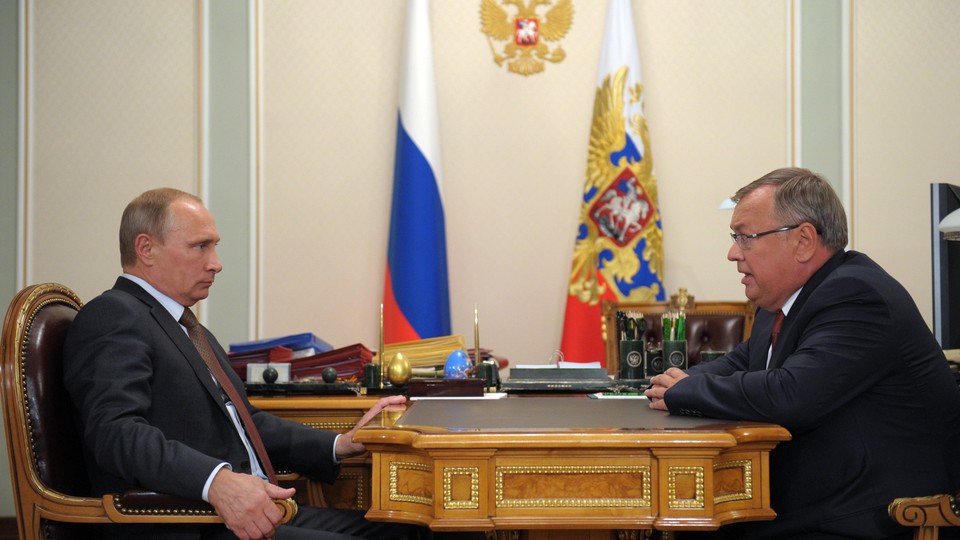 In the debate over whether to lift U.S. sanctions against Russia, at least one player has a clear stake in the outcome: Russia's state-run banks. Sberbank and VTB Group—Russia's two largest financial institutions—have been lobbying Congress to ease sanctions levied on the banks in 2014 as punishment for the country's annexation of Ukraine's Crimean peninsula. The sanctions prevent the banks—and therefore the Russian government, which is the majority shareholder for both—from raising money on Wall Street. American financial institutions are barred from trading stocks and equity with the banks or providing long-term financing.
Last year, Sberbank and VTB collectively spent hundreds of thousands of dollars lobbying against U.S. sanctions, according to lobbying disclosure reports. Sberbank, Russia's largest bank, paid a total of $425,000 to two Washington, D.C., firms last year in order to lobby Congress, the State Department, and the Department of Commerce for "possible ways to address sanctions relief," according to all of the disclosures. VTB Group, the country's second-largest bank, hired a different firm in May, paying them $17,500 a month for lobbying related to U.S. sanctions, according to a copy of the contract submitted to the Department of Justice under the Federal Foreign Agent Registration Act (FARA), which lobbyists are required to submit when they do work for foreign clients.
It's not unusual for foreign governments and corporations to spend this much money lobbying Congress. But it's a sign that the economic sanctions put in place to punish Russia for invading Ukraine may be hurting the country more than president Vladimir Putin has let on. And it underscores what Russia could gain from forging a friendlier relationship with the incoming administration. Earlier this month, President Donald Trump said he would consider lifting the sanctions if Putin agreed to help the United States fight terrorists.
The two banks play an important role in Russia's economy and government. VTB, for example, finances many Russian government programs and its defense industry, such as weapons manufacturers, says Sergey Aleksashenko, a senior fellow at the Brookings Institution who previously worked as a deputy finance minister for the Russian Federation. He said it's not surprising that the bank hired a lobbyist in Washington. "VTB intends to be an international bank, and to be an international bank you have to do business in the financial capitals of the world," says Aleksashenko.
According to the filing with the Justice Department, the Russian government is VTB's majority shareholder, owning about 61 percent of voting shares. It also says that the Russian government gave the bank a $2.6 billion bailout over the course of 2014 and 2015, right around the time that the country's activities on Wall St. became hampered by the U.S. sanctions. More than 50 percent of Sberbank's shares are owned by the Russian government.
In the past decade, VTB bank has been working hard to expand beyond Russia's borders in order to become a global investment bank. According to Forbes, VTB bank executives saw an opportunity to move into the United States during the financial crisis and the looming collapse of Wall Street's big banks. In 2008, VTB launched its investment arm, VTB Capital, and opened offices in Dubai, London, Singapore, and Hong Kong. In 2011, VTB got its license to trade on the U.S. stock market and opened an office in New York. The bank's executives at the time believed they'd have an advantage over American banks, which were under intense regulatory scrutiny due to the new Dodd-Frank law. VTB Capital did well in those early years, and helped raise $90.7 billion in debt financing and $11.7 billion in equity for private and state-run Russian companies, according to Forbes.
When sanctions hit, major Russian banks were shut off from most Western investors. Panic over whether Sberbank would block transactions led customers to withdraw money en masse, though Sberbank survived without the needing a bailout, according to the Financial Times. Aleksashenko has been researching the impact of U.S. sanctions on the Russian economy, and says they played "an important, but not decisive role," in the following collapse of the Russian ruble, according to a report he published last month. The Russian economy had relied heavily on foreign borrowing, so when sanctions prevented banks from refinancing, they were suddenly stuck having to repay old loans without new capital. In May, the Russian government was unable to sell its Eurobonds in Western markets, since both European and American banks were worried about possibly violating sanctions.
A spokeswoman for VTB in Moscow declined to give details about its lobbying activity in Washington, and instead said in a statement: "The lobbyists' objective is to promote VTB Group's business interests in the United States. Our work with them is not related to sanctions." When I mentioned that the lobbying contract specifically highlights sanctions, the press office maintained that the work the firm is doing is not related to that. The lobbyist hired by the bank, Mike Manatos of Manatos & Manatos firm, did not respond to a request for comment for this article, though he filed two Congressional lobbying disclosure forms in 2016 for work he did on behalf of VTB. Both forms said that the work was related to sanctions against Russian banks.
The press office for Sberbank in Russia also declined to discuss its lobbying activity, and responded in an email that "this kind of engagement is a standard business practice."
Prior to the precipitous drop in oil prices that started in October of 2014, the rising price of oil had helped the Russian economy stabilize, and Trump's presidential victory gave an immediate boost to Russian stocks. As president, Trump can unilaterally lift U.S. sanctions against Russia, though some members of Congress are trying to prevent that. On Sunday, Democratic Senator Chuck Schumer announced plans to introduce a bipartisan bill that will make the sanctions part of the law, not merely an executive order, therefore blocking Trump from lifting sanctions on his own. Several influential Republicans, including John McCain and Marco Rubio, are joining forces with Democrats on this issue—a sign that the two parties have a bit of common ground when it comes to punishing Russia for its international incursions.