President Trump, Job Creator?
Companies have announced a spate of new domestic investments and jobs in recent weeks. And the new president has taken credit.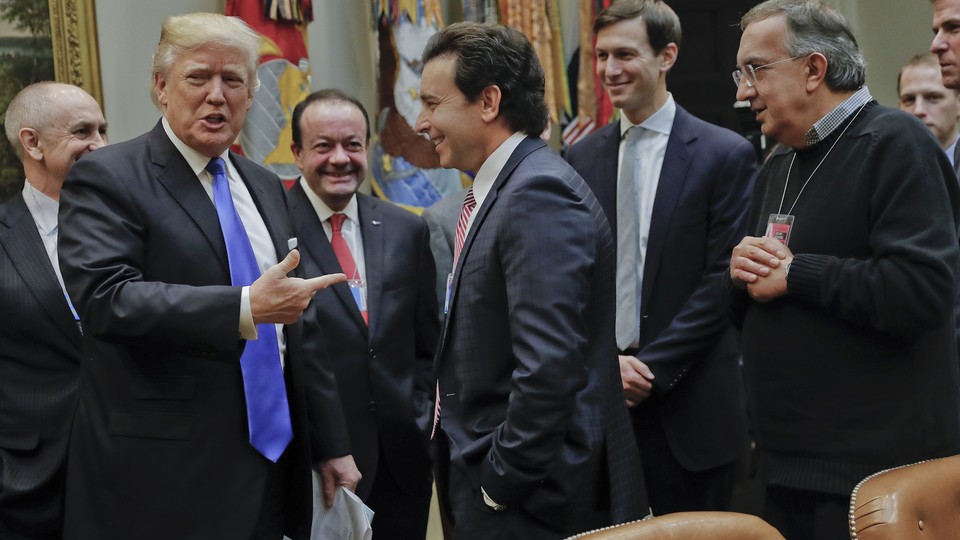 There has been no shortage of companies talking up their intentions to expand their U.S. operations and create more jobs on U.S. soil as of late. Ford said it would drop plans for a new plant in Mexico and would add 700 jobs at a plant in Michigan. Lockheed pledged 1,800 new jobs in Fort Worth. Amazon said it would create more than 100,000 new full-time jobs over the next 18 months. IBM said it would add 25,000 jobs over the next four years. Walmart has said it will create 10,000 jobs this year.
Other companies played up their U.S. investments. Hyundai announced it would invest $3.1 billion over five years in the United States. General Motors pledged $1 billion investment in new manufacturing facilities. Bayer and Monsanto, which are trying to merge, said that if their merger was approved, they would create several thousand new jobs after investing $8 billion in the United States.
President Trump has claimed credit for many of those investments, both before and after his inauguration.
"Totally biased @NBCNews went out of its way to say that the big announcement from Ford, G.M., Lockheed & others that jobs are coming back...to the U.S., but had nothing to do with TRUMP, is more FAKE NEWS. Ask top CEO's of those companies for real facts. Came back because of me!" Trump tweeted on January 18, two days before his inauguration.
It's true that some of Trump's proposed policies could have very real effects on businesses: he has pledged high tariffs on products that are sold in the U.S. but manufactured overseas, which could make it cost prohibitive for companies to locate their plants in Mexico or China. He also says he plans to cut taxes and slash regulations in the U.S., making it cheaper to do business here.
But it's unlikely that those proposed policies have had much of an effect on U.S. business, yet. While it would be nice if Trump were a magician who could single handedly revive American manufacturing and convince companies across the world to bring back jobs from overseas, few, if any, of the decisions by companies to locate here can be attributed solely to Trump. Indeed, many were made before he was even elected.
Companies have been pledging to locate plants and investment in the U.S. going back to the aftermath of the Great Recession, as the country's economy was just beginning to recover, starting around 2009. General Electric moved production of hot-water heaters from China to Kentucky in 2012. Caterpillar said it would consolidate its Japanese heavy equipment manufacturing and open a new plant in the United States in 2012. General Motors said it was moving production of the Cadillac SRX from Mexico to Tennessee in 2014. And Walmart got a great deal of attention when in 2013 it said it would buy $50 billion of American-made products over the next 10 years, stimulating domestic manufacturing. President Obama even bragged about some of the victories, referring in his 2012 State of the Union to a decision by Master Lock to bring some jobs back from overseas.
"The tack that companies are taking is nothing new," Scott Paul, the president of the Alliance for American Manufacturing, told me. "There's no doubt that companies see a benefit to making jobs and investment announcements about Made in the U.S.A."
Indeed, automakers have been making billions of dollars of investments in the United States since the recession, according to Kristin Dziczek, an analyst at the Center for Automotive Research. Out of the $116.5 billion in investments automakers have announced since January of 2009, she said, 73 percent has come to the United States. "This is not an industry that turns on a dime. It's a big, heavy, ship," she said.
Companies have to get capital allocation approved at the highest level of the corporation, and there has to be a great deal of product development before new plants are planned, Dziczek said. Companies have to negotiate with labor officials and with state officials and all of this takes a long time. "Nothing moves fast," she said
Indeed, a Hyundai spokesman, for instance, told The Atlantic that the decision to invest $3.1 billion "was made some time ago separate of outside inputs." It was "announced near the start of the year as usual," he said.
Similarly, in a January 17 press release, General Motors emphasized that its $1 billion in additional manufacturing followed $2.9 billion announced in 2016, and $21 billion the company has invested in the U.S. since 2009. "GM's announcement is part of the company's increased focus on overall efficiency over the last four years," the company said.
Still, Trump touted Ford's decision to scrap plans to build a $1.6 billion plant in Mexico, and to instead ramp up production of electric cars in Michigan. "Thank you to Ford for scrapping a new plant in Mexico and creating 700 new jobs in the U.S. This is just the beginning - much more to follow," he wrote on January 4. But the Ford decision had more to do with market forces, Dziczek said. Ford makes small cars in Mexico, and U.S. consumers are buying big cars and trucks now that gas prices are low again. Indeed Ford is continuing to build the Ford Focus, a small car, at an existing plant in Mexico. And it's making its investment in the U.S. because that's where it makes electric cars, and it is seeing more demand for electric cars. Indeed, Ford's CEO Mark Fields told Neil Cavuto on the Fox Business Network that the company has "seen decreasing demand here in North America for small cars. We simply don't need the capacity anymore," Fields said, about the Mexico plant.
"This has nothing to do with all of the criticism you got from Donald Trump?" Cavuto asked. "We're doing this decision based on what's right for our business," Fields answered.
And Amazon has been on a job-creation tear over the last five years. An Amazon spokesman told The Atlantic that the new 100,000 full-time jobs announced in early January are in addition to the 150,000 created over the last five years. According to the Progressive Policy Institute, Amazon has been the fastest U.S. company to reach 300,000 jobs. That was done independently of Trump.
Of course, there could be good reasons that companies may be especially emphasizing their U.S. investments now. Bayer and Monsanto, for instance, want approval for their merger, and they met with Trump this month to advocate for such approval. It's no coincidence, then, that Bayer announced after the meeting that it would create jobs if given permission for the merger. When The Atlantic contacted Bayer about how many jobs it would create, and when those decisions had been made, Bayer instead provided a statement about the value of the merger.  "The United States is a global leader in agriculture, and the combination of Bayer-Monsanto will underscore that role and ensure the United States retains a pre-eminent position as the anchor of the industry," the statement said. "The combined company expects to spend approximately $16 billion for R&D in agriculture over the next six years with at least half of this investment made in the United States." The company did not respond to follow-up questions.
Although Ford's decision was made because of market forces, the company tried to spin it as a vote of support for Trump—calling it a "vote of confidence" in the new administration—seemingly to earn some brownie points with the new president.
For Lockheed Martin, the story is similar. In December, Trump lobbed a thinly veiled threat at them on Twitter. "Based on the tremendous cost and cost overruns of the Lockheed Martin F-35, I have asked Boeing to price out a comparable F-18 Super Hornet!" he tweeted. The company responded: The CEO of Lockheed, Marillyn Hewson, met with Trump in early January, and the company issued a press release soon after saying that it was "close to a deal" on a new contract that reduced the price of the F-35 program. The deal, the company said, would create 1,800 jobs in Fort Worth. Yet Mike Rein, a spokesman for Lockheed's F-35 program, told The Atlantic that the company has planned for some time to add jobs in the F-35 program as it increases the number of F-35 jets it makes, from 40 jets a year to 160. In 2015, Lockheed knew that it was going to ramp up production of F-35 jets. "Over the next couple of years, we'll probably add another 1,000 employees to our production line," Lorraine Martin, Lockheed's general manager for the F-35 program, told the Dallas News in 2015. It didn't hurt Lockheed to announce this again after Hewson's meeting with Trump, though. Lockheed depends on the government for more than 70 percent of its $46 billion in revenue, according to the New York Times.
In some ways, this sort of government-targeted PR is nothing new. "Companies have made business announcements in Washington for decades to increase the visibility of their good news and encourage more supportive public policies and show lawmakers their contributions to the nation," Bruce P. Mehlman, a Washington lobbyist whose firms include Walmart and Fiat Chrysler, told The Atlantic.
But all that is not to say that Trump could not boost American jobs, merely that it's too early for him to have done so. Soon, they will likely begin responding to his policies, or even just the possibility of those policies. Companies are cautious, Paul, of the Alliance for American Manufacturing said, and won't want to spend a lot of money on new investments for plants overseas if they believe that Trump is going to levy a border tariff or otherwise make it more expensive to make things in Mexico. Yet they also face pressure to do what makes the most money, and it may be difficult for Trump to get them to ignore shareholders. "As long as you have this quarterly-earnings pressure and this mentality on Wall Street that all production needs to be offshored, that is a large countervailing force that's hard to overcome," Paul said.
Companies exist, after all, by and large to make money, and they're going to do whatever is good for business. Right now, that may mean playing up previously planned investments to get on the good side of the new administration. But if Trump makes good on his promises, it's possible that could mean even bigger changes.