Obamacare Hasn't Just Made People Healthier, but More Financially Secure
And this is especially true for women.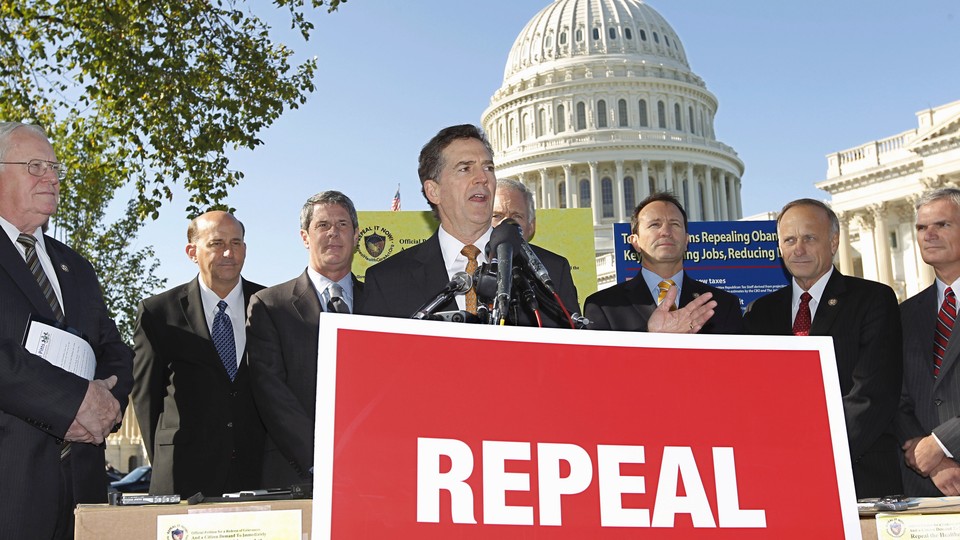 Last week, Republicans in Congress took the first steps of many to fulfill their promise to repeal the Affordable Care Act. In the early hours of Thursday morning, GOP senators voted down amendments protecting some of the ACA's most popular provisions, including those that allowed young people to be covered by their parents' insurance until the age of 26, prevented women from being charged more than men for coverage because of their gender, lowered drug costs, and protected individuals with pre-existing conditions. That vote—and a similar vote in the House of Representatives on Friday—cleared the way for a budget-reconciliation process that would repeal the health law that has extended care to more than 20 million Americans.
As is widely discussed, the health impacts of repeal are potentially disastrous. But less well understood are the economic consequences, which are significant too—especially for women. In the estimation of the nonpartisan Congressional Budget Office, the proposed repeal of key portions of the ACA could cause individual health-insurance premiums to rise 20 to 25 percent in the first year, and to double by 2026.
Health and economic security are often regarded as independent issues, but they are closely intertwined, for men and women alike. Indeed, when President Obama originally advocated for the ACA, he did so in the context of the 2008 economic crisis.
In the wake of the Great Recession, 9 million Americans—approximately one in every five individuals with private insurance—lost their coverage as the ranks of the uninsured neared 50 million. Health-care costs drove many families into debt and prevented others from ever receiving care. In 2013, before some of the key elements of the ACA were implemented, more than one in five American adults had trouble paying their medical bills, and nearly 40 percent of uninsured adults had outstanding medical bills. Sixty-one percent of them reported that the reason they lacked coverage was that they lost their job or costs were prohibitive.
The linked problems of health insecurity and economic insecurity were particularly burdensome for women. Before the ACA, women were more likely than men to forgo care or not fill prescriptions because of concerns about cost, and 28 percent of women had difficulties paying their medical bills, versus 19 percent of men. Moreover, compared to that overall rate of 28 percent, 52 percent of uninsured women and 44 percent of low-income women reported having trouble paying their bills. There are numerous reasons that women—particularly women of color and immigrant women—faced (and face) such challenges in getting care: persistent race- and gender-based wage and wealth gaps, the predominance of women in low-wage work without benefits, and the fact that more women live in poverty than men.
The ACA was also an acknowledgement of the gender disparities built into the health system that preceded it. Prior to the passage of the ACA, it was legal and commonplace for insurers to charge women higher premiums than men for the exact same health coverage. In a 2012 study by the National Women's Law Center (NWLC), nearly a third of the plans examined charged 25- and 40-year-old women at least 30 percent more than men for the same coverage. This "gender rating"—which the ACA made illegal—is estimated to have cost women approximately $1 billion a year. This inequity is particularly troubling when considering women on average are paid and save less, and therefore have less disposable income to spend on health coverage and care.
Not only were many women paying more for insurance before the ACA, but they were paying more for incomplete coverage. Insurers routinely denied women coverage for pre-existing conditions such as pregnancy and childbirth. Many plans did not provide coverage for pregnancy, and uninsured women who became pregnant often found themselves with few options. According to the NWLC, in states that did not mandate maternity coverage, only 6 percent of the individual-market health plans available to a 30-year-old woman provided maternity coverage.
The ACA banned practices like these, and brought about much higher insurance rates for women. In 2013, before the ACA's full implementation, 18 percent of American women were uninsured, compared to 11 percent today. (The comparable figures for the general population were roughly the same.) As a result of the law, 8.7 million women gained maternity coverage, 48.5 million women with private insurance had access to preventive services at no cost, and women can no longer be charged higher premiums because of pre-existing conditions. Moreover, the number of women who filled their birth-control prescriptions without co-pays grew from 1.3 million to 5.1 million. As a result, women collectively saved more than $483 million in out-of-pocket birth-control costs, an average of $269 per person.
The same budget-reconciliation process that will likely repeal the ACA is also probably going to lead to the elimination of federal funding for Planned Parenthood, which has played a big role in serving those who have gained coverage through the ACA and those who are still falling through its gaps. Planned Parenthood is a backbone of the U.S. health infrastructure and its provision of high-quality, comprehensive family-planning services has improved the health and economic security of its patients and their families. After all, women consistently report that access to reproductive health care has enabled them to advance their education, get and keep a job, and take care of themselves and their families financially. Repealing the ACA while defunding Planned Parenthood would have a particularly devastating impact on poor women, women of color, and immigrant women, who are more likely to rely on safety-net services and are among the most threatened by some of the policies promised by Congress and the incoming administration.
Many may still consider premiums, co-pays, and deductibles too high, but the ACA edged American health care closer to being gender-equitable. All of the proposals for ACA replacements so far would likely erase these protections and the gains they brought for women around the country.