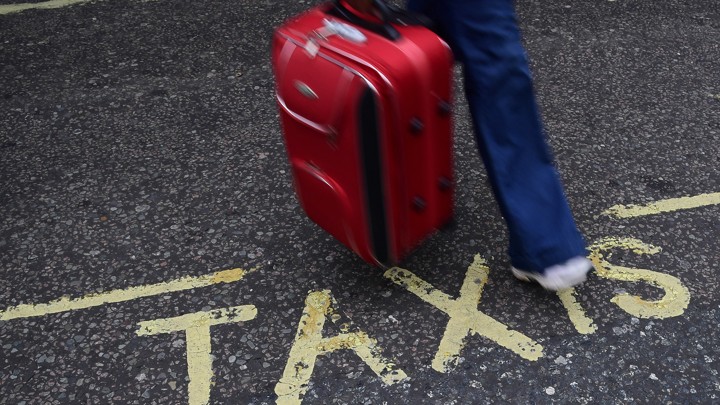 On Saturday, as demonstrators gathered at John F. Kennedy International Airport to protest President Trump's immigration ban, the New York Taxi Workers Alliance (NYTWA) released a statement condemning the administration's controversial executive order. "By sanctioning bigotry with his unconstitutional and inhumane executive order banning Muslim refugees from seven countries, the president is putting professional drivers in more danger than they have been in any time since 9/11 when hate crimes against immigrants skyrocketed," it read.
Later, the NYTWA directed its "largely Muslim," 19,000 members to participate in a one-hour strike at JFK in solidarity with the protesters. With thousands demonstrating boisterously outside the airport, the taxi lines normally packed with passengers inside the terminal were cordoned off entirely. And while none of the new arrivals at JFK had any luck hailing a yellow cab, the effects of the work stoppage were minimized in part by Uber, the ride-hailing app, which continued to operate at the airport throughout the strike. "Customers took it as evidence the company was trying to profit off of striking workers," noted Faiz Siddiqui of The Washington Post.
Later, after the NYTWA's work stoppage ended, Uber tweeted that it had turned off surge-pricing at JFK, effectively undercutting taxi drivers as they returned to work after protesting. With airport demonstrations coalescing around the country, word about the controversy quickly spread and Uber found itself as an additional target of protest. Thousands of Uber users across social media vowed to never use the service again and posted screenshots of the app being deleted from their phones.  
Uber, for its part, quickly tried to mitigate the damage. As the protests wrapped up, the company took the extraordinary step of clarifying that it had "not meant to break strike." Meanwhile, customers who deleted the app and cited its failure to stand in solidarity with the protesters received replies from the company asking users to reconsider. "We share your concern that this ban will impact many thousands of innocent people," some responses read. "That's why Uber is committed to financially compensating drivers affected by the ban, so that they can continue to support their families while they are prevented from returning to the U.S."
Both the company's tweet and its later response linked to a statement on Uber CEO Travis Kalanick's Facebook page in which he spoke out against the ban and pledged to help its drivers abroad who might not be allowed back into the United States. But even this measure engendered more controversy, as Kalanick also added that he would try to continue his work with Trump as a member of his economic-advisory group and seek to change the administration's position on immigration from within. "[W]e've taken the view that in order to serve cities you need to give their citizens a voice, a seat at the table," he wrote. In response, more Uber users, including several celebrities, publicly accused the company of collaborating with the Trump administration and promised to drop the app.
Throughout this saga, Lyft, the ride-hailing app that has proven to be Uber's most formidable domestic competitor, simply sat back. Then, on Sunday morning, the company's co-founders John Zimmer and Logan Green released a statement that excoriated the president over his executive order. "Banning people of a particular faith or creed, race or identity, sexuality or ethnicity, from entering the U.S. is antithetical to both Lyft's and our nation's core values," the statement read. "We stand firmly against these actions, and will not be silent on issues that threaten the values of our community." The letter ended with a million-dollar pledge to the ACLU. As news of Lyft's donation made the rounds on Sunday, #DeleteUber continued to trend across social media.
We want to hear what you think about this article. Submit a letter to the editor or write to letters@theatlantic.com.