Trump Thanks L.L. Bean, the Latest Retailer Caught Between Him and His Critics
The world of retail boycotts in a divided United States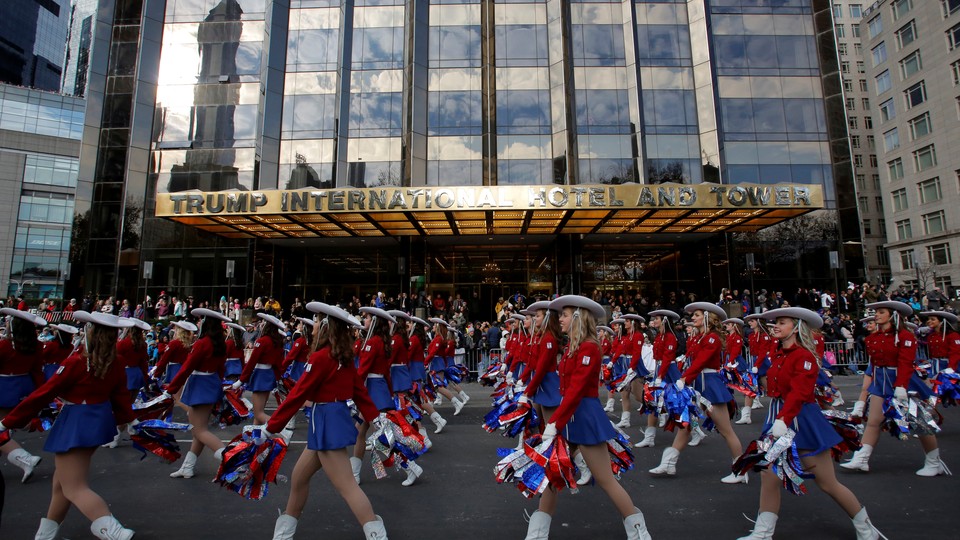 Updated January 12 at 9:50 a.m.
On Thursday morning, President-elect Donald Trump tweeted out a cryptic note of solidarity with L.L. Bean, the high-end, Maine-based retailer.
Trump was referencing a furor that had ignited after reports from the Associated Press last week revealed that Linda Bean, the granddaughter of the company's founder and one of L.L. Bean's 10 board members, made a $60,000 donation to a pro-Trump PAC that had far exceeded the legal limit.
The company had come under fire, not because of the size of the contribution, but the fact that she had given to Trump at all. The story quickly caught the attention of #GrabYourWallet, a social-media hashtag-turned-political-consumer-watchdog movement, which urges American shoppers against patronizing companies with business or political links to President-elect Donald Trump. Linda Bean's donation had placed the company in the #GrabYourWallet crosshairs and its acolytes took to excoriating the company across Twitter and Facebook.
The phrase #GrabYourWallet was chosen back in October as a not-too-subtle reference to the now-infamous leaked Access Hollywood tapes, which featured Trump and Billy Bush engaged in violent and misogynistic banter about grabbing women's genitalia in 2005. "I was looking for a way to be effective in my response to the Trump tapes," said Shannon Coulter, a San Francisco-based marketing strategist and co-creator of the initiative. "I was musing about it one night after some online shopping at Nordstrom and saying, 'I kind of feel ambivalent about the fact that Nordstrom—this company that I love—carries Trump products and does business with the Trump family."
Coulter aired her hashtagged discontent and it spread across Twitter. Soon, she was united with Sue Atencio, whom she met on the platform, and the two created an online spreadsheet with the names of the retailers peddling Trump-branded merchandise—including Ivanka Trump's various fashion lines—as well as companies with executives who have made donations to the Trump campaign.
There are gradations of perceived offense in the #GrabYourWallet database. Selling Trump materiel, as Sear's and Amazon do, earns a call for outright boycott. Those brands with executives who have offered financial contributions or rhetorical support of Trump's candidacy or businesses—such as Bean or Brian France of NASCAR—fall into a slightly more forgiving "consider boycotting" section. "I am more conservative about adding companies to the list based on the political activities of their leaders versus a company having a direct business relationship with the Trump family and profiting directly from selling Trump products," explains Coulter.
Historically, justice-oriented campaigns driven by social media tend to produce little in terms of concrete results, as evidenced by  #Kony2012 or #BringBackOurGirls. At least some of this has to do with the fact that these campaigns have rarely spurred actionable next steps outside the digital realm. Boycotts, however, are a little bit different. Though their tangible impact on a company or entity is rarely perceptible, all the negative attention does have an effect. In a recent study detailed by The New Yorker's James Surowiecki this week, Brayden King, a professor at Northwestern University's Kellogg School of Management, found that while major boycotts held between 1990 and 2005 failed to significantly dampen sales, the bad publicity did affect company stock. Accordingly, more than a third of the targeted businesses changed course in response to protests.
Naturally, the inexorable ubiquity of social media combined with greater access to information about companies has made mobilizing the masses not only easier than it used to be, but also a more attractive way of harnessing outrage. "Increasingly, the way we express our political opinions is through buying or not buying instead of voting or not voting," Michael Norton, a professor of business administration at Harvard Business School, told me. "It turns out the reasons that people don't buy products are often pretty much the same as the reasons they do: When we buy products, we're looking to express an identity that's important to us, we're looking to fit in with other people who we like, and we're also looking to stand out from other people at the same time...I think when we boycott, we're doing the same thing."
According to Coulter, six companies have been removed  from the #GrabYourWallet boycott list, some (such as Shoes.com) were removed after they corresponded with #GrabYourWallet and vowed to remove Trump-related wares from their stores. Other retailers simply stopped selling Trump-related products without publicly declaring a reason—so the group took them off the list, too. That the chairman of L.L. Bean name-checked #GrabYourWallet in his appeal rather than simply referencing an amorphous boycott seems like a testament to the group's reach. Coulter adds that The Honest Company, a self-declared "ethical consumerism" brand founded by the actress Jessica Alba, is the next company slated for removal from the  boycott list. The company was added after the public learned of a scheduled appearance on the Trump-produced Celebrity Apprentice next month. "They got in touch recently to say they won't be a sponsor of Celebrity Apprentice anymore if there are future seasons of the show," she says.
Another feature that distinguishes #GrabYourWallet is their promotion of  alternative retailers. This list offers a collection of brands that either don't sell Trump-linked apparel or that have  spoken out against Trump's statements or proposed policies. As it turns out, this is a crucial component in the life of a boycott. "There's some research that shows that one of the key predictors of boycotts is actually the availability of substitutes," Norton explains. "It's as though you will strongly express your political opinions as long as there is a comparable brand that you can buy instead." Norton suggests that the boycott of a hamburger company, for example,  would almost certainly fail unless there was another hamburger company nearby. "Certainly some people have strong beliefs and they'll boycott no matter what," he adds. "But the marginal consumer, like most things in life, will do it if it's easy enough to do it. If it becomes difficult in terms of a substitute or the price of a competitor is too high, then we'll ignore our political beliefs a little and continue to purchase."
Of course, the ethical dimensions of retail boycotts don't drop neatly along partisan lines. Take Macy's, for example, which has come under censure not only by #GrabYourWallet for selling Ivanka Trump apparel, but by the president-elect himself. Following comments Trump made about immigrants in the summer of 2015, Macy's dropped his signature line of clothing from its racks, a move that inspired Trump to call for a boycott.
Coulter says that she can see that Macy's has found itself in a difficult position, failing to please either side. But in some ways, she argues, it's a situation of their own making. "They've actually said on the record that they don't want to be a 'politically associated company,'" Coulter says. "As Ivanka Trump's political role has deepened considerably, I think the disparity between the talk and the walk has become more apparent to people."
Last week, following a poor holiday-season showing, Macy's announced it would be cutting over 10,000 jobs and identified 68 stores that it would close in the coming months. Trump, normally a trigger-happy Twitter warrior, has yet to declare his victory over Macy's.
But while #GrabYourWallet has demonstrated the ability to create some change, it's also possible that supporters of Trump, or brand fanatics will try to swoop in to make up for losses incurred by boycotters. Trump's tweet on Thursday morning already seems to aiding the cause. Back on the L.L. Bean Facebook page, thousands of the brand's defenders are already pledging their support.