Want to Talk to the President? Advertise Here
For companies and political organizations in the age of Trump, Fox News Channel is the new K Street.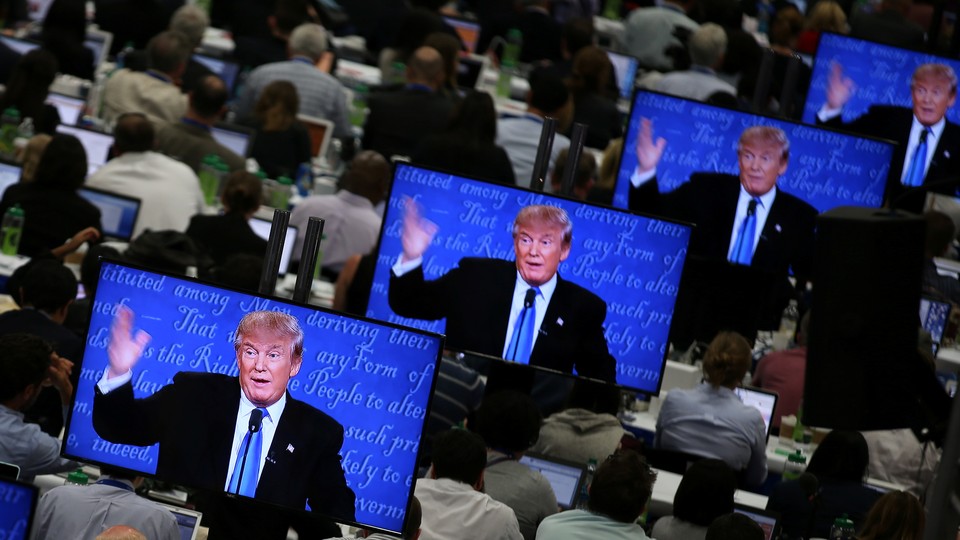 Donald Trump watches a lot of television. It is not mere entertainment for him, but also a means to power and a guide to policy. Anonymous aides have said it can be difficult to wrest Trump from the screen to fulfill the duties of his office.
To anybody interested in a competent executive branch, this falls somewhere between mild and full-blown crisis. But every crisis is an opportunity, of sorts. If Trump gets his talking points, policy ideas, and legislative focus from a handful of advertising-supported television shows, it's only a matter of time until these show's advertisers and producers recognize they potentially have enormous power over national policy—or, at the very least, they can tell advertising companies that they do. Got a point to make? Don't spend a fortune on lobbying and white papers. Just buy an ad on Hannity.
Indeed, some politicians and journalists are realizing just how much Trump's statements are recapitulations of ideas he has just seen on TV. CNN's Brian Stelter observed that minutes after Fox News used the words "ungrateful traitor" to describe Chelsea Manning and "weak leader" to describe President Obama, Trump sent a tweet calling Manning an "Ungrateful TRAITOR" and Obama "a weak leader."
Last week, Maryland Representative Elijah Cummings directly implored the president to call him in a segment on Morning Joe. "I know you're watching," he said. "Call me. I want to talk to you." Hours later, Trump called the congressman's Washington office. MSNBC is clearly aware of its power. It is running print and television ads hailing Morning Joe as a clearinghouse of breaking news about Trump. Requests to Fox News and MSNBC to comment on advertising demand and rates were not returned.
The next step would be corporations buying ad space on Trump's favorite shows. Indeed, Stand Up Republic, the nonprofit led by conservative presidential candidate Evan McMullin and his running mate Mindy Finn, is now airing commercials on Morning Joe for just that purpose. The ad targets Trump's relationship with Russia and dares him come clean or else risk being seen as an illegitimate president.
When I reached Finn by phone on Thursday, she acknowledged their audience-of-one strategy. She said Trump is not a traditional political tactician with his head in white papers, but rather a "communications president" whose attention is absorbed by cable news. They wanted to reach him, directly.
In a way, this represents an inversion of the advertising business model. Advertising was originally built around reaching large groups of people coming together to consume a single piece of content. Trump is an audience of one. But what an audience. Trump's attention is so valuable so as to be practically incalculable. Single tweets can slash billions of dollars from a company's valuation (just ask Lockheed Martin or Boeing) or add billions of dollars to their market cap. If that attention can be captured and directed in a 30-second advertising segment, how much is that worth? Multinational companies like Boeing and Caterpillar have billions at stake from Trump's decisions over trade and tax policy. It might be reckless to not spend a few million dollars trying to change his mind during a Fox News commercial break.
The traditional word for this sort of behavior is lobbying. But you don't need to rent office space on K Street when a cable news ad is all-but-guaranteed to catch the president's eye. The surest way to reach the Oval Office isn't through the door. It's through the cable box.