The End of Government Oversight?
Republicans in Congress are working hard to remove business regulations that they believe are hampering economic growth.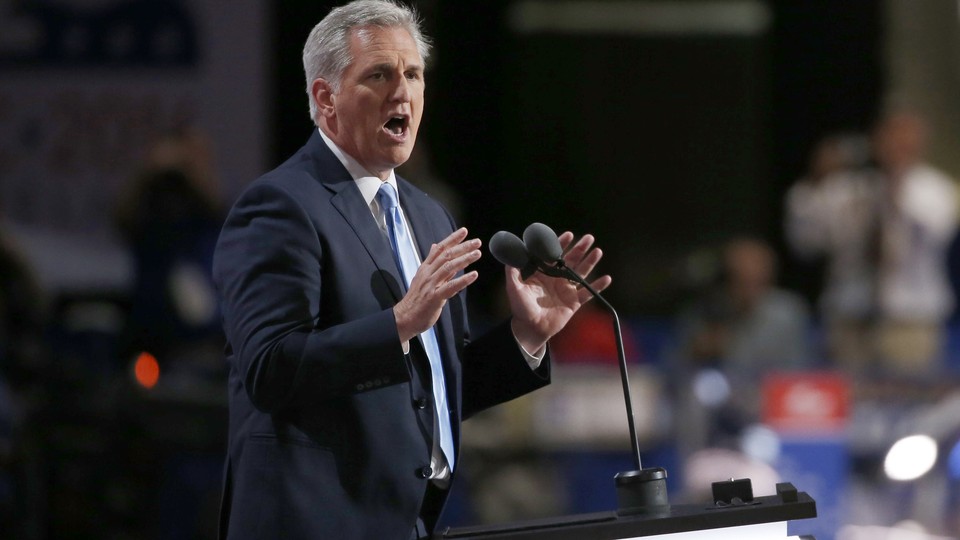 Regulations, regulations, regulations. It's a dirty word among Republicans in Congress, who are getting started on their plan to scale back federal oversight of U.S. businesses. Federal rules meant to protect the environment, consumers, and workers can cost businesses money, and Republicans believe those rules are strangling American economic growth.
Republicans have repeatedly accused the Obama administration of abusing its regulatory powers, such as the Labor Department's creation of the fiduciary rule (which requires financial planners to put the interest of their clients before their own) and the overtime rule (which increases the number of workers eligible for overtime pay). As president, Trump can remove these rules, though doing so would likely take years. Congressional Republicans want to go beyond that, making it as hard as possible for the executive branch to create new regulations. "We're going to take a fresh approach, we don't want bureaucracy touching everything," House Majority Leader Kevin McCarthy said Thursday at an event at the Hoover Institution. In his role, McCarthy sets the agenda for the House, and the anti-regulatory frenzy has already started.
Their biggest effort is through passage of the Executive in Need of Scrutiny Act of 2017 (known as the REINS Act), which was approved last week by the House. The bill gives Congress the power to approve or deny regulations enacted by federal agencies that are expected to have an economic cost of more than $100 million, which means Congress has the final word. To understand what the implications of this would be in practice, such a law would have likely killed a rule like the Clean Power Plan, which the Environmental Protection Agency finalized last year to limit carbon-dioxide pollution from America's power plants. Extensive scientific reviews have concluded that carbon-dioxide emissions cause climate change. Under the REINS Act, such a rule would only have gone into effect if Congress voted in favor of it within 70 days of its creation. If Congress had chosen not to vote on it, it would not have gone into effect. (It's important to note, however, that even without the REINS Act, implementation of the Clean Power Plan has been delayed pending the outcomes of federal litigation.)
Then there's the Regulatory Accountability Act, which sailed through the House Wednesday. The bill would require the executive branch to craft regulations that cost the least to achieve the intended result. Aside from these two bills, lawmakers are also coming up with a list of Obama-era rules they want to jettison under the Congressional Review Act, which gives Congress authority to vote on removing regulations issued by the White House in the past six months. That puts several new rules at risk, such as those aimed at preventing coal companies from polluting streams used for drinking water, increasing the number of employees eligible for overtime pay, and curbing methane emissions from oil and gas producers.
In McCarthy's ideal world, Congress will undo most regulations issued in the past six months, and the two anti-regulatory bills will easily be approved by the Senate and then head off to be  signed by President Trump. This is not a far-fetched scenario.
While that may be a relatively clear path, another area of policy is turning out to be more contentious than anticipated: infrastructure spending. At Thursday's event, McCarthy expressed skepticism about spending money on building and repairing roads and bridges—something Trump has vowed to do as president. McCarthy said he doesn't want to spend money on expensive projects that take so long to complete that only his children would see them finished. "We have to remember that we have a [budget] deficit in this country," McCarthy said. Though he didn't say he would oppose an infrastructure spending bill, his hesitance is a blow to what has been viewed as one area where Republicans and Democrats can find common ground.
Outnumbered by Republicans in Congress, Democrats will have little power to stop the anti-regulation efforts. But it's unclear whether removing regulations will have the impact on economic growth that Republicans anticipate. Many economists believe that productivity growth (not government oversight) is the biggest factor in growing the economy. Increasing productivity would require a level of private-sector innovation that hasn't been seen in 50 years, when the shipping container was invented and made it easier to ship goods around the world, says economist Marc Levinson. At the same time, removing government rules will be a boon to some businesses, even if not the economy as a whole. And those business, of course, are quite eager for the Republicans to succeed in their efforts.