Goodbye, American Apparel
The 19-year-old company has been purchased for $88 million, which may be the brand's last great marketing feat.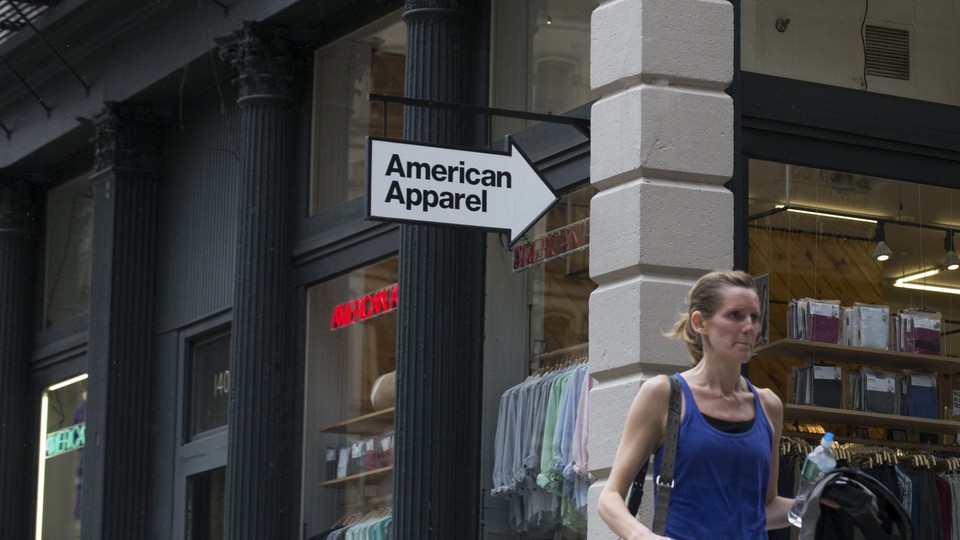 It's finally over for American Apparel, the trendy turned-scandal plagued clothing brand whose first store opened in 1997. On Thursday, a bankruptcy court in Delaware approved an $88 million sale of the brand's intellectual property and manufacturing equipment to Gildan, a Canadian apparel company that focuses on wholesale. Gildan will pay an additional $15 million to acquire American Apparel's purchase orders and inventory, effectively giving the buyer all the tools it needs to launch a new clothing line from the ruins of the now defunct brand.
Millennials—especially those who identify with the term hipsters—likely remember a time in the early naughts when American Apparel's snug, expensive T-shirts were emblematic of made-in-America cool. The company's marketing blended the feel-good altruistic mission of making things in America while its advertising featured over-the-top sex appeal of one of America's favorite traits: youth.
That all unraveled as reports surfaced about the company's labor practices, which included employing immigrants with questionable documents and worker complaints to the National Labor Relations Board which were eventually dismissed. Then there was the company's signature sexy marketing, which became a point of tension when a string of sexual harassment lawsuits were filed against its founder Dov Charney, many of which have been settled (including more than $3 million in court settlements in 2015, according to The Wall Street Journal). As of January 2017, at least one lawsuit was still pending according Los Angeles Superior Court records.
"The company was highly successful. Prior to my ousting, it generated $5 billion in the last 10 years," said Charney in an interview on Friday. In recent months, Charney said he didn't think the company would survive without his leadership, and denies the claims that his misconduct contributed to the company's downfall."This is a manifestation of Wall Street malfeasance," he continued, referring to his ousting. "The company got driven into the ground."
Charney— who is Canadian, ironically—has a classic entrepreneurship story: He started American Apparel as a "Made in America" T-shirt company out of his dorm room at Tufts University in 1989. Twenty-four years later, the company recorded $633 million in sales with over 200 stores in over 20 countries. But in the past three years, the company has faced huge debts, costly legal battles involving its founder, and a drop in sales. American Apparel did what any company does in these moments: turn to private investors for help. Eventually, Charney was ousted by his own board. At the company's bankruptcy hearing last November, its second bankruptcy filing in two years, the company reported $177 million in debt.
"The story of American Apparel is the best and worst of all things," said Mark Cohen, the director of retail studies at Columbia Business School. "As brilliant a merchant and marketer as [Charney] was, he was guilty of never having taken seriously enough the need to organize his company efficiently, especially to offset the fact that he was working with domestic manufacturing."
There was a cultural shift that hampered American Apparel, too. Elizabeth Segran at Racked summed it up best, "In their heyday, [American Apparel and Urban Outfitters] made a science of identifying exactly what it was that made hipsters so attractive, then recreated that aesthetic in their stores." But the company's plan of mass-marketing a particular vein of counterculture lost its allure, as consumer tastes shifted. Zara, one of the most successful fast-fashion stories in the past several years, focuses on selling designer-like, high-end looking clothes that are inexpensive—a distinct contrast to American Apparel's stark and basic approach to apparel.
But fashion wasn't the only thing to change; the retail business changed, too. The economic downturn was hard on the fashion industry as consumers cut back on spending. And brick-and-mortar stores have struggled as online retailers bite into their sales and target demographics. That can be especially harmful for brands like American Apparel, where the business model is to open a bevy of stores and rely on foot traffic. "There are too many stores in too many places," explained Cohen. "Everybody doing business in brick-and-mortar is migrating in some way, shape, or form to the internet. Everyone is seeing a  chronic decline in the productivity of their real estate."
All of this helps explain why the $88 million Gildan deal could be viewed as arguably the last great American Apparel marketing feat. Even with all its financial and legal woes, the company still attracted 12 bids. (Sources told Reuters that Amazon and Forever 21 were considering purchasing as well.) And while Gildan won't be purchasing any of American Apparel's 110 U.S. stores—which were also up for sale—the company was willing to pay nearly $90 million just for intellectual property and some equipment.  That's quite a feat given that the brand was built on the premise of selling such basic designs.
"The company is dead," said Charney. "They're just tossing around a brand. It's like Polaroid or Sharper Image. The spirit of American Apparel is dead."
Cohen suspects that the deal is more about Gildan weighing the cost of creating a new brand from scratch, along with the value of the manufacturing equipment included in the deal. "Though the marketing was salacious, the product is conventional," explains Cohen. It especially makes sense for Gildan, the company that's benefited from the online T-shirt economy, where custom shirts is big business.
Questions remain about whether Gildan will keep American Apparel's made-in-the-U.S. promise. On Thursday night, the L.A. Times reported that one of the company's factories in California has been sold to a local textile firm. And though American Apparel is shuttering, its creator is looking for a new start. Charney has a new apparel company, tentatively named That's Los Angeles. Its marquee product? Plain ol' American-made T-shirts.