The Sexism They Faced
One colleague's constant refrain: "When are you going to have babies and quit?"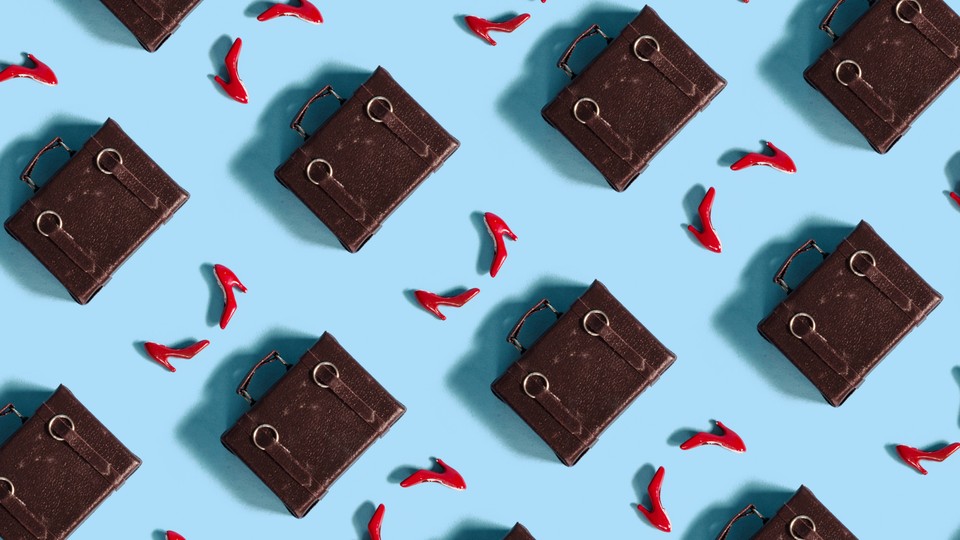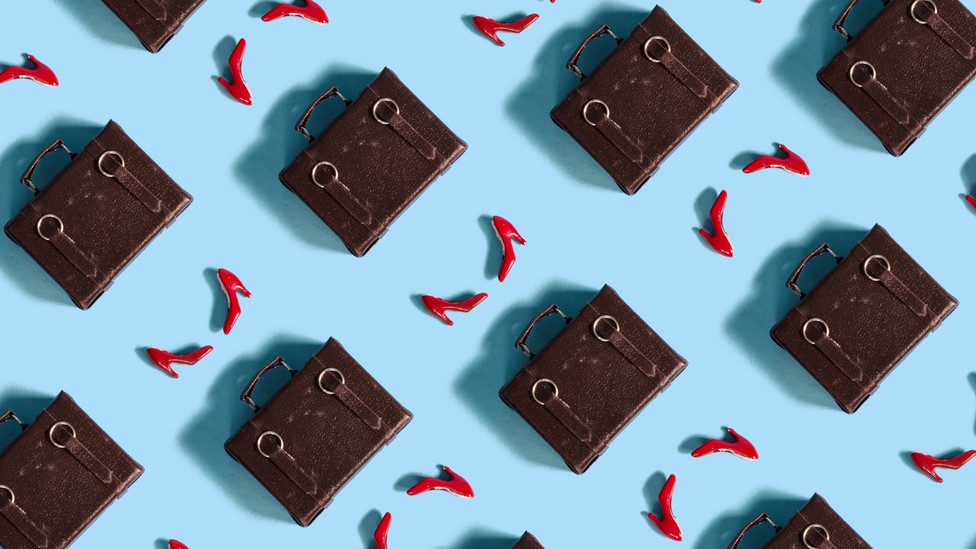 This is the seventh story in a seven-part series looking at women's ambitions in the years following college.
When we began this project we knew the odds were good that we'd hear stories about sexism and sexual harassment in the workplace. We didn't know that the nation would elect an alleged serial sexual assaulter as president, but for this generation of women the idea that someone could be accused of sexual harassment and then elevated to the highest ranks of power isn't new. In fact, we, the 40 women of our Northwestern sorority, had seen it all before' together.
The Tube Room was the place in our neo-gothic sorority house where we converged to take in the day's events. This was the room that housed the sorority's sole television, and which turned the act of watching TV into a collective act. In 1991, that act felt political as we, along with a nation, watched Anita Hill describe what it was like to work with alleged serial sexual harasser, and then Supreme Court-nominee, Clarence Thomas. If sexual harassment can have a catchphrase, that year's was "Who has put pubic hair in my Coke?" It sounds positively quaint compared to "grab 'em by the pussy," but at the time it was, if not shocking, then at least gross and weird—and clearly NSFW.
We were juniors in college; none of us had held full-time office jobs. And as we watched Hill's testimony in front of an all-male Senate committee, we came to understand implicitly that this was what lay waiting for us in the work world. By the time our class entered the workplace Thomas had been confirmed; Hill, both vilified and lionized. That year, the number of sexual-harassment cases filed with the Equal Employment Opportunity Commission doubled, and a national conversation about sexual harassment and sexism in the workplace had begun.
We'd come of age in the era of Take Back the Night and moved into first jobs shortly after the civil rights act of 1991 expanded women's ability to sue for sexual harassment, so we wondered how sexism had affected our classmates' professional paths.
We expected many of them, especially the ones in traditionally male-dominated careers, to have their own dramatic stories, and a few did. But when we tallied up the number of women who had mentioned sexism or sexual harassment in our interviews, we were surprised to find that it only added up to 34 percent. At first we were hopeful that this boded well for the future of humankind, but as we dug into the numbers a little deeper we came to understand why the percentage was so low.
First, a lot of our former classmates had ended up in female-dominated fields. Multiple teachers, a women's rights lawyer, Liz (who spent her her career at women's magazines), and several women who worked in PR all noted that in their offices the women vastly outnumbered the men. Second, while watching Anita Hill all those years back might have broadcast sexual harassment to the nation, it may have also led a number of our subjects to conflate sexual harassment with more generalized or institutional workplace sexism.
So when we asked if sexism had affected their careers, many of our former classmates shared stories of harassment, as though anything less than being  openly ogled or physically groped doesn't count.
Which leads to the third reason it is possible the numbers are low: The most insidious kind of sexism is also the hardest to identify—the small micro-aggressions that pepper the meetings and interactions that make up many women's workdays. Moreover, for this generation of women there may have been nothing noteworthy about sexism, which meant that when we pressed the women for specific instances they couldn't recall any. Of the 34 percent of our former classmates who reported encountering some kind of sexism in their career, the vast majority of them believed that it didn't directly block their advancement—and all of them said they had expected to experience some sexism over the years.
Setting aside the reasons behind the numbers, the stories we heard were cringe-worthy. A TV writer in Los Angeles had her outfits and her body scrutinized daily by her male boss, even as peers admonished him. That same woman, who left Hollywood and eventually landed in Dallas as an associate creative director in advertising, was passed over for a promotion in favor of a less-accomplished male colleague once, she says, and then a second time told she was being denied a promotion because her (male) boss had heard she was pregnant. She fought back, and was poised to earn the promotion after all, but quit, disgusted with a company and culture that didn't seem to value her talent.
She wasn't the only woman to struggle while pregnant. A lawyer at a corporate firm in Washington, D.C., was on the partner track. When her time had arrived to be promoted, she was pregnant and was asked if she could "wait a year." The firm planned to promote a male associate with fewer years of experience. Her reply: "No, I cannot." The decision underwent managerial discussion. It was 2008, the heart of the financial crisis, and the firm was frantically trying to round up clients. Our subject marched into her supervisor's office, pledged her loyalty to the firm and to whatever commitment was needed by partners to acquire new business; she was notified the next day that she secured the promotion. A day later she went into labor.
We were of course not shocked that sexism and harassment still exist in the workplace, but what we found interesting was the degree to which this generation of women felt newly empowered to stand up and shout about it. Our mothers' generation hadn't had this opportunity: It wasn't until 1988 that a group of iron workers filed the first class-action sexual-harassment suit. The women struggled to find someone to take the case, and it wasn't settled until 1998.
In contrast to the previous generation, our former classmates nearly unanimously addressed the incidents directly or through a formal process. An insurance executive put up with months of snide comments from a male co-worker ("When are you going to have babies and quit?" was one of his favorite questions) before filing a formal complaint with HR. A utilities manager had a client, seated next to her at a work dinner, put his hand on her knee, and then gradually moved it to her butt. She switched seats immediately, and called her boss to complain the next day. Both women were disappointed with what happened next. The insurance executive's co-worker was sent to sensitivity training. The utilities executive's boss told her this client was just one of those guys who does that to people. Her response: "Okay," I said. "But I need you to know, if that ever happens again, I am going to stand up, and scream at the top of my lungs, 'Get your fucking hands off me.'" While neither woman got the outcome they had hoped for, we considered it progress from the Mad Men era that for these women, it was a foregone conclusion that they weren't going to put up with that sort of behavior.
But beyond these cases of extreme harassment, we also found that for many of the women of our cohort, routine sexist comments were the incidents that made them question their own talent and success potential. While it's tempting to dismiss such comments as a minor annoyance, the fact remains that these regular incidents of sexism are still diminishing women's professional progress.
One former classmate, whose first job was a management-training program that had her driving a Wonder Bread truck in Chicago, was approached by her gruff male union rep in a grocery store aisle after a delivery. He threatened: "This isn't the right job for you." She stuck it out for a year at the company, enough to look fine on her resume, and then quickly found another job. An insurance-company executive, when out-of-town (male) colleagues visited, was excluded from a planned work dinner with everyone (male) who reported to her. She called the team members on it, joking, "Maybe I can come next time," and reminded them that she was the one who made decisions on the team. And Hana, who started a digital user-experience company 15 years ago, has been asked by (older, male) clients in introductory meetings: "Do you run that company all by yourself?" When someone poses a question like that, it's hard not to pause for a moment and wonder, "Do I run it by myself? Am I qualified to do such a thing?"
But for others these incidents prompted soul-searching that ultimately led to more fulfilling careers. A prominent multi-specialty physician was called "little girl" during her cardiology fellowship at an elite northeast medical school, and told "this is what happens when you try to get a woman to do a man's job." The "alpha-male" environment of the cardiology program wore on her, and factored into her decision to complete her training at another institution. That move also allowed her to broaden her focus and add on a second fellowship in a different specialty, and ultimately she feels her career benefited from the switch. "I am more successful and have more responsibility for administering programs and educating learners than I would have had in cardiology," she told us.
Of our former classmates who said they'd experienced sexism or sexual harassment, most insisted sexism hasn't held them back significantly in their careers. All of them continue to hold full-time jobs and many of them are at the top of their field. We couldn't help but wonder, however, what and how these women would have achieved if they hadn't been told, directly or subtly, that their job wasn't intended to be performed by a woman. Two of the women who fought for promotions over their male colleagues, and received them, later chose to leave those companies. We felt guilty admitting we were disappointed that these women chose to leave the promotions they worked so hard to achieve, and then we reflected: Even if you are qualified, maybe even are the best and hardest-working employee at your company or within your department, what drives you to stay when you feel so dispensable?
But if there is a glimmer of hope in these stories, it is that this group of women have at least moved to a place where even though they know sexism to be something as routine as their morning coffee, they haven't just accepted it. And, while the election of Trump seems to have signified that a wink-wink condoning of sexual harassment is still the norm for many men in power in America, the flip side also seems to be a newly energized, and enraged, response.
---
This is the final piece in a seven-part series. Read from the start.