Rethinking What Success Looks Like
For women who left the workforce, their ambitions didn't disappear so much as found a new target.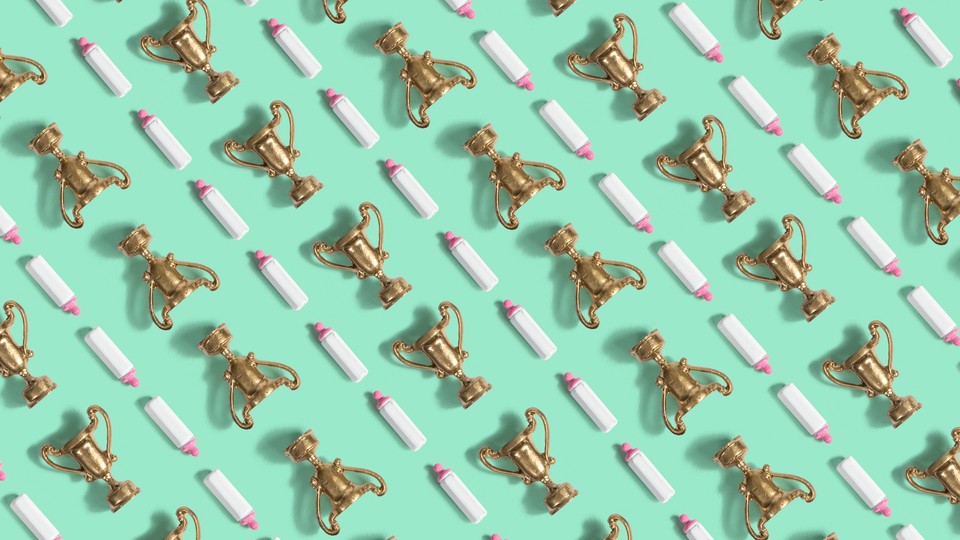 This is the fourth story in a seven-part series looking at women's ambitions in the years following college.
Ambition is easy to define—Merriam-Webster describes it as "an ardent desire for rank, fame, or power"—but hard to concretely identify. How ardent does that desire need to be? Does it look different in different people? Perhaps the most accurate thing to say about ambition is that you know it when you see it.
When we reflected back on our classmates in college, we remembered them as ambitious. In fact, we began this project with the basic assumption that all of our subjects, or nearly all of them, were ambitious. They'd gotten into a top university, which meant that at the very least they were people who had achieved a high degree of academic distinction in high school. One woman recounted a story about her first day at Northwestern's undergraduate journalism program. "They asked everyone who had been editor-in-chief of their school newspaper to raise their hand," she said. "And every single person in the room raised their hand, except me." She'd been the most ambitious member of her high school's graduating class in her small town in Georgia, but now she was in a class full of people at least as driven.
As with any group, we knew that there would be varying degrees of ambition. This had been evident in college, with some women in our class running for executive board positions in the sorority, heading student organizations or routinely making Dean's List and others just "doing college." But for the most part we believed that this was a group that saw themselves eventually achieving success in the world. And as we began our interviews, we knew we were remembering correctly. Future plans formulated during college included: "I was going to be the best prosecuting attorney the world had ever seen," "My name was going to be in lights. I was going to be singing at the Met," and "I thought I was going to be the press secretary at the White House."
Immediately after college, most of the women continued to exhibit outward signs of ambition. Nearly 80 percent of them earned advanced degrees. All eventually landed jobs with promise. But 23 years after graduation, only a little more than a quarter went on to become what we've called the High Achievers. These women are impressive; they include two high-ranking banking executives, two physicians who have achieved distinction in their fields, a marketing executive, a pharmaceutical executive, and a Hollywood screenwriter.
Some of these women achieved success in different ways than they'd envisioned in college—"No one dreams of growing up and going into insurance," an insurance company executive told us with a laugh—but all 12 High Achievers had dreamed big and achieved some version of that dream. They never wavered from the belief that they were smart and talented, they all knew work would be a driving force in their lives, and they were rewarded with promotions, high salaries, and/or recognition in their fields.
But what about the rest? Why weren't we looking at a group of 37 High Achievers, given that they'd nearly all began their careers with the desire to achieve? After we'd interviewed a cluster of stay-at-home mothers and women with jobs that were noticeably less starry than the careers they'd intended to pursue, we at first wondered if we'd misgauged their level of ambition. Maybe our High Achievers were simply the most ambitious of the group. Perhaps the equation "ambition=success" explains why some of the women rose higher.
This is one of the explanations Sheryl Sandberg offers for the lack of women in power positions. She coined the phrase "ambition gap" in a panel discussion at the World Economic Forum in 2012, arguing that girls' ambition is thwarted from childhood: "We don't raise our daughters to be as ambitious as our sons."
She's the most recent to make this observation, but not the first. Women have been criticized for lacking in ambition practically since they were told they could be ambitious in the first place. A 1987 study at Pennsylvania State found that women's lack of ambition prevented them from applying to medical school. According to a 1990 study published in the American Journal of Political Science, women lacked political ambition. And Gloria Steinem notably observed in the 1970s that "some of us are becoming the men we were raised to marry," a statement that encouraged women to raise their career ambitions. When Steinem said this, women were only at the beginning of a journey that could lead them away from marrying the doctor and toward being the doctor. And yet, 40 years later, some of our college classmates who aspired to high-flying careers instead married men who have those careers.
So how to reconcile all of these seemingly conflicting pieces of data? The ambitious women we'd known in college didn't seem to have been affected by an ambition gap. They had clearly articulated goals and a path to achieving those goals. But over the course of their careers something had shifted. Was it just their ambition?
A few studies would say yes. A Bain & Co study from 2015 found that women enter their careers with a higher level of ambition than men. But while men's aspiration levels stay the same for at least the first two years on the job, women's levels plummet by 60 percent. In a survey conducted by More magazine, 43 percent of the women surveyed reported that their ambition had dropped in the last 10 years.
But this also didn't sit right with us. When we talked to our former classmates in 2016 who had chosen to scale back or opt out of their careers, they didn't strike us as any less ambitious than they'd been in college. In fact, after the interviews we often reflected on how wonderful it was to see former friends living lives that they took pride in. These might not have been the lives they'd envisioned for themselves back in college, but that didn't make them any less valid, and it certainly didn't make them no longer ambitious. As Anne-Marie Slaughter pointed out in her book Unfinished Business, "The assumption that women are dropping out because of a lack of drive or ambition rests on the deeper assumption that these women could have high-flying careers if they just wanted them badly enough." We came to see that many of our subjects chose not to pursue that high flight in the professional arena, but continued to soar in nearly every other avenue of their lives.
One woman who had aspired to be an opera star, and then switched to a career in finance before leaving the workforce after her first child was born, said she'd "been the president of everything": neighborhood associations, school organizations, and charitable groups. We heard this sentiment from many women in our Opt Out group, and those who hadn't been the president had often created their own organization. A former classmate living in Guatemala organized a volunteer group to help educate impoverished children living at a dump site, who otherwise would have received no schooling. A former lawyer who left the Justice Department to home-school her nine children in rural Colombia, volunteered as a legal advocate for women coffee pickers in a nearby village. She and her children had also begun an informal program to teach the local police English, in an effort to boost tourism. These women's ambitions clearly hadn't disintegrated once they became mothers. What about the women who weren't parents? Some of them became High Achievers, but some actively chose other paths.
A former classmate who was married but didn't have children so that she could devote more time to building a career, told us she'd left her job at IBM, where she'd been steadily climbing the ranks. Had she ever aspired to be CEO? "I saw at IBM what those people were like, what they sacrificed," she said. "Most of them were divorced, grossly overweight, exceptionally ill. They were good at their jobs but that's all they did. They had no other hobbies. They never went on vacation because they didn't know what to do when they had free time. So I do not aspire to that. I aspire against it."
Another woman who had never planned on having children so she, too, could focus on her work and love of travel, spent several years as a global management consultant based in Aspen, Colorado, always flying to a different city for client work. One day, admitting that "there wasn't enough meaning for me in making big corporations bigger and more profitable," she quit, returned to the mountains, took up skiing again and became a life coach. There is "power" in helping transform people's lives, she told us. "Power has always been a big driver for me."
These women hadn't lost their ambition; instead they'd changed the definition of the word. They saw that ambition takes many forms, only one of which is becoming CEO. While everyone may have started out with lofty career goals, many also had lofty personal goals; ambition doesn't stay in a neatly contained career-goals-only box. Just as many of our classmates had previously aspired to be the best in their chosen field, they now wanted to be the best mother, the best partner, the best everything else.
"If you're going to study, study hard. And if you're going be a mother, be a mother. If you're going be a lawyer, be the best lawyer you can be," the former Justice Department lawyer told us over Skype, in between home-school lessons and nursing her new baby. "If that makes me ambitious, I guess I'm still ambitious."
A former-Ph.D.-candidate-turned-sales-training-executive who sometimes worked 80 hours a week, achieving promotions and praise, described how her ambitions had, after a while, made her life untenable. "I commit fully to anything I do, so I was happy to answer the phone at 9:30 at night anytime someone needed me," she said. After nearly a decade of supporting her family with her career, she found herself exhausted and, also, with a few unexplored areas of ambition. She moved her family from Connecticut to Indianapolis, where life would be cheaper, and started an Etsy boutique offering handmade art. She still commits fully to everything she does: creating artwork, writing op-ed pieces for local blogs, being politically and philanthropically active.
Continuing to be ambitious doesn't mean our subjects haven't sacrificed some of their dreams over the years. Some would have liked to have been a CEO, a full-time mother, and a novelist all at the same time. "In my fantasy, I get to stop the clock, go to work, and then start the clock again," said a former banker-turned-full-time-mom. She'd like to return to work, but acknowledges she can't do everything on her list, at least not at the same time.
Even though many of our former classmates feel they've made the best life choices for their own ambitions, some expressed concern about how others might perceive their career trajectories. One former classmate who dreamt from a young age of becoming an entrepreneur, started a career in finance and eventually launched a marketing business with a friend. She found herself working grueling hours while raising three children. "I'd shed many tears over having to work 16 to 18 hour days while my kids were shipped from person to person, or pulling at my jeans and me saying, 'Go away, mom's gotta get the work done.'" She sold the business, and spent several years as a stay-at-home mother. Career ambition continuing to tug at her, but family ambition did too. A few years ago she became a real estate broker, which gives her financial security and flexibility—and enough of both to own a boat, which she enjoys every weekend on a lake near her home in Illinois. Still confident and charismatic, she compares her achievements to those of other ambitious alumni—and has reconciled them. "I'm not a doctor, I'm not an attorney. I get the [Northwestern alumni] magazine and I'm like, look at what all the cool people are doing—I'm such a loser. But for me, I'm not a loser—because I'm happy."
---
Read the next piece in this series here.