Carl's Jr. Is the Fast-Food Chain of Trump's America
A chain helmed by the nominee for labor secretary has unseated Chick-Fil-A as the perfect encapsulation of this cultural moment.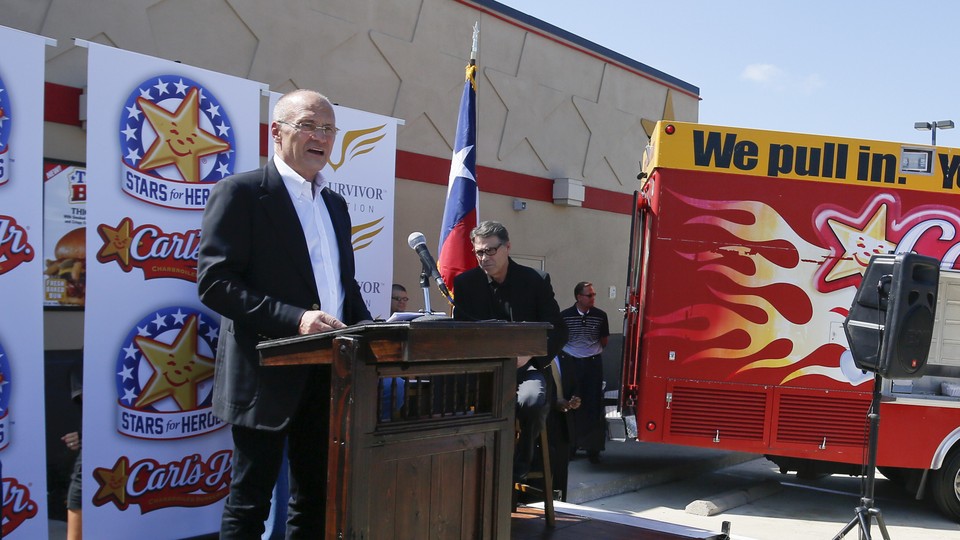 Despite his predilections for KFC or taco bowls, or his appearances in ads for Pizza Hut and McDonald's, the president-elect is really a Carl's Jr. kind of guy. The California-based chain is best known for its oversized burgers, hypersexualized ads, and confusing affiliation with Hardee's—the fast-food chain it acquired back in 1997. Like Trump, Carl's Jr. aspires to flashiness and brashly appeals to men. It's slogan? Eat Like You Mean It. Trump made this unspoken kinship official on Thursday, when he announced Andy Puzder, the longtime CEO of Carl's Jr and Hardee's, as his choice for labor secretary.
For years, it seemed that the Republican Party's kindred spirit in the fast-food world has been Chick-fil-A. As The Hill noted back in October, House Republicans spent over $30,000 on Chick-fil-A during the most recent term with the office of House Speaker Paul Ryan dropping $2,500 alone in two months this year. The Atlanta-based chain—despite some recent changes in philosophy—has reflected traditional GOP values, and remains popular particularly among conservative diners. Then came Donald Trump.
As my colleague Alexia Fernández Campbell noted, Puzder "has been a vocal defender of Trump's economic policies, including lowering the corporate-tax rate, and has opposed Obamacare and certain business regulations, such as a higher minimum wage." Even before Puzder was formally nominated, Democrats of all stripes and representatives from various labor unions spoke out against him. "Andy will fight to make American workers safer and more prosperous by enforcing fair occupational safety standards and ensuring workers receive the benefits they deserve," Trump said on Thursday in Iowa. "He will save small businesses from the crushing burdens of unnecessary regulations that are stunting job growth and suppressing wages." For now, it's Puzder's views on wages that seem to be attracting the most focus in the wake of his nomination.
Puzder's labor philosophies have revealed themselves in a pretty Trumpian ways—through attention-getting remarks about his own experience in business and the specter of threats. Earlier this year, registering his displeasure with $15 minimum-wage initiatives, Puzder suggested that he might one day replace workers with robots in his restaurants. "If you're making labor more expensive, and automation less expensive—this is not rocket science," he told Business Insider.
Like Trump, Puzder is also something of an iconoclast, someone keenly able to find his way into controversy. His nomination for labor secretary not only drew the ire of The New York Times editorial board, but also some condemnation from Breitbart, which noted previous remarks in which Puzder said he preferred to use foreign labor and argued in favor of immigration reform.
But perhaps most reminiscent of Trump, Puzder is a provocateur who also—quite unapologetically— sees his business as a reflection of himself. While there are plenty of people who are unfamiliar with Carl's Jr. or Hardee's, it's not for lack of efforts on the company's part. For over a decade now, Carl's Jr. has relied on polarizing, sexually-suggestive ads featuring women—models, reality-television stars, and other celebrities—devouring huge burgers in bikinis, on mechanical bulls, or in slow motion. Speaking of the widely maligned ads last year, Puzder didn't just stick up for them, he took pride in  them. "I like our ads. I like beautiful women eating burgers in bikinis. I think it's very American," he told Entrepreneur. "I used to hear, brands take on the personality of the CEO. And I rarely thought that was true, but I think this one, in this case, it kind of did take on my personality."
This flavor of gimmickry, which resemble Trump's loud, brash campaign style, is matched only by the grandiosity of Carl's Jr's offerings, which promise grandiose, swaggering, patriotic excess. There may be nothing that better sums the Make America Great Again credo than the Carl's Jr.-Hardee's Most American Thickburger, a hulking, 1,000-calorie leviathan of a sandwich that features a beef patty, a hot dog, and a layer of potato chips. The burger debuted last May, mere  weeks before Trump declared his candidacy for president campaigning on  similar displays of brash, grandiose, patriotic excess.