The Best Business Reads of November
The month's most interesting stories about money and business from around the web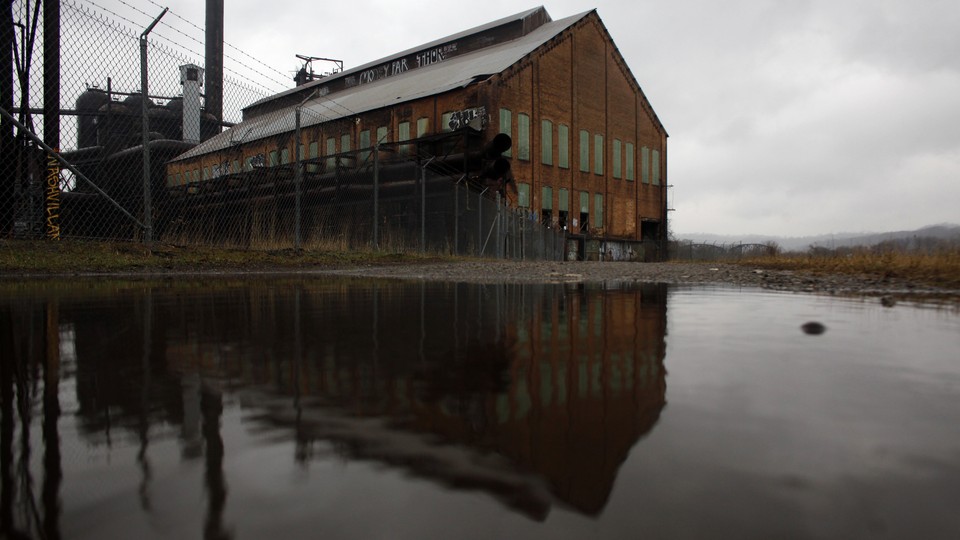 At the end of each month, the editors of The Atlantic's Business channel round up their favorite stories about money, business, and economics from around the web. The list includes pieces that are informative, unique, and/or beautifully told.
This month's pieces includes several takes on President-elect Donald Trump's economic policies and how they may or may not help the Americans who voted for him, a look at union membership in Las Vegas, and an investigation into why policies designed to prevent sexual harassment in the workplace so often fail.
If you've missed a recent month's roundup, you can find some here and here.
* * *
"These Professors Make More Than a Thousand Bucks an Hour Peddling Mega-Mergers"
Jesse Eisinger and Justin Elliott | ProPublica
Economists who specialize in antitrust—affiliated with Chicago, Harvard, Princeton, the University of California, Berkeley, and other prestigious universities—reshaped their field through scholarly work showing that mergers create efficiencies of scale that benefit consumers. But they reap their most lucrative paydays by lending their academic authority to mergers their corporate clients propose. Corporate lawyers hire them from Compass Lexecon and half a dozen other firms to sway the government by documenting that a merger won't be "anti-competitive": in other words, that it won't raise retail prices, stifle innovation, or restrict product offerings. Their optimistic forecasts, though, often turn out to be wrong, and the mergers they champion may be hurting the economy.
* * *
"Latina Hotel Workers Harness Force of Labor and of Politics in Las Vegas"
Dan Barry | The New York Times
Most of the hotels on and around the Strip are union shops, but the one that employs Ms. Vargas has yet to sign a contract. Even though its workers voted to unionize last December, and even though it is violating the law by not coming to the bargaining table — a point reinforced in a decision and order issued on Thursday by the National Labor Relations Board.

So Ms. Vargas wears her back brace, hidden, but also her buttons, prominent.

A wooden rosary draped over the rearview mirror sways as her Jeep wends through a working-class stretch of Las Vegas; this is not where Donny and Marie live. She drops her grandchildren at their school, then goes to the house of a friend from the Dominican Republic. She is standing outside, dressed in the same black and gray.

The Jeep drives deeper into the Vegas peculiarity, past the 7-Elevens and massage parlors, the smoke shops and strip clubs. Soon the casino and hotel giants of the Strip are framing the view, including one that sticks out like a gold tooth in a wicked grin.

This is where Ms. Vargas will clock in at 8:30, and where she is expected to clean a checked-out room in less than 30 minutes and a stay-over in less than 15. Every room seems to reveal something about the human condition.

'Sometimes I open the door, and I say 'Oh my God,' " Ms. Vargas says. "And then I close the door.'
* * *
Jacob Goldstein and Robert Smith | Planet Money
The Nobel Memorial Prize for economics was announced a few weeks ago. It was for contract theory. Normally, we'd interview the prize winners and then do a lot of clever talking about what it means, but this year we tried something different.

We called on one of our favorite economics experts, Tim Harford, and asked him how we should think about contract theory. His new book, "Messy," is about unlocking creativity, and it looks at how disorganization and improvisation are often the routes to invention.

We turned his techniques on this year's Nobel winner, Oliver Hart. We subjected him, and his theories, to Harford's oddball suggestions. We flipped through decks of inspiration cards, got ideas from cryptic phrases, and broke out musical instruments.
* * *
"Confessions of an Instagram Influencer"
Max Chafkin | Bloomberg Businessweek
These "influencers," as they're known, are media properties unto themselves, turning good looks and taste into an income stream: Brands pay them to feature their wares. Look a little more closely at your Instagram feed, and you'll probably notice that attached to the post of the gleaming hotel lobby, the strappy heels, the exquisitely berried breakfast is a sea of hashtags—among them, #ad or #sp, which discreetly disclose that these are in fact sponsored posts.

There are thousands, perhaps tens of thousands, of influencers making a living this way. Some make a lot more than a living. The most successful demand $10,000 and up for a single Instagram shot. Long-term endorsement deals with well-known Instagrammers, such as Kristina Bazan, who signed with L'Oréal last year, can be worth $1 million or more. Big retailers use influencers, as do fashion brands, food and beverage companies, and media conglomerates. Condé Nast, publisher of the New Yorker and Vogue, recently announced that it would ask IBM's artificial intelligence service, Watson, to take a break from finding cancer treatments to identify potential influencers.
* * *
"Ariel Investments' John Rogers Is on a Mission: Opening Doors for Minorities"
Lynne Marek | Crain's
All too often when Ariel Investments Chairman and CEO John Rogers Jr. calls Chicago universities, museums and foundations seeking business, he comes away frustrated. He moves in the city's top business circles, has ties to President Barack Obama and has built the largest African-American-led money management firm in the country. And yet his firm, which manages $10.4 billion in assets, just can't make inroads with some of the city's biggest nonprofits.

Why? Rogers strongly suspects his race has something to do with it.
* * *
Michael Kruse | Poltico
There are, easy to say now, many reasons Trump won, but high on the list are people like Del Signore and Schilling and Byich. Trump's road to the White House ran through Cambria County, where once steel and coal let people with high school educations buy houses and take vacations and lead relatively want-not middle-class lives—and where it doesn't work that way anymore. In this Rust Belt notch, where peeling paint, vacant storefronts and the dark hulks of shuttered mills are reminders of all that's been lost, Trump's mantra of Make America Great Again sounded not like a ball-cap slogan but a last-ditch chance—to reverse an economic decline that has been choking this region for decades.

"Your government betrayed you, and I'm going to make it right," Trump told a boisterous crowd at the Cambria County War Memorial Arena less than three weeks before Election Day. "Your jobs will come back under a Trump administration," he said. "Your steel will come back," he said. "We're putting your miners back to work," he said.
* * *
"China's New Tool for Social Control: A Credit Rating for Everything"
Josh Chin and Gillian Wong | The Wall Street Journal
More than three dozen local governments across China are beginning to compile digital records of social and financial behavior to rate creditworthiness. A person can incur black marks for infractions such as fare cheating, jaywalking and violating family-planning rules. The effort echoes the dang'an, a system of dossiers the Communist party keeps on urban workers' behavior.

In time, Beijing expects to draw on bigger, combined data pools, including a person's internet activity, according to interviews with some architects of the system and a review of government documents. Algorithms would use a range of data to calculate a citizen's rating, which would then be used to determine all manner of activities, such as who gets loans, or faster treatment at government offices or access to luxury hotels.
* * *
"Trump Can't Revive Industry. But His Voters Might Still Get Raises."
Jim Tankersley | The Washington Post
He can deliver for his blue-collar base by following a much simpler path. This set of policies would probably create millions fewer jobs than he promised, widen income inequality and almost certainly fail to produce an industrial revival. Yet it would still render meaningful economic improvement, creating jobs and lifting median wages for white workers without college degrees in Ohio, Pennsylvania, Michigan and Wisconsin. It builds on trends already at work in the economy. And it was pioneered by a Clinton.

If Trump can simply find a way to keep the economy growing even modestly for several years, and if the unemployment rate remains low, he has a good chance of presiding over a period of sustained wage growth similar to what America saw in the mid- to late 1990s, when Bill Clinton was president. Those gains will lift all workers, from elite engineers in Silicon Valley to janitors in Maine, if history is a guide. They might not bring back many factory or mining jobs, but they will boost the paychecks of the men and women who lost production jobs years ago and remain angry about it today.

Best of all for Trump, those gains have already begun. For all Trump's railing against the "terrible" economy under President Obama, census data released in September shows that typical workers at every level, from the very poor to the very rich, experienced income growth in 2015.
* * *
The Economist
The fear that globalisation has fallen flat has whipsawed markets. Although post-Brexit Britons know what that feels like, the referendum in Britain will be eclipsed by consequences of this election. Mr Trump's victory has demolished a consensus. The question now is what takes its place.

Start with the observation that America has voted not for a change of party so much as a change of regime. Mr Trump was carried to office on a tide of popular rage. This is powered partly by the fact that ordinary Americans have not shared in their country's prosperity. In real terms median male earnings are still lower than they were in the 1970s. In the past 50 years, barring the expansion of the 1990s, middle-ranking households have taken longer to claw back lost income with each recession. Social mobility is too low to hold out the promise of something better. The resulting loss of self-respect is not neutralised by a few quarters of rising wages.

Anger has sown hatred in America. Feeling themselves victims of an unfair economic system, ordinary Americans blame the elites in Washington for being too spineless and too stupid to stand up to foreigners and big business; or, worse, they believe that the elites themselves are part of the conspiracy. They repudiate the media—including this newspaper—for being patronising, partisan and as out of touch and elitist as the politicians. Many working-class white voters feel threatened by economic and demographic decline. Some of them think racial minorities are bought off by the Democratic machine. Rural Americans detest the socially liberal values that urban compatriots foist upon them by supposedly manipulating the machinery in Washington. Republicans have behaved as if working with Democrats is treachery.
* * *
"Why Can't We Stop Sexual Harassment at Work?"
Claire Suddath | Bloomberg Businessweek
Catchall policies that disavowed harassment quickly became the norm. Pick any major institution today, and you'll find one: "We do not tolerate harassment or inappropriate conduct," JPMorgan Chase's official code of conduct reads. Apple is committed to "a workplace free of harassment." In addition to the standard prohibitory language, Google urges its employees to "be excellent to each other." Goldman Sachs says it does "not tolerate any form of discrimination prohibited by law." Despite the recent outpouring of harassment complaints regarding former Fox News Chairman Roger Ailes, the policy at the network's parent company, 21st Century Fox, says that "unwelcome sexual advances [or] … verbal or physical conduct of a sexual nature" aren't allowed, and people should feel free to report any harassment they see or experience.

These policies often go hand in hand with the training courses, which typically cover the legal definition of harassment and what kind of behavior can get people into trouble. Maine and Connecticut passed their laws requiring training in 1992, in direct response to the Supreme Court confirmation hearings for Clarence Thomas. California followed suit in 2004 after 16 women accused then-Governor Arnold Schwarzenegger of harassment. ("With your background, you probably ought to sign it," Sarah Reyes, the state assemblywoman who introduced the bill, said about Schwarzenegger at the time.) But according to employment attorneys, HR managers, and the companies that design the courses, their goal isn't to stop harassment—it's to guard against lawsuits.

"You're building a defense in the event of an incident, passing liability from the organization to the individual," says Eugene Van Biert, vice president for global compliance solutions at Skillsoft.