Larry Kudlow and the Return of Supply-Side Economics
Trump's pick to chair the White House Council of Economic Advisers is something of a throwback.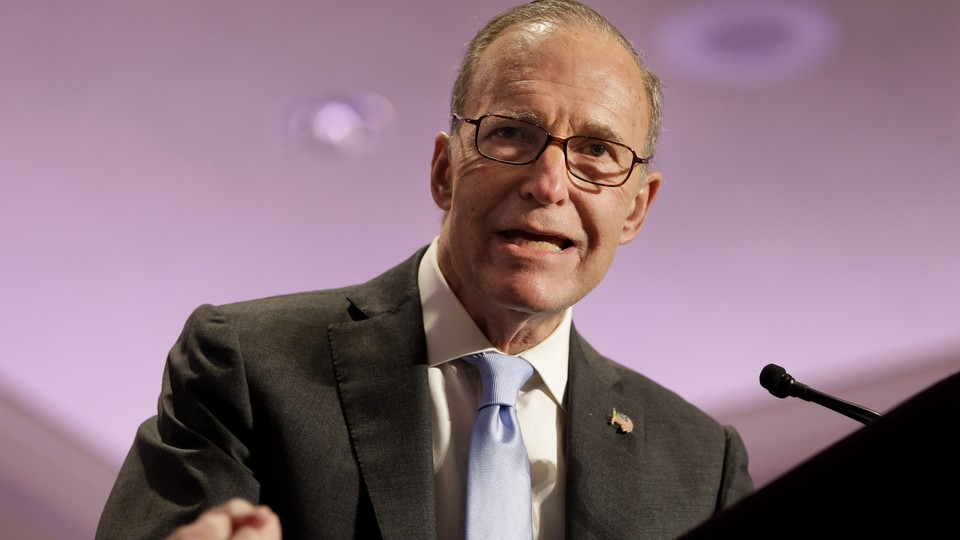 When a president (or president-elect, as the case may be) makes a high-level presidential appointment, embarrassments of the past have a way of coming to light once again. On Tuesday, for instance, former Texas Governor Rick Perry was nominated for energy secretary, conjuring up his infamous 2012 primary debate gaffe in which he failed to remember all three of the agencies he would abolish as president. The one he forgot? Energy. Of course, it's not just gaffes that receive attention: Any nominee will come under intense public scrutiny.
On Thursday, it was Lawrence Kudlow's turn. Most recently a radio and television commentator, Kudlow will reportedly be nominated to chair the White House Council of Economic Advisers, a position that will require him to advise the president on economic policy and crank out 600-page research reports. Observers were quick to note that Kudlow will be the unusual case of a CEA chief without a Ph.D. in economics, much less an undergraduate degree in the field. Old columns written by Kudlow also resurfaced such as one National Review in 2002 in which he lobbied for the U.S. to invade Iraq to rally the stock market or another in December 2007 in which he declared that there was no recession coming.
Kudlow's appointment marks a return of supply-side economics, a regimen of low taxes and little regulation of which he has long been an adherent since his days as a budget official in the Reagan administration. Kudlow, who served as an advisor on Trump's campaign, expressed enthusiasm about the future of the American economy under President-elect Trump in recent days. "I like what I see," Kudlow said recently of Trump's cabinet appointments. "The tax-cut program will really put a booster rocket underneath this economy. The top people in the administration are all there to push that—that's why I like them."
This praise notwithstanding, Kudlow seems poised to disagree with Trump's swaggering rhetoric against trade agreements such as NAFTA, a centerpiece of the Trump campaign. The news of Kudlow's likely appointment was leaked during a speech by Stephen Moore, the conservative economist, who worked alongside Kudlow on Trump's campaign. In his remarks on Thursday, Moore recounted a disagreement between Kudlow and Trump. "Larry said, 'Donald, we can't work for you. We believe in free trade and you're more of a protectionist,'" he recalled. "And he [Trump] said, 'Look, I'm not a protectionist, and I want a change in the trade laws, but I'm not a protectionist.'" The implications of this are unclear.
Kudlow, for his part, seems to take Trump at his word on trade. "I think the general thrust of his trade policy will be negotiation and re-negotiation; the art of the deal," Kudlow said at a panel earlier this week. "I think there are going to be carrots and sticks here, absolutely. I don't believe—again, this is just me—I don't believe that he is a major protectionist in its purist form. I don't expect him to start slapping big tariffs here and there." But should Trump actually follow through on his threats to abandon trade deals, he would be philosophically at odds with his own top economic adviser. If anything, this would be in line with the composition of Trump's cabinet so far, which has surprised many (and delighted some) by featuring voices that reflect the GOP establishment, and not the heterodox ideas Trump has championed in months past.