Ikea's Leave Policy Actually Includes Most of Its Workers
The furniture retailer will provide up to 16 weeks paid parental leave for its staff—including hourly employees. A generous, and rare, offer in the U.S.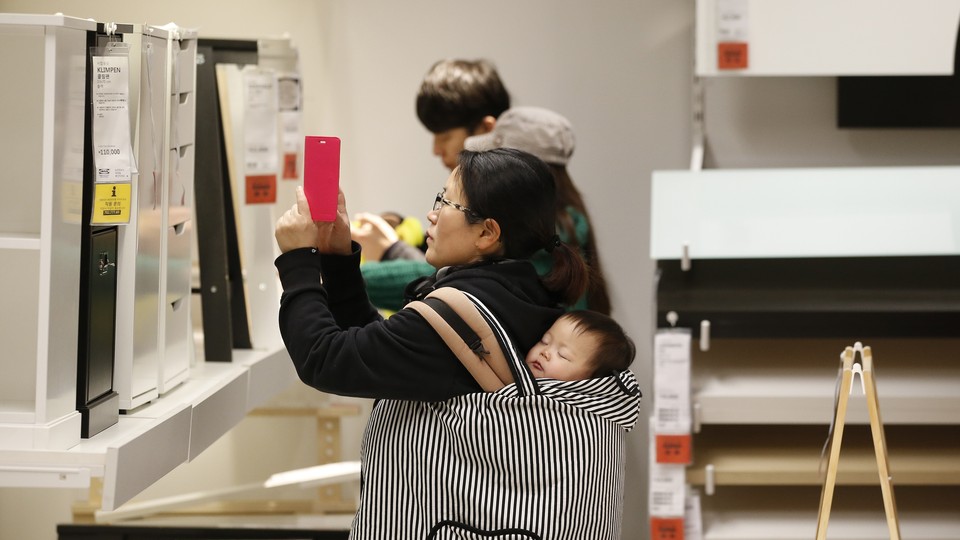 On Tuesday, Ikea—the Swedish furniture company that has become eponymous with trendy, affordable furniture and relationship tension—announced a new parental-leave policy. The plan is notable not only because of its generosity—both in terms of time off and pay—compared to many American employers, but also because Ikea will become one of very few employers to make such leave policies available to both part-time and full-time employees.
The new policy, which begins January 1, is based on the length of tenure. Employees who have been with Ikea for more than a year will be able to take parental leave for 12 weeks, the first six weeks at their full wage and the second six weeks at 50 percent of their normal pay. The policy is more generous toward those who have been with the company for more than three years, providing eight weeks of full wages and another eight weeks at 50 percent. Both policies are in addition to short-term disability benefits.
Currently, the most generous parental-leave policies in the U.S. have mostly come from the tech sector. Earlier this year, Etsy announced a new 26-weeks paid leave policy, joining a handful of U.S. companies—including Netflix, Google, Facebook, and Twitter—that offer paid time off well beyond what's required, which is nothing. (The U.S. is the only OECD country that doesn't mandate paid maternity leave.)
The fact that tech firms have been leading the way when it comes to leave has been chalked up to the ability to use such policies as a tool in the talent war, a means by which they can attract and retain highly skilled workers. But at the same time, the fact that these  policies have mostly been implemented at technology companies—as well as the individual requirements of those policies—has made them an exclusive luxury perk of white-collar jobs.
Ikea says that they hope their plan will change that. "It really is accessible to all, and that's one of the unique differences of what we're offering here. Our starting point is health, fairness, and well-being and not doing it just to be competitive because we think there's a tight labor market," explains Nabeela Ixtabalan, Ikea's human resources manager for the U.S. "When we looked at the parental leave, it was really about making sure we could improve our co-workers' daily lives. There's nothing more stressful or challenging than welcoming a new child into your home."
In recent years, a handful companies, including Coca Cola, Netflix, and hotel chain Hilton Worldwide, have taken the step of offering some kind of paid leave to its hourly workers. But those policies either fall short of the benefits offered to full-time workers, or don't cover employees who are subject to collective bargaining agreements. Ikea said that its policy will provide leave coverage to approximately 12,000 of its nearly 15,000 workers in the U.S., and doesn't require minimum hours for eligibility. For example, even an Ikea employee who works only 10 hours a week would still be eligible for 16 weeks of paid leave as long as he or she has been with the company for more than three years.
Ixtabalan says that the policy has been in the works for a while, and that the aim is to improve the employer's relationship with staff, retain talent (although she notes that Ikea has an average tenure of more than five years and a low turnover rate for the retail industry), and improving the wellbeing of its employees.
This new policy shows that  the trend toward paid time off is finally starting to reach hourly workers, says Jennifer Sabatini Fraone, the associate director of Boston College's Center for Work & Family. And she thinks that's a very important development."What's most remarkable about this policy is that it's covering part-time retail workers, people who normally might not have access to any of their wages while they're taking time away for their family," says Fraone. "For companies with hourly and lower-wage workers, it's less common [than the tech, financial, and professional services industries], but more necessary because these workers tend to earn lower wages and therefore it's much more difficult for them to finance unpaid time away from the workforce."
Fraone also says that Ikea's new benefit is in line with other two trends she's seen in the paid parental-leave space: Policies that are gender neutral, and that provide paid leave for the  the duration of time that workers might have used the Family and Medical Leave Act—a federal law that requires employers to give workers 12 weeks for unpaid leave to take care of a sick family member or new baby. "Twelve weeks is becoming somewhat of a new standard," says Fraone.
While generous policies from private companies are not exactly a substitute for a government-leave policy that would help all working parents, it's certainly a start. Currently, only four states—California, New Jersey, Rhode Island, and New York—offer guaranteed paid family leave. On Tuesday, lawmakers in Washington, D.C. are set to vote on a paid-leave policy which would offer 11 weeks of leave. The program would be funded by payroll taxes, a contentious aspect of the bill as the benefit would extend to those who work in D.C., but live in a neighboring state.
When it comes to the logistics of Ikea's policy, Ixtabalan says that the company plans to use interim assignments to fill in for staff who are on leave. They also want to strongly encourage staff in leadership positions—half of whom are women—to take advantage of the new policy, so their staff will feel comfortable using it too.
"The more senior leaders take that time off, the more people that are taking paternity leave, that's what trickles into social norm of the organization and that's what we're encouraging our leaders to do," says Ixtabalan. "Spend time at home, show our coworkers that you can be a great leader and have that balance."