The Dangerous Myth That Hillary Clinton Ignored the Working Class
To many white Trump voters, the problem wasn't her economic stance, but the larger vision—a multi-ethnic social democracy—that it was a part of.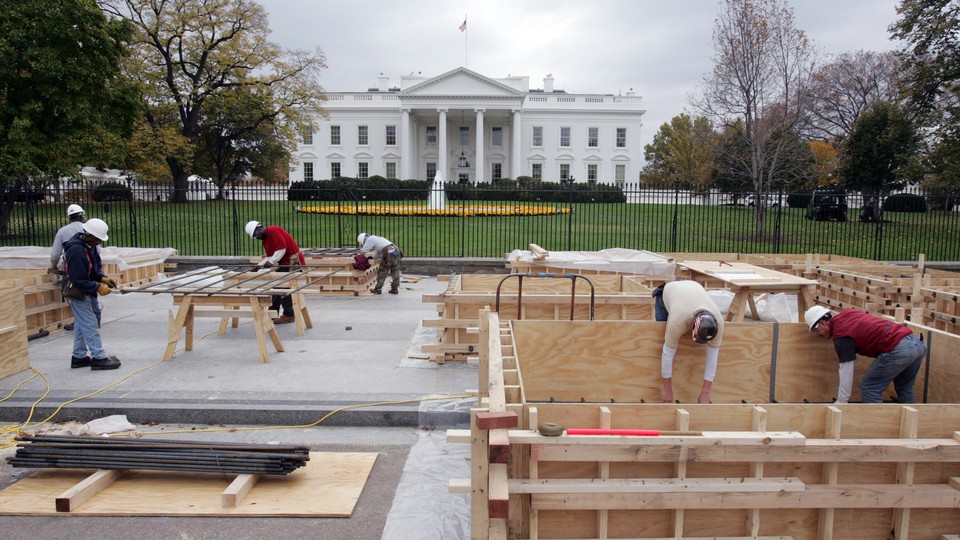 Perhaps the clearest takeaway from the November election for many liberals is that Hillary Clinton lost because she ignored the working class.
In the days after her shocking loss, Democrats complained that Clinton had no jobs agenda. A widely shared essay in The Nation blamed Clinton's "neoliberalism" for abandoning the voters who swung the election. "I come from the white working class," Bernie Sanders said on CBS This Morning, "and I am deeply humiliated that the Democratic Party cannot talk to where I came from."
But here is the troubling reality for civically minded liberals looking to justify their preferred strategies: Hillary Clinton talked about the working class, middle-class jobs, and the dignity of work constantly. And she still lost.
She detailed plans to help coal miners and steel workers. She had decades of ideas to help parents, particularly working moms, and their children. She had plans to help young men who were getting out of prison and old men who were getting into new careers. She talked about the dignity of manufacturing jobs, the promise of clean-energy jobs, and the Obama administration's record of creating private-sector jobs for a record-breaking number of consecutive months. She said the word "job" more in the Democratic National Convention speech than Trump did in the RNC acceptance speech; she mentioned the word  "jobs" more during the first presidential debate than Trump did. She offered the most comprehensively progressive economic platform of any presidential candidate in history—one specifically tailored to an economy powered by an educated workforce.
What's more, the evidence that Clinton lost because of the nation's economic disenchantment is extremely mixed. Some economists found that Trump won in counties affected by trade with China. But among the 52 percent of voters who said economics was the most important issue in the election, Clinton beat Trump by double digits. In the vast majority of swing states, voters said they preferred Clinton on the economy. If the 2016 election had come down to economics exclusively, the working class—which, by any reasonable definition, includes the black, Hispanic, and Asian working classes, too—would have elected Hillary Clinton president.
The more frightening possibility for liberals is that Clinton didn't lose because the white working class failed to hear her message, but precisely because they did hear it.
Trump's white voters do support the mommy state, but only so long as it's mothering them. Most of them don't seem eager to change Medicare or Social Security, but they're fine with repealing Obamacare and its more diverse pool of 20 million insured people. They're happy for the government to pick winners and losers, so long as beleaguered coal and manufacturing companies are in the winner's circle. Massive deficit-financed spending on infrastructure? Under Obama, that was dangerous government overreach, but under Trump, it's a jobs plan by a guy they know won't let Muslims and Mexicans cut in line to get work renovating highways and airports.
Many liberals—including those who supported Clinton enthusiastically,  those who supported her only grudgingly, and even those who didn't vote—share a vision for America's future. Call it "pluralist social democracy." In other words, most left-of-center people would like the U.S. to move toward a more European-style system of universal health care, subsidized education and childcare, and greater support for those born in poverty or displaced by globalization; that's social democracy. But unlike in many European countries, they also want to see these values combined with a distinctly American flavor of pluralism: support for immigration reform, criminal-justice reform, and a celebration of America's multiethnic culture.
After the election, some people called for an end to "identity politics" that promotes niche cultural issues over economic policy. But any reasonable working-class platform requires the advancement of policies that may disproportionately help non-whites. For example, hundreds of thousands of black men stay out of the labor force after being released from prison sentences for non-violent crimes. For them and their families, criminal justice reform is essential economic reform, even if poor whites see it as a distraction from the "real" issues that bedevil the working class, like trade policy.
The long-term future of the U.S. involves rising diversity, rising inequality, and rising redistribution. The combination of these forces makes for an unstable and unpredictable system. Income stagnation and inequality encourage policies to redistribute wealth from a rich few to the anxious multitudes. But when that multitude includes minorities who are seen as benefiting disproportionately from those redistribution policies, the white majority can turn resentful. (This may be one reason why the most successful social democracies, as in Scandinavia, were initially almost all white.) Nobody has really figured out how to be an effective messenger for pluralist social democracy, except, perhaps, for one of the few American adults who is legally barred from running for the U.S. presidency in the future.
So, the country is wobbling between two extremely different futures: pluralist social democracy on the one hand, and white nativist protectionism on the other. The election's bizarre schism, with Clinton winning the popular vote and Trump winning the electoral college, is a sign of how razor-thin the margin between those dramatically opposed futures is.
Rising diversity isn't going away. Income inequality isn't going away. Support for redistribution isn't going away. For liberals, pluralist social democracy is the project of the future, and any alternative falls somewhere between xenophobic and amoral. But what if the vast majority of white voters who voted for Trump aren't interested in any version of that future, no matter who the messenger is?