The Infuriating Cancellation of Good Girls Revolt
When women aren't present for senior-level decision-making, companies can fail to see the value of shows and products that appeal more directly to the female half of the population.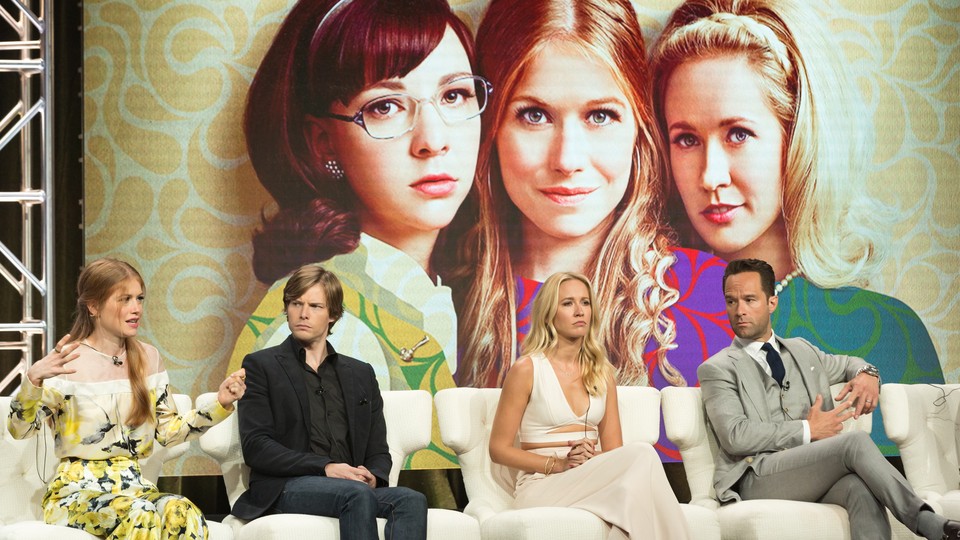 In early December, Amazon Video announced that it would not be renewing its new series Good Girls Revolt for a second season. The show, inspired by veteran journalist Lynn Povich's book, told the story of the landmark sex discrimination lawsuit she and 45 other women filed against Newsweek in 1970. Good Girls Revolt captures the cultural awakening of that time period and centers on a group of young women who, despite doing work similar to that of their male coworkers, are paid less and are relegated to the title "researchers," while their male colleagues are "reporters," getting all the credit and bylines. The first season chronicles the women organizing to sue their employer, "News of the Week," to be treated fairly. The show received a lot of positive buzz, a 4.5 star rating from over 18,000 viewers, and was selected by Newsweek as one of the best of 2016, but that wasn't enough for Amazon, apparently. Just five weeks after it premiered, Amazon Video cancelled it.
The show's cancellation came on the heels of Hillary Clinton's electoral defeat, an event that provided, one might have thought, a ready-made marketing opportunity for a show about women fighting for gender equality. Roy Price, who heads Amazon Video, seems not to have seen things that way. According to several reports, Price didn't personally like the show and didn't watch it himself. When asked how many women were involved in the decision not to renew the series, Dana Calvo, the creator of the show, publicly said that no women were involved in the decision. Another source close to the show, who requested anonymity because of the sensitivity of the situation, confirmed that no women were on the leadership team that decided not to renew.
When I asked Amazon about the decision and whether any women were involved in making it, Joe Lewis, the head of comedy and drama series development at Amazon Video, said in an email that the show was cancelled because it "wasn't performing at the level we had hoped for—either in total viewership or completion rates." He did not respond to my question about whether any women had been present when the decision was made. (According to reports, Sony Pictures Television is now shopping the show to other networks and fans are cheering them on via a hashtag, #SaveGoodGirlsRevolt.)
Of course, it's possible that even with plenty of women in the room, the result could have been the same. If a show isn't hitting pre-determined metrics, there are sound business reasons to cancel it. Yet, even if Good Girls Revolt missed expectations (which is disputed), when making decisions about shows it's important "not to get lost in the weeds of the data," as Roy Price himself has stated. Just as important is the ability to read the cultural tea leaves to be able to foresee which shows will map on to the national zeitgeist. And that's where the homogeneity of the decision-makers becomes relevant, as a room full of men is going to read the culture differently than a group that looks more like all of America. As the cancellation of Good Girls Revolt shows, men-only decision-making committees can misread the cultural moment in spectacular fashion.
The failure of companies to put women consumers at the center of their R&D or business strategy is common. A classic example is that it wasn't until a few years ago that carmakers began regularly testing female crash dummies in drivers' seats. For 30 years, it was just assumed that using male crash test dummies would suffice, even though women are typically smaller than men and the smaller a person is the less force they can tolerate in a crash. That cars were not tested to be safe for female bodies helps to explain why women are killed and injured in car accidents at disproportionately higher rates than men. It's because women were not included in the analysis—at all.
In a recent Merrill Lynch report on women's growing economic and consumer power, Jackie VanderBurg, a managing director at U.S. Trust noted that including women could have been a big business win for a car company. She said, "A company that had taken the initiative to use female test dummies earlier could have differentiated itself by showing a concern for women's safety."
There are many other cases of companies missing an opportunity to think about women in their work, and missing out on business as a result. When men are the default consumer or patient, the results can range from annoying to life-threatening for women, from speech-recognition technology that more readily understands male voices than female voices to pharmaceutical drugs that had to be pulled due to negative health impacts that hurt women significantly more than men.
One reason that women get left out of the equation is that very often there are few women in the rooms where plans are formulated, marketing campaigns created, technologies designed, and decisions made. This is especially true at the most senior levels. Sometimes, as seems to be the case with the decision by Roy Price at Amazon video, there are no women involved at all.
This is true even among companies that make and market products directly to women. An analysis of the 19 largest companies that focus on women (cosmetics, department stores, women's clothing, certain consumer goods etc.) found that only one company has a senior leadership team that is majority women (J.C. Penny's) and only one company has a board of directors that is majority women (Avon).
This was certainly the case for many years at Kimberly-Clark. In 2009, among employees at Kimberly-Clark who were director level or higher, only 17 percent were women. In contrast, 85 percent of their consumers were women. So it was up to a largely male-led team to figure out how to market tampons, maxi-pads, and diapers. According to Jillian Berman a business writer at the Huffington Post, "that translated into ads featuring blue liquids dumped on sanitary napkins, and portraying ecstatic women clad in all-white dancing and frolicking, apparently while menstruating. That's a scenario approximately no woman has ever related to."
In recent years, Kimberly-Clark has focused on hiring more women and has made tremendous progress. Sue Dodsworth, the company's global diversity officer who drove the turnaround, reported that in 2014 women made up a third or more of senior-level managers (sadly, a relatively high percent, by corporate standards). Kimberly-Clark now has a different marketing campaign, U by Kotex, that makes fun of those old commercials. It has recently launched a new campaign called The Period Projects, which aims to change the way women talk about and experience their periods.
Hollywood studios should take notice. While women make up half the population, half of moviegoers, and half of graduates from top film schools, they only comprise 20 percent of the executive positions in large media companies. They are even less common behind the camera: Women make up only 3 percent of film directors and 12 percent of directors of streaming shows. For every one woman screenwriter, there are 2.5 male screenwriters. Other research has found that when women are in executive roles in film, they pull more women into work throughout a project. For example, on broadcast shows without any women executives, women made up only 6 percent of the writers. But on shows with at least one woman executive, women made up 32 percent of the writers.
All of this matters—for the stories that get told, the characters that get put on screen, the decisions that get made, and the profits that are earned or lost. It just may be the case that when a white male studio executive decides he doesn't like a show, say one about a pivotal moment in women's history, his sentiments might not be shared by women or people from other underrepresented groups. One has to wonder if Amazon video's decision about Good Girls Revolt may have been different if even one woman was in the room.
It's ironic that with no women in the room, Roy Price decided to axe a show about women who were fighting against just that—against men having complete ownership and control over the media. It has been many decades since Lynn Povich and her female colleagues sued Newsweek, and yet there is so little distance between the world in the show and the world that controlled the show's fate.
This tendency for white men to disproportionately control editorial decision making—to use their particular experience and taste as a proxy for everyone else's experience and taste—can have real consequences for brands and bottom lines. This is especially true as our society becomes increasingly diverse and multicultural.
In the words of advertising titan Cindy Gallop, "There's a huge amount of money to be made out of taking women seriously." But companies and brands will fail to do so if women aren't taken seriously as employees first.