The United States of Exxon
Donald Trump says the global dealmaking of Rex Tillerson, his nominee for secretary of state, is what qualifies him for America's top diplomatic post. His opponents argue that's exactly the problem.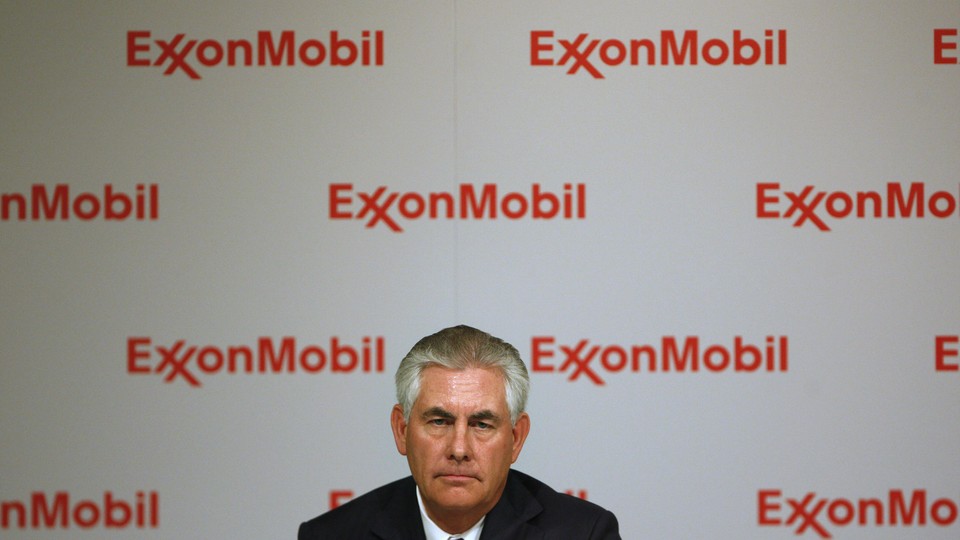 The biographical particulars of ExxonMobil CEO Rex Tillerson, who was nominated to serve as Donald Trump's secretary of state on Tuesday, seem crafted from a Mad Libs sheet of Michael Moore's grimmest nightmares. A "tall, strapping Texan" with "a twang to show for it" and "silver coiffure," Tillerson is an Eagle Scout-turned-multimillionaire after a four-decade run at one of the biggest and most domineering global corporations. And his favorite book is Ayn Rand's Atlas Shrugged.
Tillerson's myriad feats as a businessman—forging the deep ties required to negotiate billion-dollar oil deals with Russia, for example—quickly fomented anxiety, even among the Republican senators whose support his confirmation requires. But it's these very accomplishments that President-elect Donald Trump chose to broadcast when he announced Tillerson as his pick for America's top diplomatic post.
The thing I like best about Rex Tillerson is that he has vast experience at dealing successfully with all types of foreign governments.

— Donald J. Trump (@realDonaldTrump) December 13, 2016
Regardless of whether Tillerson manages to get confirmed, his nomination reflects the sometimes unfathomable extent of American power—American corporate power, that is. In 2014, Exxon earned $32 billion in profit, more than the GDPs of more than half of the countries in the world. At times, Exxon has exerted its influence in ways that supplant foreign policy. "Take, for example, Chad, one of the poorest countries in Africa," writes Steve Coll in The New Yorker. "During the mid-two-thousands, the entirety of U.S. aid and military spending in the country directed through the U.S. Embassy in the capital, N'Djamena, amounted to less than twenty million dollars annually, whereas the royalty payments Exxon made to the government as part of an oil-production agreement were north of five hundred million dollars. Idriss Déby, the authoritarian President of Chad, did not need a calculator to understand that Rex Tillerson was more important to his future than the U.S. Secretary of State."
It's not exactly groundbreaking to suggest that the interests of U.S. corporate power don't always line up with the goals of American foreign policy. In Tillerson's case, this has manifested itself in lobbying against the American sanctions against Russia, sanctions that have interrupted billions of dollars of Exxon projects in Siberia and sanctions that were coordinated in part by U.S. Secretary of State John Kerry following Russia's violation of Ukraine's sovereignty and its annexation of Crimea. (Meanwhile, shortly after Russia's encroachment, Vice President Joe Biden's son Hunter was named to the board of one of Ukraine's largest gas companies, showing there's also profit to be made by going along with American policy.)
Whether a line can be drawn between the interests of a career businessman and the diplomatic interests of the United States is an important question for Trump's Secretary of State pick, but, notwithstanding Tillerson, this is only a small part of a dynamic in which business and diplomacy are so profitably intertwined. The emergence of Tillerson as a candidate for state was said to have been pushed forward by former Secretary of State James Baker, whose law firm has extensive links with Exxon, Shell, and Halliburton. And, following his nomination, Tillerson quickly found fawning vocal support from members of the Republican establishment, including former Defense Secretary Bob Gates and former Secretary of State Condoleezza Rice. Notable names for sure, but also now paid consultants for Exxon.
Much will be made of the timing of Tillerson's nomination, which comes in the midst of furor over Russia's efforts to influence the U.S. election. But while this all plays out, former Obama officials and appointees of not-so-distant memory may be greasing the regulatory gears of Uber and Airbnb and the Business Software Association. These examples may not be as crude as Exxon, but they also matter.