About Those Air Cushions in Amazon Packages Everywhere
As the appetite for online shopping grows, companies that protect packages in transit are profiting.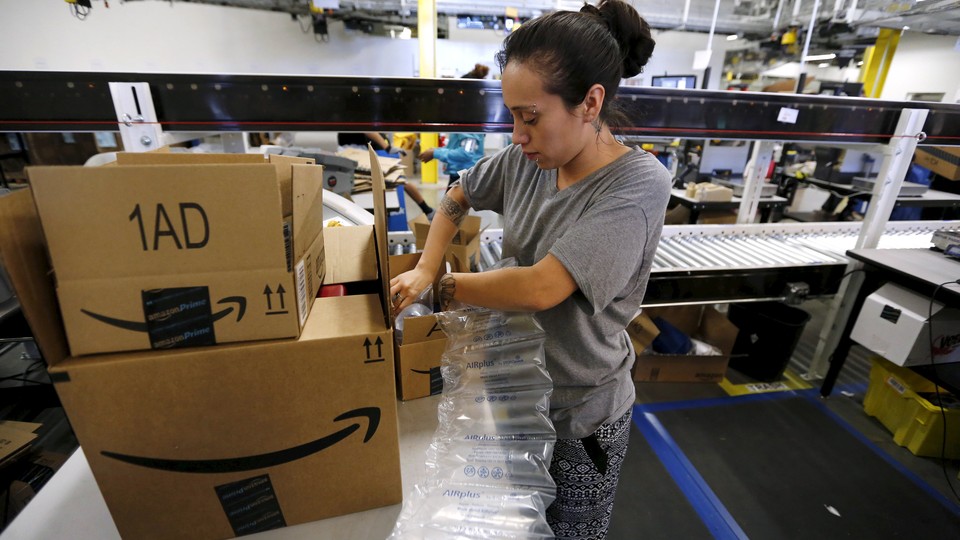 Like many Americans, I've started ordering an absurd number of items online in the last several years: clothes, toilet paper, and food. As my apartment filled with things that I bought online, it also filled with something I didn't quite know how to dispose of: the many air-filled pouches placed inside of those boxes to cushion my purchases in transit.
I wasn't alone in my bewilderment. All over the internet I found frustrated customers on forums discussing how many air-filled cushions they were getting. Perhaps unsurprisingly, the increasing popularity of e-commerce—which accounts for over 8 percent of total retail sales as of last quarter—has been a boon for protective-packaging companies, now a $5.6 billion industry, according to the Freedonia Group, a market-research firm. That's right—$5.6 billion.
Historically, the industry served mostly manufacturing and wholesale clients. But today, e-commerce is playing a much bigger role. In the last decade, retail has gone from less than 20 percent of packaging sales in the U.S. to nearly 30 percent. Freedonia forecasts that the U.S. demand for air cushions alone is up by 5.5 percent this year.
"There are a lot of reasons why air cushions are well-suited to take advantage of e-commerce," explained Katie Wieser, an analyst at Freedonia Group. "In general, it comes down to performance. The great thing about bubble wrap and air cushions is that a lot of the stuff we buy online doesn't need a ton of protection, it just needs to stay put in the box."
The biggest market share holder in the American protective-packaging space is Sealed Air, a company with a very literal name that has some historical origins. The company was founded in 1960 by Alfred Fielding and Marc Chavannes, the inventors of bubble wrap. At the time, bubble wrap was invented for use as  wallpaper. That trend never caught on, but the material's use as protective packaging took off. Before bubble wrap, the most common options for cushioning goods in transit were sawdust, newspaper, and rubberized horsehair.
Sealed Air has since branched out from bubble wrap, which now accounts for only about 15 percent of its $1.6 billion protective-packaging business. But air-cushion sales have been booming. The company's "fill-air" product is used by Amazon, Home Depot, Walmart, UPS, and FedEx. "That product has experienced a real uptick for us. Our sales for fill-air is up about 40 percent versus prior years," said Ken Chrisman, the president of the protective-packaging division of Sealed Air. Chrisman believes part of the reason is because air cushions are easy to use, that's especially helpful around the holidays when online retailers are scrambling to fill orders.
Wieser, the analyst at Freedonia Group, says that the air cushion business is booming, in part, because the cushions are cheap. Initial costs (mostly the machinery to produce the cushions) aside, air cushions are cost-effective, easy to use, and don't increase shipping costs since they're so light.  Packaging companies are also starting to offer cheaper machines for small- and medium-sized retailers. It also helps that styrofoam is losing popularity, in part due to environmental concerns. Some cities, such as San Francisco, have gone so far as to ban it. (A New York effort failed.) Additionally, air-cushion machines tend to take up less space in fulfillment centers.
The downside to air cushions, according to Wieser, is that consumers are starting to become more sensitive to over-packaging and environmental concerns in general. Cardboard recycling is already a huge issue, and while deflated air cushions can be recycled, many cities won't collect them curbside. That means they have to be brought to local grocery stores that recycle plastic bags. (Sealed Air offers a recycling program for those who want to send their deflated air cushions back.) Lumping recycling practices of fillers in with plastic bags doesn't bode well: According to the EPA, less than 5 percent of plastic bags in the U.S. actually get recycled.
The culprit behind much of this over-packaging is related to Wieser's point about how air cushions are used in shipping boxes: Retailers tend to have standard sizes for boxes instead of customized ones. This is part of the reason so many retailers only offer free shipping after a certain price threshold—in order to recoup the cost of shipping larger boxes, the boxes need to have more items in them. When standard box sizes don't match up with an order, air cushions are a quick and easy way fill the extra space and keep products in place during shipping, preventing costly returns due to damage. These environmental concerns don't necessarily mean that shopping at brick-and-mortar stores is more sustainable: One study found that online retailers use 30 percent less energy than physical stores (not to mention that stores in the U.S. use some 100 billion plastic bags every year).
As for my own stack, I'm planning to mail it in. It's not a perfect solution, but it's got to be better than throwing them out.