What Trump's Secretary of Labor Could Do
His rumored choices have very different backgrounds but all seem to share a belief that the government has put too many restrictions on business.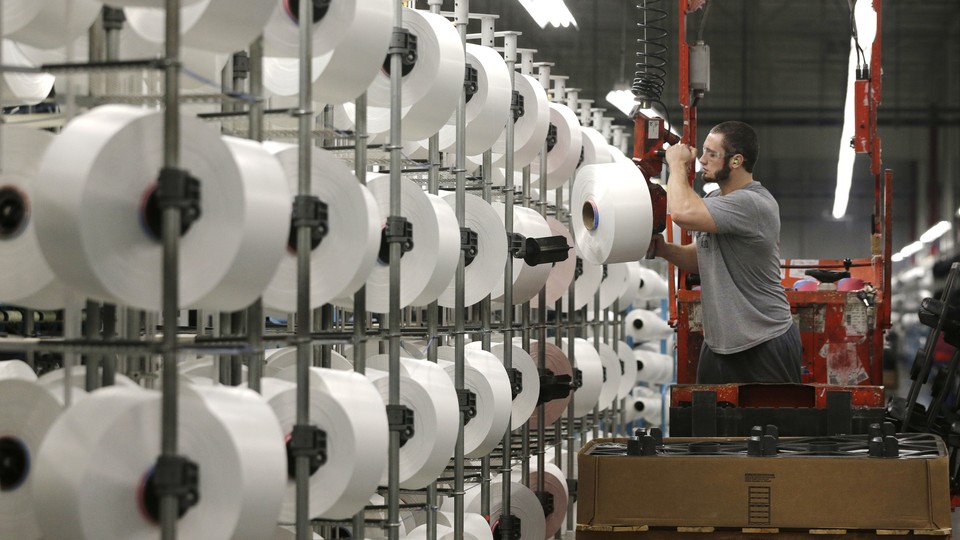 In the days since the election, few positions in the incoming Trump administration have been finalized. But a look at early appointments, campaign advisors, and favored administration hopefuls makes one thing clear:  Trump is building a pro-business cabinet intent on scaling back government regulations meant to protect workers, consumers, and the environment.
Figuring out what that means for America's workforce will largely depend on whom Trump names as the secretary of labor, a position tasked with enforcing rules meant to protect American workers, through mechanisms such as safety regulations, overtime-pay requirements, and workers'-compensation benefits. Media outlets have been floating a handful of names that Trump might be considering, among them Victoria Lipnic, Andrew Puzder, and Scott Walker. They have vastly different professional backgrounds, but all seem to share a philosophical view that the government's role is to protect employers more than workers.
A potential frontrunner for the job, according to Politico and The New York Times, is Victoria Lipnic, one of two Republican commissioners on the Equal Employment Opportunity Commission (EEOC), which enforces civil-rights laws in the workplace. Lipnic served as the assistant secretary of labor under George W. Bush before Obama appointed her to the EEOC in 2010. She, in some ways, represents a more moderate choice for labor secretary than the other two potential picks, and has experience in both the private sector (as an attorney) and public sector. Her voting record as an EEOC commissioner sometimes crosses party lines, but is largely indicative of a preference for less regulation. This year, Lipnic was one of two Republican commissioners who voted against the proposal to require employers to submit detailed pay data for employees, which many viewed as an opportunity to make companies more transparent about the pay gaps that exist for women and workers of color. She was quoted as saying that the proposal "should be relegated to the heap of bad policy ideas once and for all."
A few years earlier, Lipnic suggested that the struggling economy was a reason not to push for paid leave for employees seeking time off under the Family and Medical Leave Act. And while she does agree that it is illegal to discriminate against workers based on their transgender identity, she does not believe it's illegal to prohibit a transgender worker from using the bathroom of his or her chosen identity. However, Lipnic has taken what could be seen as more liberal stances as well, such as arguing that employers should make accommodations for pregnant workers just as they do for injured or disabled employees.
Politico has also mentioned the names of two other contenders to head the Department of Labor, and one of them is more in line with the Washington outsiders that Trump vowed to bring with him to the nation's capital. That's Andrew Puzder, the CEO of CKE Restaurants, which owns the fast-food chains Carl's Jr. and Hardees. Puzder, who advised Trump and fundraised for him during the campaign, has been a vocal defender of Trump's economic policies, such as his opposition to Obamacare and business regulations like a higher minimum wage, and his support for lowering the corporate-tax rate. Puzder has written about how raising the minimum wage, and offering paid leave and health insurance to employees hurts the restaurant industry. Efforts to increase the minimum wage, he argues, are bad for everyone because "businesses will have to figure out the best way to deal with the high labor costs, which will lead to price increases, more efficient labor management and automation...drastic increases will unfortunately hurt low-skilled workers who need entry-level jobs the most."
The third person rumored to be on the shortlist for labor secretary is Wisconsin Governor Scott Walker. His appointment would be a big blow to labor unions. During his tenure as governor, he launched an aggressive campaign against unionization, trying to limit collective-bargaining rights for public employees and narrowly surviving a recall effort. In 2015, he succeeded in weakening labor unions by making Wisconsin a right-to-work state, which lets workers opt out of joining a union and paying dues, even though unions still represent their interests in negotiations. The likelihood that Walker will take over the Department of Labor is slim, as he recently announced his intention to oversee the Republican Governors' Association, which works to increase the number of Republican governors across the United States.
If Trump appoints any of these individuals to lead the Department of Labor, they will likely try to undo many of the rules and executive orders introduced during Obama's tenure. For example, Obama raised the minimum wage for employees hired by federal contractors and granted them paid sick days. Tom Perez, the current labor secretary, recently enacted a new rule that gives financial advisors a fiduciary responsibility to their clients, which means that beginning in April, when the rule goes into effect, advisors will be legally required to invest money in their clients' best interest, instead of investing in ways that give them the best commission. Some financial advisers argued that this will make it harder for them to provide services to lower-income clients. In May, Perez announced the expansion of the eligibility for overtime pay to anyone making less than $47,476, up from its previous threshold of only those making less than $23,660 a year—a move that was opposed by business groups like the U.S. Chamber of Commerce.
Whoever Trump chooses, it's likely that they will attempt to unwind some of the decisions of the previous administrations. Things won't change immediately, undoing some of these rules will take a while—possibly years. But they have those years ahead of them, and their work begins soon.