The Future of Housing Segregation Under Trump
The president-elect is skeptical about many of the Obama administration's attempts to give minorities access to better homes.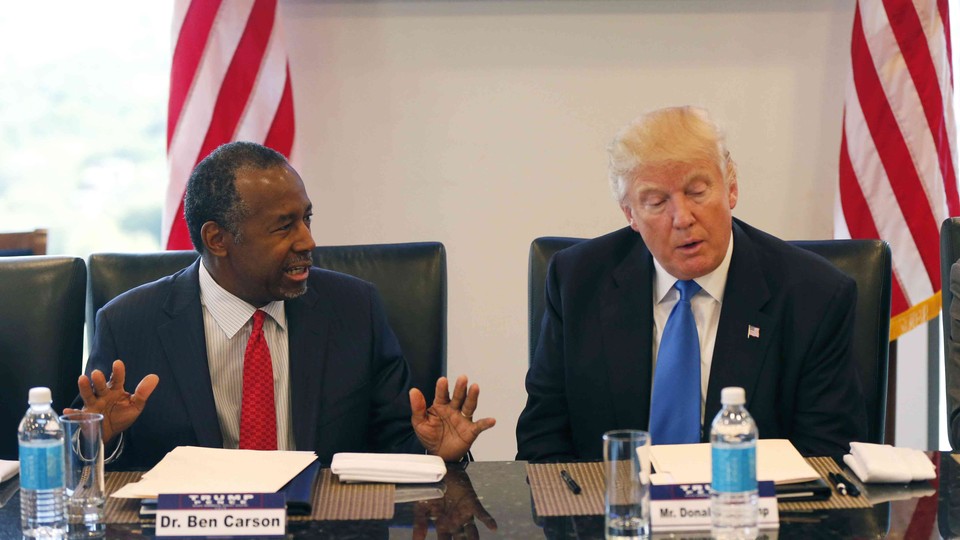 No matter what one thinks of Obama, it's hard to argue with the fact that his administration has done a great deal to further integrate America's neighborhoods. It was while Obama was president that the Department of Housing and Urban Development (HUD) released a new rule requiring cities to analyze racial and financial segregation among their residents. It was Obama's solicitor general, Donald B. Verrilli, Jr., who filed an amicus brief on the side of fair-housing advocates in Texas Department of Community Affairs v Inclusive Communities, a landmark Supreme Court case about 1968's Fair Housing Act. It was the Obama administration that proposed changes to the Section 8 housing-voucher program that would give low-income families who live in wealthier areas more money for their vouchers.
Now, after the election, all of these accomplishments are at risk, and the policies that promote the concept of fair housing—essentially, making sure every American has equal access to safe and secure housing in good neighborhoods—may once again fall by the wayside. President-elect Donald J. Trump has not yet named a HUD secretary, but he has floated some potential appointees, including the retired neurosurgeon Ben Carson, who has called one plan for fair housing a "mandated social-engineering scheme." Trump himself has also expressed disdain for many of Obama's housing policies, especially those trying to reduce segregation, which is perhaps not surprising for a man who got his start in real estate by refusing to rent to minorities in New York.
It would be relatively easy for whoever Trump picks to reverse some of the accomplishments of the Obama administration. "The HUD Secretary can really set the tone in terms of making decisions about where resources are allocated, and where staff are provided to take on enforcement roles," said Robert Silverman, a professor of urban and regional planning at the University of Buffalo. He said that Trump could effectively nullify certain provisions by defunding their enforcement.
Most at risk is a rule, released in July of 2015, requiring communities to "affirmatively further fair housing"—a provision of the Fair Housing Act of 1968 that had long been mostly ignored. Under the 2015 rule, cities are required to assess whether housing in their communities is racially segregated, and then release the results of that assessment every three to five years. Cities are encouraged, through financial incentives, to set desegregation goals, establish new low-income housing in integrated neighborhoods, and track their progress on those goals.
The rule was widely panned by many conservatives, who saw it as government overreach. "The explicit purpose of HUD's new rule is to empower federal bureaucrats to dictate where a community's low-income residents will live," Republican Senator Mike Lee, of Utah, said on the Senate floor. Trump disliked the rule too, according to The Daily Caller. In a meeting last summer with Rob Astorino, a politician in Westchester, New York, who is battling the construction of affordable housing in his county, Trump reportedly said that he thought the rule took away the rights of local communities. Astorino later told reporters that Trump said that the rule "would not continue under the Trump administration."
HUD has been adding staff to administer the rule and monitor communities' process of evaluating their housing options. The easiest way for Trump to ensure the rule isn't enforced would be to simply not provide funding or resources to hire the staff to make sure cities are carrying out these assessments, Silverman said. Trump could also rescind the rule entirely, though that would be a more radical approach. "I assume it would be more of a withering process, where the agency would be denied resources for things that the administration doesn't prioritize," Silverman said. This happened in the Environmental Protection Agency after Reagan took office, he said, when the new administration simply didn't provide the EPA with enough resources to do its regulatory work.
For fair-housing advocates, disregarding the rule would be a major blow. It would take away a process that many saw as a major step in desegregating cities and counties, and revert back to how things used to be. Before the new rule, there was little incentive provided by the federal government for cities to assess whether they were becoming more or less segregated, and to do something about it. Some cities might have undertaken this process independently, but many were content to remain segregated, claiming it was what residents wanted.
A Trump administration could also decide to scale down enforcement of the Fair Housing Act more generally, both through HUD actions and through the Department of Justice. Even before the rule, for example, HUD could revoke funding from communities that were perpetuating segregation. In Beaumont, Texas, for instance, after state and federal governments decided that the neighborhood the city had chosen for a new public-housing complex was too segregated, HUD took away the funding for the project. It told the city it could have the money back if it built the housing complex in a more integrated neighborhood. HUD, under Trump, could direct staffers to be less aggressive when responding to such cases. In addition, the attorney general and assistant attorney general for civil rights file lawsuits over issues of housing discrimination. Between 2012 and 2015, for example, the Civil Rights Division of the Justice Department filed more than 100 lawsuits to combat housing and lending discrimination. An administration under a president who has no stated interest in combating housing discrimination could see fewer such lawsuits.
Other signature Obama housing efforts will likely be eradicated or replaced. That includes the Choice Neighborhoods initiative, a flagship Obama-administration program first funded in 2010. Choice expands on Hope VI, a long-running HUD program from the 1990s, and seeks to redevelop distressed housing projects and the neighborhoods around them. The initiative has given out grants to neighborhoods and cities each year since 2010. "I'd assume that the Trump administration would either repackage it with a new name, or get rid of it entirely," Silverman said. Trump could, for instance, focus more on privatizing public housing, and asking real-estate developers to take responsibility for revitalizing the neighborhoods around housing complexes.
But the biggest threat to HUD may not even come from the new secretary, said Diane Yentel, the president of the National Low Income Housing Coalition, a nonprofit. It may come from Trump and the Republican Congress, which are both skeptical about federal funding for many programs. Reforming the tax code as Paul Ryan has proposed could mean changes in the Low Income Housing Tax Credit program, which is currently responsible for most affordable housing built in the U.S.
And the next Congress could implement deep funding cuts that would put many other programs at risk, Yentel said. That's because when President Obama signed the Budget Control Act of 2011, ending a fight over the country's debt limit, he put in place spending caps on federal funding, which is separated into defense and non-defense programs. Yet Trump wants to protect defense programs and lower spending caps for non-defense programs.* He also wants to cut non-defense spending by 1 percent a year for the next 10 years, which, Yentel said, could devastate HUD programs. "All federal housing programs are at significant risk," she said. Spending cuts could lead to fewer Section 8 vouchers, for which there are already long wait-lists around the country, and less spending on public-housing complexes.
Obama's first secretary of HUD, Shaun Donovan, was a longtime housing-policy expert who had served in the department and in New York City's Department of Housing Preservation and Development. Having someone intimately familiar with housing policy allowed HUD to swiftly attempt some housing-improvement programs, Yentel, who worked at HUD at the time, said. For fair-housing advocates, then, the best hope for Trump's HUD pick may be someone completely unfamiliar with housing programs, who will let his or her civil servants carry on with what they were doing as they had before the election. Otherwise, the desegregation initiatives that took hold in the Obama administration may be poised for a big setback.
---
* This article originally stated that Trump wants to raise spending caps for non-defense programs. We regret the error.