The Financial Markets Have Accepted a Trump Presidency
Shares are moving higher based on the president-elect's campaign promises. How long will the positivity last?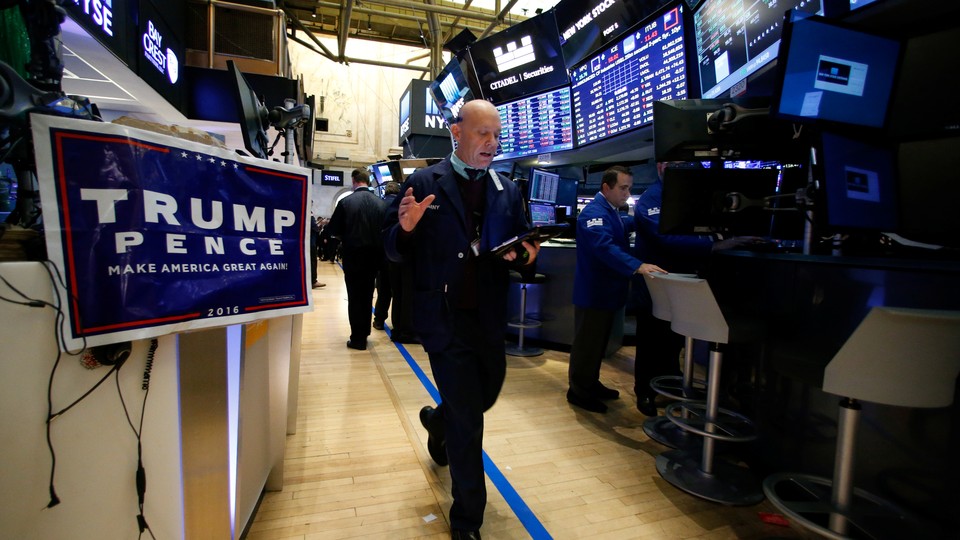 U.S. stock markets have been on an interesting ride since polls closed on Tuesday evening. As the tide of the election turned late that night, futures underwent an initial drop that was likely attributable to uncertainty—something markets don't typically respond well to. That resulted in overselling, as investors got rid of their shares as they watched markets plummet.
But after the outcome of the election became clear, the markets stabilized, and on Wednesday, they rallied, a surge that carried over into Thursday morning, when it looked as if U.S. stocks were ready for another day of post-election increases. The Dow hit an all-time high, while the S&P rose 1 percent. But as of noon, markets eased after the morning jump, with the Dow up just 1 percent on the day and the Nasdaq dipping into negative territory.
Analysts, many of whom had predicted a market panic in the event of a Trump presidency, are still puzzling through why the market rallied on Wednesday. Indeed, post-election market rallies are generally rare: CNN reports that they've only occurred after six of the past 21 elections. One explanation is Trump's pro-business stance, which brings expectations that he'll roll back regulation and cut corporate taxes; another is that investors are bullish about the increased infrastructure spending that Trump promises. Whatever the cause, investors seem to be digesting Trump's victory faster than expected.
Part of the rally can be attributed to what some are calling "Trump Trades"—bets on companies in industries predicted to do well under an economic environment of decreased regulation, reduced global trade, and a repeal of Obamacare and climate-friendly policies. After the election, it was clear who investors thought were poised to benefit: Oil companies and pharmaceutical companies generally did well, and, despite Trump's anti-Wall Street rhetoric, stocks in the world's biggest banks have rallied too. At the same time, firms involved with health care, health insurance, and renewable energy saw shares slide. The same is true of some tech companies, such as Apple and Amazon, both of which Trump criticized during the campaign: Apple for making iPhones in China, and Amazon for potentially violating antitrust laws.
Despite the market's recovery since the election, traders and investors remain concerned about ongoing volatility. It's possible that the market hasn't fully incorporated the potential long-term policy implications of a Trump presidency, or how they could impact business. In fact, there is almost no way that the market would be so responsive at this stage. As of now, markets are reacting to promises and policies Trump touted on the campaign trail. How things will really play out after January 20, 2017—and how positively the market responds to them—is anyone's guess.