What It's Like Folding the Shirts That Get Thrown Back on the Shelf
Shawna Rule, a 21-year-old living in South Dakota, talks about juggling a full-time job, a part-time job, and a college degree.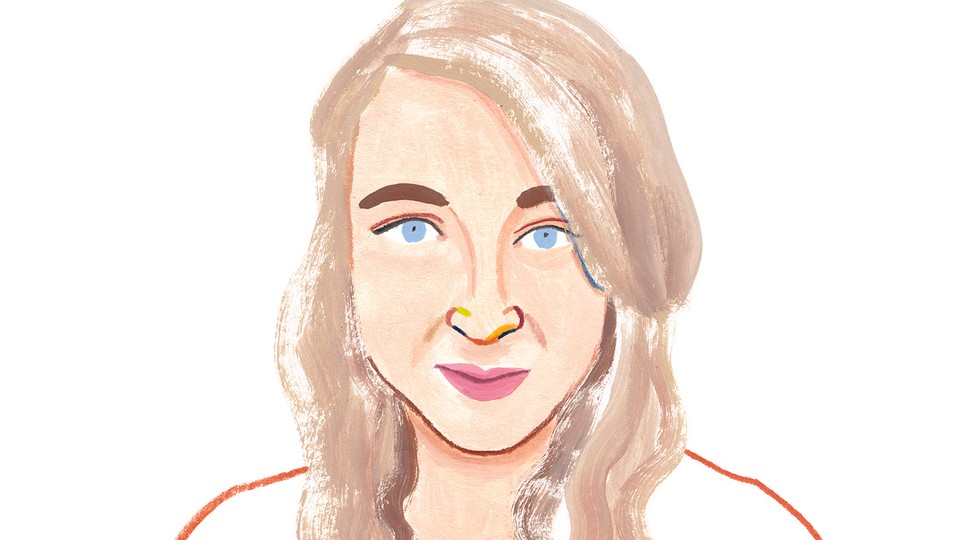 For nearly a century, retail jobs have been an especially popular form of American employment—so popular, in fact, that despite declines in in-store sales and the encroachment of labor-displacing technologies, retail salesperson remains the most common occupation in the country, according to the Bureau of Labor Statistics.
Shawna Rule has for four months been a part-time sales associate at the Pierre, South Dakota, location of Hibbett Sports, a sporting-goods chain. For The Atlantic's series of interviews with American workers, I spoke with Rule about how she manages to keep up with this part-time job, her full-time job at an insurance company, and her schoolwork—she's a college student, too. Rule also talked about how her work at Hibbett Sports is connected to her love of fitness. The interview that follows has been lightly edited for length and clarity.
---
Adrienne Green: How did you become a sales associate?
Shawna Rule: I'm 21 years old and I have been in the workforce for about three years now. I work insurance full-time, but it just wasn't enough to pay the bills. I really wanted a part-time job that I would enjoy and that involved being more on my feet and moving around, because insurance, I am just sitting at a desk all day.
I wanted to work somewhere where I would have fun and use the products and be knowledgeable about the products that I was selling, so I started working at Hibbett Sports. I grew up playing sports so it was something that I was really interested in, obviously because you get to keep up with the new lingo and then, of course, the new products that they come out with. I love shoes, tennis shoes in particular, so that was a bonus for me. Being able to integrate a job and my health and fitness interests is cool.
Green: You're in school now. How do you balance your work and study schedules?
Rule: I got my associate's in health coaching online, and now I am still going to school for personal training. I [originally] didn't work during college because I wanted to focus on my studies, but I couldn't afford that. I ended up getting the full-time insurance job, the part-time retail job, and then going to school full-time online as well.
It's really tough, and it takes a lot of discipline. Pretty much every minute of my day is mapped out from the time I wake up to the time I go to sleep. It is very strict because even losing two minutes of my time is two minutes that I could have been studying or working out. In the end it's all worth it, because at the end of the day I'm exhausted, but I am laying in bed and I'm thinking, "Oh, I got so much done today." That is an awesome feeling.
Green: You mentioned that your schedule is very regimented. What is your schedule like, and how does your work as a sales associate fit into it?
Rule: Anytime Fitness is looking at hiring me as a part-time trainer, so I have been waking up early and just shadowing a couple different trainers from 6:30 to 7:30 a.m. At 7:30 I run a couple of errands, and then I go to [my insurance-company job] at 8:15 to open up. Depending on how busy the day is I work there from 8:15 a.m. to 5:00 p.m. If it is a really busy day, then I will stay later if my schedule allows it. From there, I go home and I study for two or three hours, and try to make dinner. I have two dogs that I take for a walk, work out again at Anytime Fitness, and then study a little bit more and go to bed.
I work at Hibbett every Thursday night and on weekends, so just about 20 hours per pay period. It's very busy and in between that all, I play league darts and am in a volleyball league. It helps to have a social life and I think it helps with my mind. I am thinking so hard while I'm playing those sports that I have to be really focused.
Green: What are your responsibilities as a sales associate?
Rule: My biggest responsibility is making sure that everybody in the store gets helped appropriately and that if they have any questions, I am there to answer. I have to keep up with the gear, like running shoes or football cleats, because everything changes so quickly. Every year they come out with a new model that's newer and better than the one last year. I really have to get to know the person that I'm selling to and what I can do to help them improve their game.
Rule: Of course—everybody gets sick, everybody gets down. It's tough. When I am feeling down, I look up quotes to inspire me, because there is so much to be thankful for. You just have to find the positive and live for that, so I really believe that there is goodness in everybody.
Green: When customers are not so nice, how do you deal with that?
Rule: It's hard to deal with that, so the best way I think of it is that person probably had someone do the same exact thing to them—so it's a tornado. It just brings you down and I am not going to let that bring me down. I could let the way that someone else thinks about me and thinks about the company that I work for bring me down, but instead I am going to step up to the plate and knock it out of the park.
Green: What are the most rewarding and challenging parts of your job?
Rule: What I like the most is selling shoes. I love shoes and I probably have close to 15 pairs of tennis shoes myself, so getting to talk about the different types of shoes and what they are used for is [exciting]. I probably like dealing with clothes the least. People are kind of monsters—they just pick something up and if it's not their size, they just throw it back down. It's just left a mess and looks really bad. I am used to everything being put in the order that I like it and looking very nice, so having to go fold it again and again is tough for me.
Green: Do you think that people think about the associates that have to go back and clean it up when they do that?
Rule: I don't think that they do. I think it's a little selfish just because it's so easy to at least half-ass it and put it back on the table. At least try to fold it and put it back. It's a little frustrating, but at the same time, I have been in the other person's shoes. I've looked at a shirt and realized that I don't know how to fold this, and just thrown it back on the table. What else do you do? It's frustrating, but it taught me a valuable lesson to always try and fold it at least.
Green: Do you anticipate staying in retail for a while?
Rule: I would like to. I would honestly like to stop working insurance and just work for Anytime Fitness and Hibbett. Right now I am just hanging onto every job regardless of how good or bad it is for me and my mental health.
---
This interview is a part of a series about the lives and experiences of members of the American workforce, which includes conversations with a fabric cutter, a fashion designer, and a personal stylist.