A Totally Fine Jobs Report Days Before the Election
October's numbers are good: The U.S. economy created 161,000 jobs last month, and wages are rising steadily.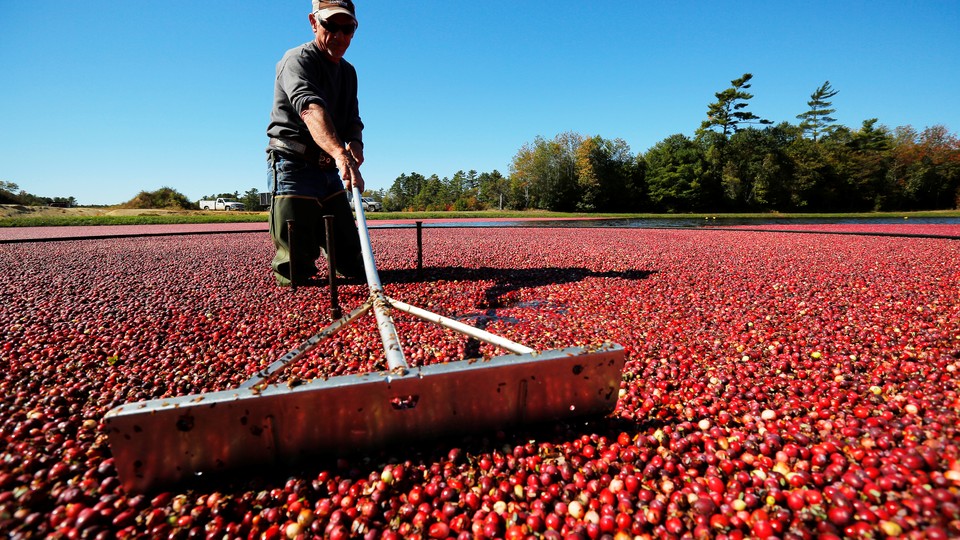 Updated on November 4 at 4:36 p.m. ET
With a release just days before the U.S. presidential election, the hype for the Labor Department's monthly jobs report—a key economic indicator and a snapshot of employment in America—has been unusually high. On Friday morning, the Labor Department reported that the U.S. economy added 161,000 jobs last month, while the unemployment rate dropped slightly to 4.9 percent—a performance that just missed expectations. Economists surveyed by The Wall Street Journal were expecting a modest 173,000 jobs to be added.
The numbers are indicative of steady economic growth: The unemployment rate has been hovering around 5 percent for most of the year—a rate that's considered healthy by many economists—and the number of jobs added in the past months is well above the threshold of 100,000, the number of jobs Federal Reserve Chairwoman Janet Yellen said the U.S. economy needs to create monthly in order to absorb new entrants to the labor market. The U.S. economy has been adding jobs for 73 consecutive months.
---
---
The Department of Labor's jobs reports come with positive revisions to previous months' reports: Both August and September numbers were revised up—from 167,000 to 176,000, and from 156,000 to 191,000, respectively. Combined, the two months added 44,000 more jobs than originally estimated, bringing the three-month average to a 176,000 a month. Although the revisions are undoubtedly favorable, job-growth figures have dropped since the summer when two expectation-smashing reports brought the three-month average to 232,000 jobs added per month.
Another piece of good news in October's report is the increase in wages for American workers: Average hourly earnings rose by 10 cents, to $25.92, following an eight-cent increase in September. In the past year, average hourly earnings have risen by 2.8 percent. Labor-force participation ticked down slightly to 62.8 percent, near a 38-year low. About 425,000 fewer Americans are in the labor-force, meaning that they're working or looking for work, and economists remain largely at odds on the root cause.
---
---
Tom Perez, the U.S. Labor Secretary, says that the October data is indicative of a positive trend for the U.S. economy. "This is another solid report," said Perez in a phone interview Friday. "Not only is the quantity of jobs solid, we have twice as many jobs in this report as we need to hold steady, but we also see good quality jobs created. Roughly two-thirds of the jobs created were in middle class sectors, and it continues a trend that's been in place for two years. The pace of wage growth is not only strong—it's accelerating."
Another point of optimism for Perez is the number of workers who may be returning to the labor market to look for work. "What I appreciated about last month's [report] is that the number of discouraged workers has dropped to its lowest level since the beginning of the Obama administration. That's good news; people have confidence that they can get a job so they're going into the work force," said Perez.
The October jobs report was closely watched due to the timing of its scheduled release, less than five days before the country decides its next president (the Labor Department releases the jobs report on the first Friday of every month). In an election that's been characterized by economic anxiety and opposing narratives about the state of the American economy, the modest jobs reports of recent months has provided good fodder for both presidential campaigns.
While Democratic presidential candidate Hillary Clinton has touted the U.S. economy's resilience—though often adding that there's still work to be done—Republican presidential candidate Donald Trump's portrayal of the U.S. economy is dire (and as my colleague Derek Thompson points out, very different from most statistical snapshots of the economy). Trump's campaign has already denounced the October jobs report as "disastrous." Clinton's campaign has yet to comment on the October jobs report.
Harry Holzer, former chief economist of the U.S. Department of Labor and author of Where Are All The Good Jobs Going?, said that while undecided voters might be swayed by a striking jobs report, it's likely only a small impact. "I don't think the October job numbers will have a large effect on the election. Most voters already know what they think about the economy and whom to credit or blame for it," said Holzer. He added that number of jobs added this month is "not dramatic news, but the wage numbers could slightly help Hillary."
Another reason the jobs report was closely watched is for clues of whether it'll affect the Federal Reserve's calculus in deciding whether to raise interest rates this year. The Federal Open Market Committee (FOMC) left interest rates unchanged at its latest meeting earlier this week, but there are signs that the Fed is signaling a December rate hike with minutes from the Fed's September meeting noting that a rate hike could come "relatively soon" if the U.S. labor market continues to strengthen.