A Lawyer Who Loves Her Job
Doris Bobadilla talks about being the first self-identifying Hispanic female to be admitted into law practice in Mississippi, and how that still drives her today.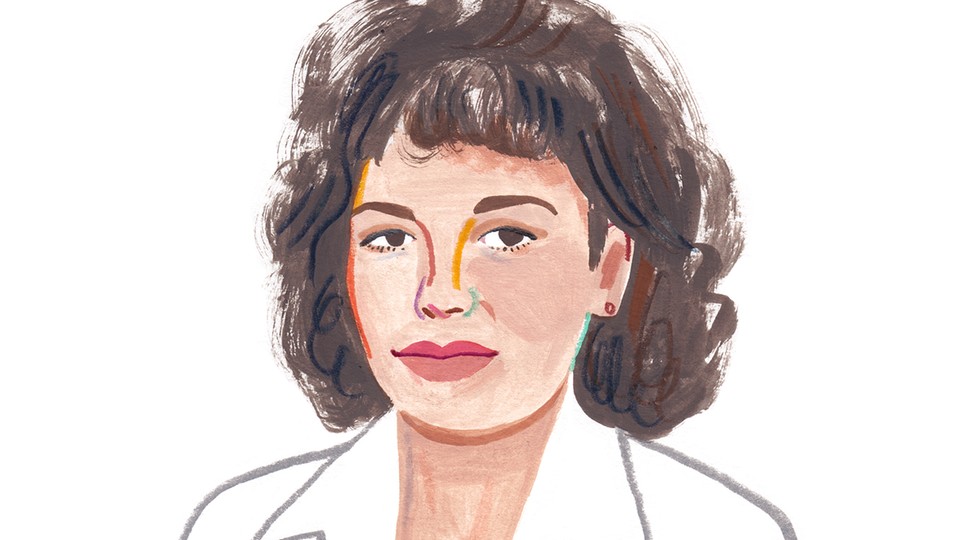 According to recent numbers, the field of law remains overwhelmingly white. Only 7 percent of partners at law firms are blacks, Hispanics, Asians, or Native Americans.
Doris Bobadilla is a lawyer (and part-owner of her firm) in Louisiana. She is licensed in four states and she was the first self-identifying Hispanic female to be licensed to practice law in the state of Mississippi. For The Atlantic's series of interviews with American workers, I talked to Bobadilla about her legal career, being out at work, and why she's hoping for more diversity in the profession. The interview that follows has been lightly edited for length and clarity.
---
Bourree Lam: What do you do? And how did you get into it?
Doris Bobadilla: I am a lawyer. I typically handle defense matters, and specifically employment defense matters. I've been a lawyer since 1996. I started out as an Assistant District Attorney, Orleans Parish, Louisiana. In 1998, I started my civil law career. Generally, what I love to do is to handle employment issues. I typically defend local, regional, and national employers in Louisiana, Mississippi, Texas and Florida.
I'm a litigation lawyer, so for the most part what I do is defend lawsuits or defend claims on behalf of employers that are brought by employees or federal agencies (for example, the EEOC). I do a fair amount of educational preventative work with employers or clients to try and prevent litigation and claims, outlining the dos and don'ts about hiring, firing, and employee management best practices.
Lam: Have you always wanted to be a lawyer?
Bobadilla: I cannot remember a time when I didn't want to be a lawyer, ever since grade school. I think it's just seeing it on television; my understanding back then was that lawyers are often in courtrooms and are able to advocate ideas and thoughts. I thought it was something that would make me happy. I adore the law and the people who work in that arena, and that appreciation fuels my desire to be a lawyer.
Lam: What's a typical day of work like for you?
Bobadilla: I am licensed in four states: Texas, Louisiana, Mississippi, and Florida—so my workdays are a mixture of working out of a physical office, visiting clients, or attending various legal industry related events. I also do a fair amount of volunteer work--working towards increasing diversity in the legal profession.
Lam: You were the first self-identifying Hispanic female to be admitted into law practice in Mississippi. Can you tell me more about that?
Bobadilla: I find it very interesting. The National Hispanic Bar Association contacted me, there was someone writing doing a book on "first women" throughout the United States. She told me that the Mississippi Bar Association reported that I was the first self-identified Hispanic female who was licensed to practice law in Mississippi. I was surprised by the news and contacted the Bar myself. You see, I was licensed [to practice law in Mississippi] in 2000, and I really could not believe it.
When I took the Mississippi bar, I was already a licensed lawyer in Louisiana. Back then, I didn't even think twice that I was a Hispanic female and that my admission to that state was novel.
As I began my law practice, I would enter courtrooms in Mississippi, and feel that there weren't too many people that looked like me. I knew that I was "different". Honestly, until I learned this information just few years ago, I did not know how historic my legal career was in that state. To me, it was incredibly surprising that in 2000 I would be the first reported Hispanic female to be admitted to practice law in Mississippi. I certainly felt blessed that I was able to be that first. Even back then, though I did not know I was doing it, I was expanding diversity in the legal profession. Hopefully, these efforts will open doors for other women and minorities.
Lam: Did this lead you to the volunteer diversity-inclusion work you're doing now?
Bobadilla: Somewhat. I have been with the firm—Galloway, Johnson, Tompkins, Burr & Smith—for 18 years. When I started, I had enjoyed being an assistant district attorney but for economic reasons I had to move into the civil world—and that's what I did. I did not know much about the firm, but as I learned more about it, it is one of the most inclusive firms in the South. There were senior lawyers, who encouraged me to take part in various civic organizations and community organizations.
Lam: You identify as LGBT. Are you out at work, and if you weren't at some point, how was it before and after you came out?
Bobadilla: I am out at work. I did not have a coming out process. In many ways, I took it for granted that people knew I was gay. I never necessarily hid it or promoted it. I say: "I'm me," and that's a part of who I am. As time developed, it was understood that it was part of being who I was.
I understand this is not the case for many individuals in the workplace, unfortunately. That is something that I desire to change, so employees are not discriminated against based on sexual orientation at work. Our firm has been a welcoming workplace of work for LGBT individuals.
Lam: Was this part of the reason about why you picked this firm 18 years ago?
Bobadilla: I would love to say yes, but I honestly do not think so. I loved what I did as an assistant district attorney, I did not want to leave that employment. I will tell you that I know Galloway, Johnson's commitment to diversity is one of the reasons I stayed and grew with the firm.
Lam: How does your work or profession relate to your personal identity?
Bobadilla: A lot of folks who know me think my identity is one and the same with what I do. I always say, I am blessed, because I get paid to do what I love. I know that's not very common, so I truly am happy. When I am at work, I can be fully who I am and encouraged for my talent. It's hard for me to separate the two: My profession is related to who I am.
Lam: Has your work changed your perception of American society?
Bobadilla: I call myself "a child of the firm," because I grew with the firm. My co-workers, the type of work I do, the area in which I work, and the exposures I have had influenced my perception. I was not held back, but rather I was encouraged. When my career became more successful, I was encouraged to do even better than what I was doing. I wasn't suppressed in any way.
In my view, being an LGBT, Hispanic female in the South certainly has its challenges. What I have noticed is there are a great deal of individuals in this world, who continue to fight for equality—for every individual to be viewed and evaluated on her merit. Over the years, especially the last few years, many wish to change society and make it more inclusive. There are certain challenges we face, but I still think because of the path I've walked and what I do that there are so many good people in this world. And without those [people], I do not think our society would be where it is today. My perception is that there's an incredible amount of good [in our society] that will overcome the negative.
Lam: Do you plan on staying at your firm?
Bobadilla: I have been here 18 years. I am a shareholder in the firm, and being part owner I certainly do not wish to go anywhere else. I hope to continue doing the work that I do with this firm. To me, what makes my employment fulfilling is that my career does not stay in a stagnant position. As I grow, so does my career.
---
This interview is a part of a series about the lives and experiences of members of the American workforce, which includes conversations with a pretrial-services officer, a white-collar crime therapist, and a speechwriter.