The Most-Watched Baseball Game in 25 Years
Chicago's dramatic, title-clinching World Series win garnered ratings reminiscent of the pre-steroids and pre-cord-cutting era.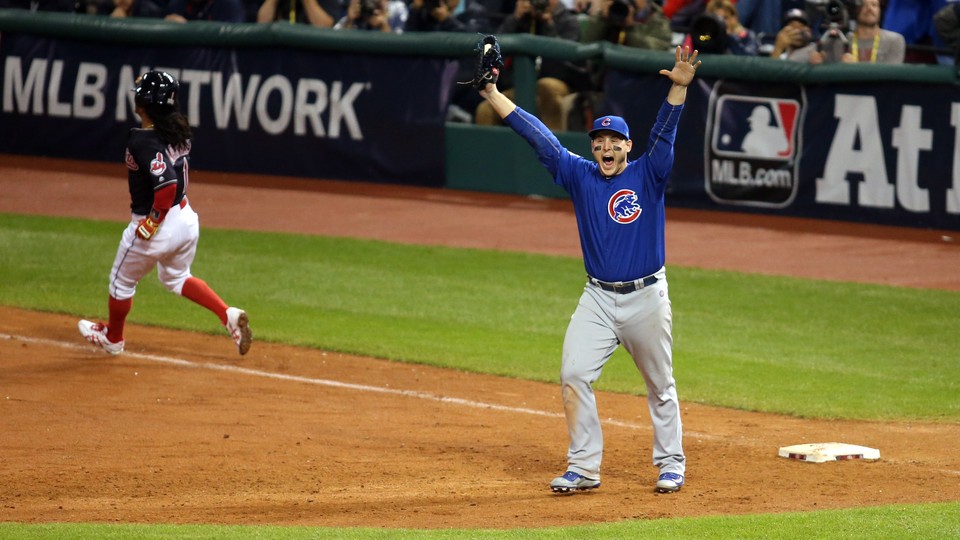 On Wednesday night, television viewers awaiting new episodes of Law & Order: SVU and Criminal Minds tuned in only to find their favorite programming replaced by reruns of previously aired episodes. It didn't take an NYPD detective or an FBI analyst to figure out what had happened. Across the major networks, shows were suspended in a concession to the seventh and decisive game of the World Series between the Chicago Cubs and the Cleveland Indians on Fox.
Because the sporting universe is fickle, these line-up postponements became 11th-hour decisions. After Cleveland failed to win the series at home on Tuesday night, executives were left to quickly put contingency programming plans into place. The Comedy Central stalwart South Park, for example, didn't announce its schedule change until late Wednesday afternoon, which inspired many creative expressions of sadness among its faithful.
Networks not named Fox were right to fear that they'd lose viewers. Despite a late-game rain delay, an epic 290-minute runtime, and a 1 a.m. finish on the East Coast, Game Seven turned out to be the most watched game of baseball in 25 years with just over 40 million viewers. "That was the most since 50.3 million tuned in to see the Minnesota Twins defeat the Atlanta Braves in Game Seven of the 1991 World Series," Tim Baysinger of Reuters reported. "Fox topped its own record of 39.1 million who watched the Arizona Diamondbacks cap a two-run ninth-inning rally over the New York Yankees in Game Seven of the 2001 World Series."
As ubiquitously noted, the 2016 World Series offered significant historical intrigue for baseball fans and casual viewers alike. The Chicago Cubs had been vying to snap a 108-year championship drought while Cleveland was looking bring home its first baseball title since 1948. The numbers aligned accordingly. In Cleveland, 69 percent of televisions in use were tuned into Fox for the winner-take-all game, a number only eclipsed by the ratings in Chicago, which captured a 71 share. "This World Series has been a huge boon to Fox," noted The Hollywood Reporter. "The network, which started the 2016-17 season in the No. 4 slot, has climbed to No. 2 among adults 18-49 in the Big Four over the last month." (It certainly helped that Fox deliberately scheduled all the games to take place during primetime.)
The decisive seventh game of a series has always served as ratings catnip. "When the Cavaliers won the NBA championship in a Game 7 in June, 30.8 million watched on ABC in what was the league's most-viewed game in 18 years," Richard Sandomir of The Times wrote on Thursday. For contrast, in this year's NBA Finals and World Series, the fifth and sixth games pulled about 20 million and 23 million viewers, respectively, all of which were above average results for recent series.
The Cleveland Indians weren't the only unlucky ones on Wednesday. CBS opted to air both reruns and new episodes, which yielded drops in ratings of 21 percent for Survivor and 30 percent for Code Black. Meanwhile, the 50th Country Music Awards on NBC went on as scheduled on Wednesday and saw viewership in the key 18-49 demographic fall 24 percent from the previous year to an all-time low, an appearance by Beyonce notwithstanding. At least one musician announced he would skip the show entirely to go to the game. In another history-breaking moment, a country singer's team won the big game.