Why It's So Hard to Know What to Make of the Carrier Deal
Some of the company's manufacturing jobs are staying in the U.S. instead of moving to Mexico. But at what cost?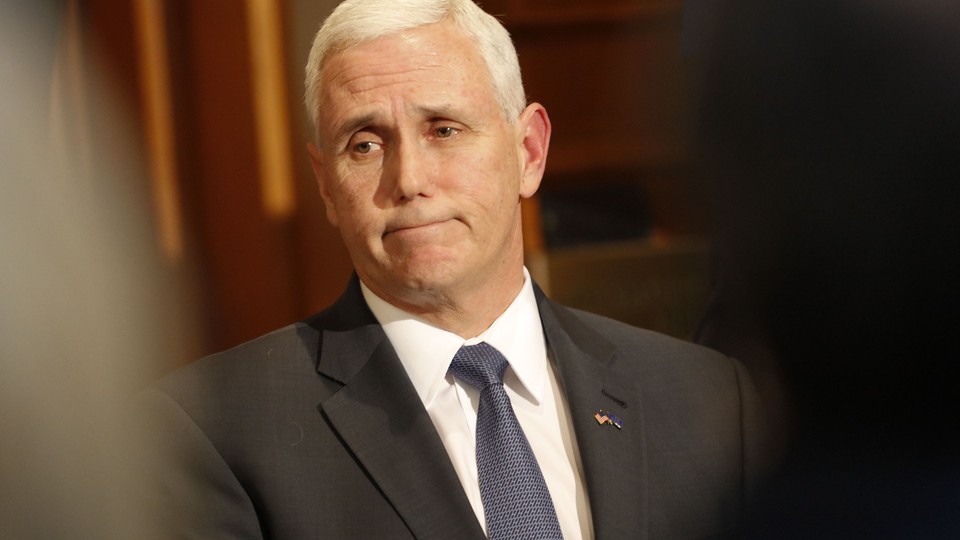 President-elect Donald J. Trump and his vice president Mike Pence are claiming a victory in Indiana, where air-conditioning company Carrier and its parent, United Technologies, have announced that they are planning to keep "close to 1,000 jobs" in Indiana. Carrier had planned to move 2,000 jobs from Indiana to Mexico, where workers earn in a day roughly what Indiana workers make in an hour.
The terms of the deal are unclear—Trump says he will travel to Indiana Thursday to make an announcement about the plant—but negotiations had centered around tax breaks that Carrier could receive for staying, and on changes that Trump has pledged to the overall U.S. tax code that would benefit businesses. United Technologies also has billion-dollar contracts with the federal government; some analysts speculated those contracts would have been at risk had Carrier moved the jobs.
The news is certainly good for the employees who would have lost their jobs had the plant moved. Though Carrier promised to pay severance packages and provide retraining benefits for them, many would have been left without great options, as retraining often fails to help workers find new, remunerative jobs. Offshoring has done a lot of damage in Indiana, which has the highest share of its workforce in manufacturing in the country One recent study found that when people lost their manufacturing jobs there, one-third had "disappeared" after 12 years—meaning they were no longer a part of the labor market in any form.
But it's hard to know what to make of the news that Carrier has agreed to stay. Economists, in particular, are skeptical of the tax breaks that Trump, and the state of Indiana, might have offered the company. It sets a bad precedent, the economist Justin Wolfers tweeted, because it sets a course that future companies would be foolish not to follow themselves.
Additionally, some economists say that it's bad policy for states to offer up tax breaks for companies who agree to locate plants or other operations in certain communities, a practice that is widespread, with states and municipalities already providing $50 billion in location-incentive tax breaks every year—that's money that could be used for schools or roads but instead companies get to keep. States can end up in a race to the bottom, in which companies stay in one place until another offers them an even better deal. "State and local tax incentives come at an enormous cost," writes the Institute on Taxation and Economic Policy in a report. An analysis by the Indy Star found that Pence had approved $24 million in incentives to 10 companies that sent some work to foreign countries. Carrier has already received $1.5 million in economic-development incentives such as tax breaks and money for employee training to stay in Indiana; it said in March that it would pay back that money because it planned to leave. It's unclear whether it will still give back that money, as it is still moving roughly 1,000 jobs to Mexico.
The other factor that may have played a role in the Carrier deal—business-friendly changes to the U.S. tax code—was something Trump talked about repeatedly on the campaign trail. Trump wants to reduce the corporate-income tax rate to 15 percent from 35 percent and allow a tax-free repatriation of corporate profits held offshore. As I've written about before, other countries like Britain and Ireland have had mixed experiences with lowering their corporate tax rates, with companies locating there but generating few jobs and little revenue for public services, such as education, that can help society in the long run.
So what is the alternative for Indiana? It faces a vexing problem with no clear solution: Manufacturing produces as much of a share of the gross domestic product as it did half a century ago, according to an analysis from the Brookings Institution, but it provides many fewer jobs.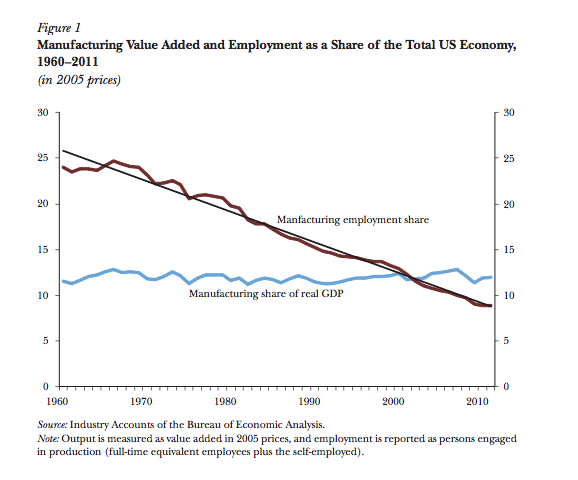 The jobs at the Carrier plant aren't particularly high-skilled, and it's possible that they could eventually be automated, like many manufacturing jobs across the country. There are other types of manufacturing jobs that the state might have been smarter to invest in. In Indiana, the big growth industries in manufacturing—those that come without presidential intervention, at least—are in highly-skilled factories that make medical devices and orthopedics, Timothy Slaper, the director of economic analysis at the Indiana Business Research Center at Indiana University, said. Without market intervention, it's those industries that would grow naturally, and it's possible that former Carrier workers could find jobs there. "A lot of the jobs that have vanished are these manufacturing jobs that aren't as high-skilled," he said. "If you're a company like Carrier, when you are paying pretty high wages, it's easy for those jobs to be moved. It's a bit more difficult when you're talking about medical devices." Indiana might do better to double down on its growth industries and not try to keep jobs that are slowly disappearing anyway.
That's why, for all the potential pitfalls of the Carrier deal, it'd be curmudgeonly to ignore the joy that hundreds of Carrier employees are feeling this morning. Many of the trade deals negotiated in the past few decades may have brought lower prices to Americans everywhere, but they also led to big losses for employees who saw their jobs shipped overseas. The Carrier news may turn out to be the opposite, in which a few hundred people have won big. This time, it might be everyone else who has lost.