Business Leaders Give Trump a Mixed Reception
CEOs and investors weigh in on what the new President-elect means for them, their employees, and the economy.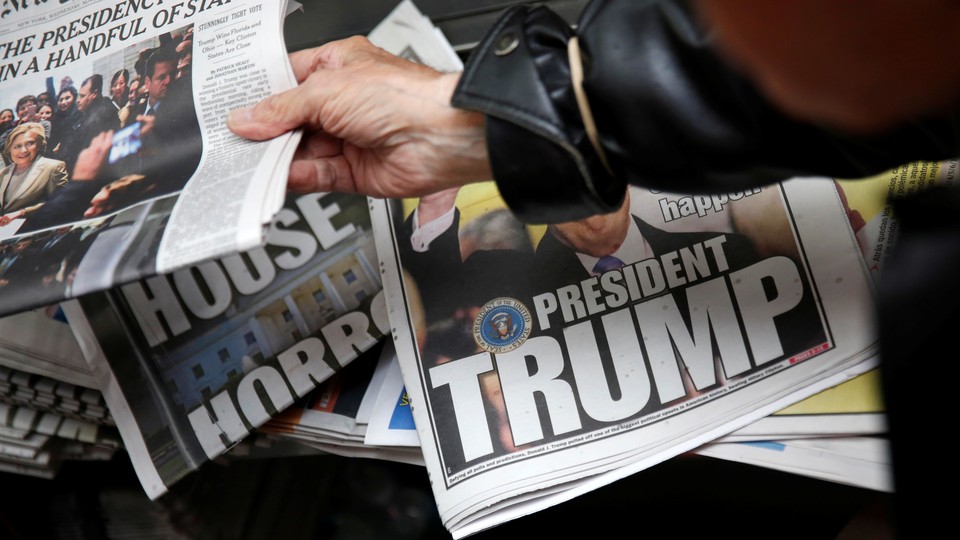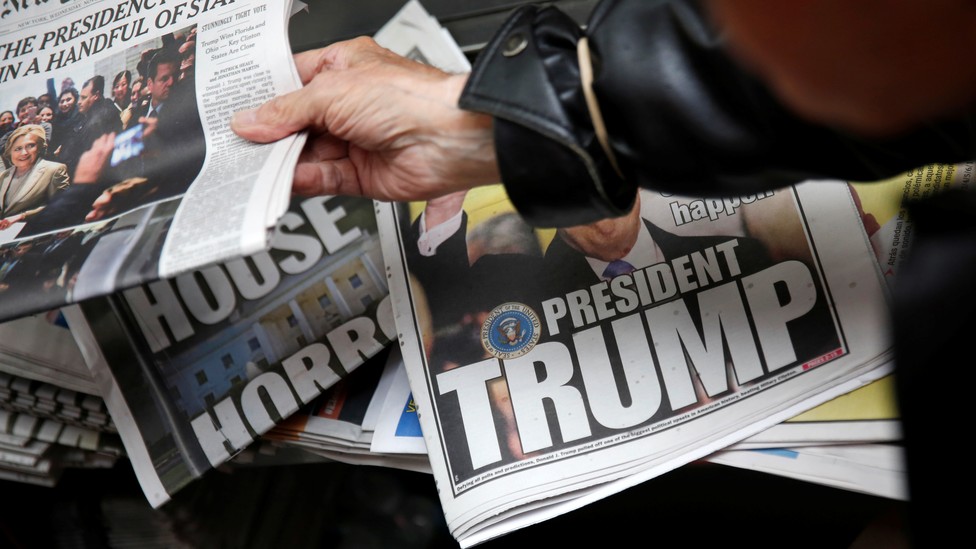 During his campaign, Donald Trump touted his experience as a CEO and real-estate tycoon as his most significant qualification for president. His theory has in large part been that running a company counts as qualification for public office because it teaches one about taxes, how to grow a business, manage debt, and how deal with employees—skills he claims will translate to presidential success when it comes to the U.S. economy.
Business owners, CEOs, and financial titans have traditionally leaned toward the conservative side when it comes to politics and economic ideology. In part, this is because they stand to benefit from policies that include less stringent regulation and lower taxes. Yet as of May 2016, few top business leaders had thrown money behind Trump's campaign for the presidency. And some were very outspoken about their opposition to his candidacy.
In the wake of Trump's election, the business and finance community has weighed in on how (and if) they think the new president-elect will influence economic and business growth in the country. Many are also using the election's results as a chance to address ethical or moral considerations, with many sending letters to their staff post-election.
Here's what they've said so far:
---
Carl Icahn, the billionaire investor and long-time Trump supporter told CNBC that Trump's victory was "a very important thing for our economy in general." Icahn was also excited about the victory for other reasons, including the fact that he reportedly poured around $1 billion into the stock market as futures tanked during the close race, and then presumably reaped the benefits as the market fully recovered on Wednesday. But Icahn and Trump may not see eye-to-eye on everything: The famed investor has said that he doesn't support a repeal of Dodd-Frank, the post-crisis legislation that Trump has threatened to dispose of.
Mark Zuckerberg, the CEO of Facebook posted a note on his personal page about watching the election with his daughter Max. In it he urged others to continue making strides on big, important task, regardless of who sits in the seat of the president:
Holding Max, I thought about all the work ahead of us to create the world we want for our children. This work is bigger than any presidency and progress does not move in a straight line. The most important opportunities of Max's generation—like curing all disease, improving education, connecting everyone and promoting equal opportunity—will take long term focus and finding new ways for all of us to work together, sometimes over decades.
Peter Thiel, a Facebook board member, investor, and vocal supporter of Trump told The Wall Street Journal that he thinks the Trump administration will focus on decreasing regulation and of small business and boosting fiscal stimulus.
A lot of people voted for Trump because he just got it. He understood that things were very off track even if he didn't have a precise road map of what to do. Other Republican candidates were almost delusionally Panglossian in their views of America. Hillary was also optimistic in a way that made her very out of touch
It's rumored that Thiel may become part of Trump's transition team.
Indra Nooyi, the CEO of Pepsi and a vocal supporter of Hillary Clinton started a conversation with The New York Times writer, Andrew Ross Sorkin, by first congratulating the president-elect. But, when asked about the crassness of Trump's language toward women (Trump had once appeared in a Diet Pepsi ad in 1988) and domestic-violence issues among NFL players (Pepsi is an NFL sponsor), and how these issues affect the Pepsi brand, Nooya was more pointed:*
"Forget the Pepsi brand — how dare you talk about women that way?" Ms. Nooyi said. "Why do you talk that way about a whole group of citizens?"
Also in conversation with Sorkin, Aetna's CEO, Mike Bertolini, admitted that the company was blindsided by the election, and must now hypothesize what will happen to healthcare and the Affordable Care Act, which Trump has previously vowed to repeal. Bertolini is optimistic that some tenants of the bill will remain: coverage for children until the age of 26, and Medicaid expansion, for example. Other tenets, such as the high tax on high premium plan might be completely done away with.
Tim Cook, the CEO of Apple wrote a letter to his staff (published by BuzzFeed) addressing the divisive political election, but never naming Trump. He urged employees to move forward in the spirit of togetherness and offered reassurance that business would continue as usual:
While there is discussion today about uncertainties ahead, you can be confident that Apple's North Star hasn't changed. Our products connect people everywhere, and they provide the tools for our customers to do great things to improve their lives and the world at large. Our company is open to all, and we celebrate the diversity of our team here in the United States and around the world — regardless of what they look like, where they come from, how they worship or who they love.
Trump and Apple have come into conflict before, with Trump criticizing the company's overseas manufacturing operation, saying, "We're gonna get Apple to start building their damn computers and things in this country, instead of in other countries."
Jeff Bezos, the CEO of Amazon and owner of the Washington Post made a statement that some saw as conciliatory, given the fact that Trump vowed to have the company investigated for antitrust violations and tax violations. On Twitter, Bezos wrote:
Congratulations to @realDonaldTrump. I for one give him my most open mind and wish him great success in his service to the country.

— Jeff Bezos (@JeffBezos) November 10, 2016
GrubHub's CEO, Matt Maloney, wrote an email to his staff expressing surprise at the results and disagreement with the morals he attributes to Trump's policies. In closing, he said that those who didn't believe in inclusiveness should quit:
I absolutely reject the nationalist, anti-immigrant and hateful politics of Donald Trump and will work to shield our community from this movement as best as I can. As we all try to understand what this vote means to us, I want to affirm to anyone on our team that is scared or feels personally exposed, that I and everyone else here at Grubhub will fight for your dignity and your right to make a better life for yourself and your family here in the United States.

If you do not agree with this statement then please reply to this email with your resignation because you have no place here. We do not tolerate hateful attitudes on our team. I want to repeat what Hillary said this morning, that the new administration deserves our open minds and a chance to lead, but never stop believing that the fight for what's right is worth it.
Maloney's statement was criticized shortly after it was made public, with some suggesting that he told staffers who voted for Trump to leave. In a second statement Maloney clarifies the intent of his message:
I did not ask for anyone to resign if they voted for Trump. I would never make such a demand. To the contrary, the message of the email is that we do not tolerate discriminatory activity or hateful commentary in the workplace, and that we will stand up for our employees.

Grubhub welcomes and accepts employees with all political beliefs, no matter who they voted for in this or any election. We do not discriminate on the basis of someone's principles, or political or other beliefs.
Mohamed El-Erian, the chief economic advisor at Allianz, appeared on CNBC saying that that markets rebounded in the wake of a massive decline in futures in part because Trump's late night acceptance speech was more gracious and conciliatory than his campaign. The markets will continue to move in his favor if he maintains the same tone, and focuses corporate tax rates, deregulation, and infrastructure, according to El-Erian. But prioritizing protectionism could quickly make markets sour.
So far, much of the response to Trump's election—including from Trump himself—seems to be about tone setting. The President-elect's rhetoric in recent days has been more toned down and focused on unification than it was for much of the election. Business leaders, even those who vocally opposed Trump, are taking the same tack and hoping that markets, investors, and consumers will respond positively to a collective confidence and hopefulness about the future of the economy.
---
* This article has been updated to clarify that Nooyi's comments were in response to a question about the NFL in addition to Trump.