Pumpkins: An American Obsession
The beloved vegetable that fed New England's starving settlers now produces more than $100 million in sales.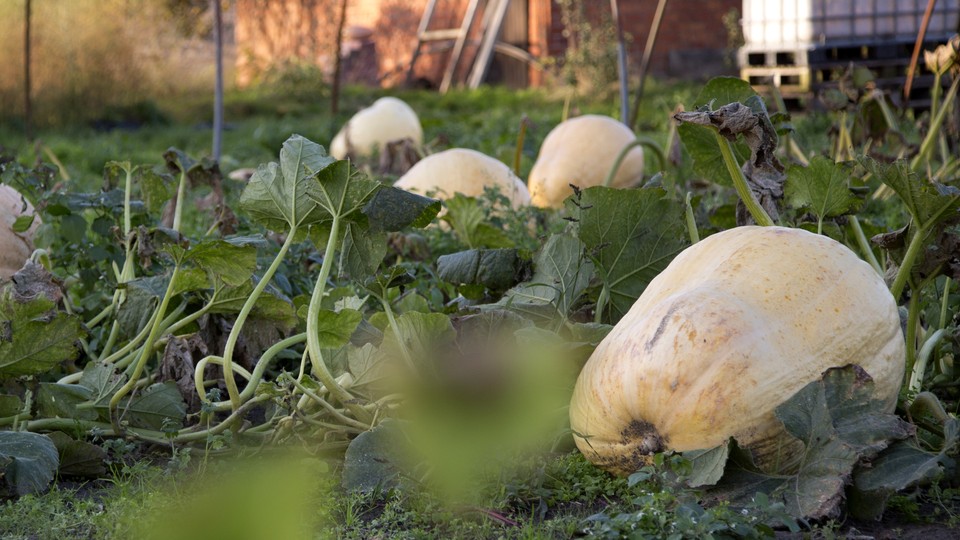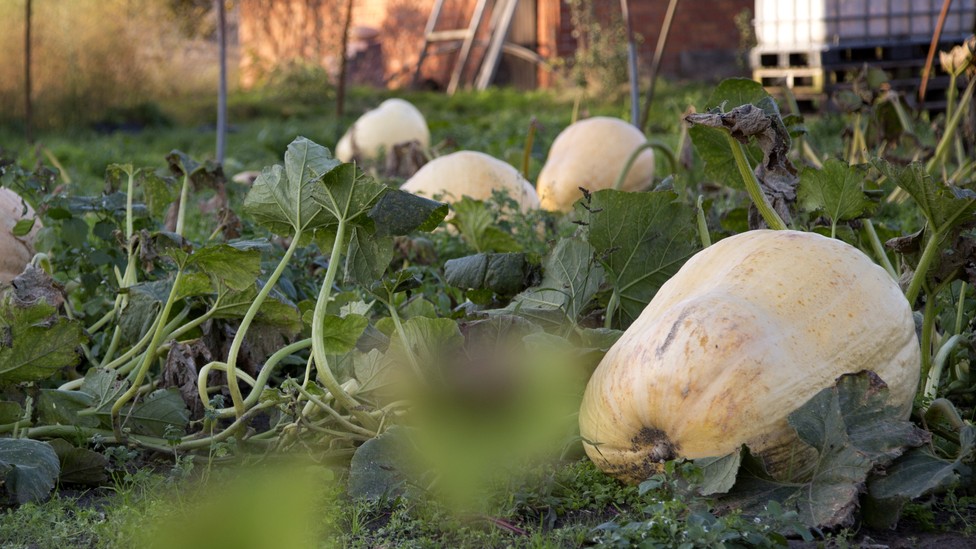 Americans' obsession with a certain fleshy, orange-colored vegetable has created handsome profits for farmers, canners, and sellers, and in the past decade, the pumpkin industry has flourished. From 2001 to 2014, pumpkin production nearly doubled in value, from $75 million to $143 million, according to the U.S. Department of Agriculture. Last year was not so great for the industry, as diseases and excessive rain in the midwest damaged crop yield and production fell to $90 million. But even then, the nation still produced more pounds of pumpkin than other popular vegetables like spinach, garlic, cucumbers, and squash.
There are two types of pumpkins that have become the biggest moneymakers. The ornamental pumpkins, also called Halloween pumpkins, are the most visible. They are round, bright orange, and smooth, and are typically carved for Halloween or used as decorations. The second type is called a processing pumpkin, which is beige-ish on the outside, oblong, and flavorful. These normally end up in processing plants, where the pumpkin flesh is canned and shipped to supermarkets, which sell it for pie-making and other pumpkin-related cooking.
When Americans buy pumpkins (canned or whole) from a store, chances are they come from Illinois. The state led the country last year with an estimated 318 million pounds of pumpkin produced, followed by California, Ohio, Pennsylvania, Michigan, and New York. There are two reasons why Illinois has become the pumpkin capital of the United States, says Mohammad Babadoost, a crop scientist at the University of Illinois who spends much of his time researching diseases that attack the beloved orange crop. One reason Illinois has become the heart of the pumpkin industry, he says, is that the soil and climate there are ideal for growing beautiful pumpkins. The other reason is that in the early 1900s, pumpkin-processing plants opened up in the Morton, Illinois area, establishing a geographical center for the pumpkin industry. "[The industry] has been growing ever since—there is so much enthusiasm," says Babadoost, who estimates that 90 percent of canned pumpkins sold in the United States come from Illinois. "People want pumpkin for bread, pie, wine, ice cream, recreational purposes."
Recreational purposes? He's referring to the growing popularity of pumpkin patches and farms, which in Illinois alone attract thousands of visitors, many from nearby cities like Chicago. Pumpkin farms across the country have created lucrative agritourism businesses, and when someone visits one of these farms, it only fuels their love of pumpkins, Babadoost says.
Maybe Americans have an inborn passion for pumpkins. Though it's not clear where the vegetable originated, pumpkin seeds found in present-day Mexico date back to more than 7,000 years ago. Pumpkins were integral to the Aztec and Mayan diets, and were also a staple of the diets of Native Americans, who roasted pumpkins over the fire but also used the vegetable for medicinal purposes and weaved mats out of its fibers. Pumpkins are also credited with keeping New England settlers alive when they failed at growing wheat and corn. One of the first American folk songs, "New England's Annoyances," memorialized the pumpkin with these lyrics: "Our pumpkins and parsnips are common supplies: We have pumpkins at morning and pumpkins at noon; If it was not for pumpkins we should be undone."
Centuries later, Irish immigrants would start a new pumpkin tradition: carving jack-o-lanterns. In Europe, they used turnips or potatoes to celebrate their version of Halloween, but after arriving in the United States, they discovered it was much easier to carve pumpkins.
In light of all this history, the obsession with pumpkins seems to make sense. Luckily, Americans won't be "undone" by a lack of pumpkins these days, but they have managed to put them toward another American tradition: the creation of a new, profitable industry.