The Best Business Reads of October
The month's most interesting stories about money and business from around the web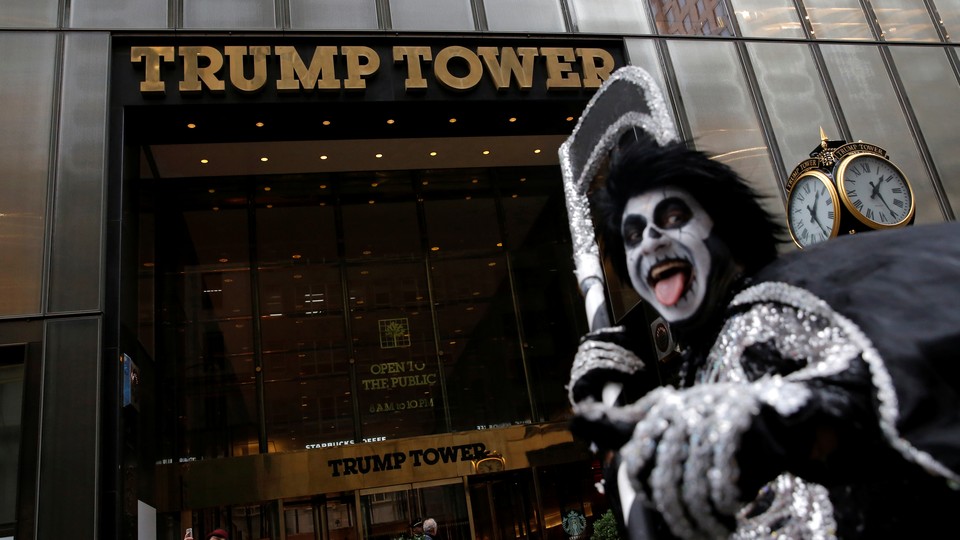 Every month, the editors of The Atlantic's Business channel round up their favorite pieces about money, business, and economics from around the web. The list includes pieces that are informative, unique, and/or beautifully told.
This month's collection includes an important look at the human cost of Venezuela's economic crisis, an inquiry into the subtle cultural coding of restaurants, and a look into the Wells Fargo scandal via a former employee.
If you've missed a recent month's roundup, you can find some here and here.
---
"At a Loss for Meds, Venezuela's Mentally Ill Spiral Downward"
Nicholas Casey | The New York Times
Now the voices demanded that he kill his brother.

"I didn't want to do it," recalled Mr. Simeone, 25.

He took an electric grinder from the family's garage. He switched it on.

But then, to spare his brother, he attacked himself instead, slicing into his own arm until his father raced in and grabbed the grinder from his bloody hands.

Venezuela's economic collapse has already decimated its health system, leaving hospitals without antibiotics, surgeons without gloves and patients dying on emergency room tables.

Now, thousands of mental health patients—many of whom had been living relatively normal lives under medication—are drifting into despair and psychosis because the country has run out of the vast majority of psychiatric medicines, leaving families and doctors powerless to help them, medical experts say.
* * *
"In One Corner of the Law, Minorities and Women Are Often Valued Less"
Kim Soffen | The Washington Post
The decision facing one Brooklyn jury last year was how much a landlord should pay in damages to the boy—named "G.M.M." in court documents—after an investigation showed he had been living in an apartment illegally coated with lead paint. To determine that, the jury would have to decide how much more the boy would have earned over his lifetime without the injury.

Attorneys representing G.M.M. said $3.4 million was the right number, arguing that the boy would have had a bright career ahead of him; both of his parents had graduated from college and his mother received a master's degree, according to the court documents. But the landlord's defense put the figure at less than half that—$1.5 million. Attorney Roger Archibald noted that because the boy was Hispanic, G.M.M. was unlikely to attain the advanced education that would garner such a large income.
* * *
Dan Pashman and Kat Chow | The Sporkful
Every time you walk into a restaurant, you're bombarded with signals—codes that tell you what kind of place it is, and whether it's for you.

Restaurants put a lot of thought into these codes, which they use to try to attract particular groups of customers.

Some of the signals are obvious—the food, the décor, the prices. But others are more subtle.
* * *
"The Fatal Mistake That Doomed Samsung's Galaxy Note"
Jonathan Cheng and John D. McKinnon | The Wall Street Journal
With consumers complaining and telecom operators demanding answers, newly appointed mobile chief D.J. Koh felt the company knew enough to recall 2.5 million phones. His suggestion was backed by Samsung's third-generation heir apparent, Lee Jae-yong, who has advocated for more openness at one of the world's most opaque conglomerates.

That decision in early September—to push a sweeping recall based on what turned out to be incomplete evidence—is now coming back to haunt the company.
* * *
Nathan Heller | The New Yorker
Cash is the squirmy ferret of societal wealth—tricky to secure physically and, once liberated in the wild, almost impossible to get back—and money, as technology, has changed a lot in half a century. A day's errands once called for bulging pockets. Now it's possible to shop for groceries, pay rent, buy lunch, summon a taxi, and repay your sister for a movie without handling a checkbook, let alone fumbling with bills and coins. Most people think of card and electronic payments as conveniences, stand-ins for exchanging cold, hard cash. Yet a growing group of theorists, led in the United States by Kenneth S. Rogoff, a former chief economist at the International Monetary Fund, are embracing the idea that physical currency should be the exception rather than the rule.
* * *
Guy Raz | How I Built This
As a kid, Cathy Hughes practiced her DJ routine while her siblings banged on the bathroom door. As an adult, she founded Radio One, the country's largest African-American owned broadcasting company.
* * *
"Inside Trump Tower: The Skyscraper Where Trump Is Already King"
Max Abelson, Jesse Drucker, and Zachary R. Mider | Bloomberg
Three decades after its debut, Trump Tower's pink-marbled extravagance can seem dated. Nearby skyscrapers dwarf its height and prices. Not many Trump Tower units have sold for more than $15 million. Two 1,100-square-foot apartments are on the market for less than $2.2 million.

Still, the building's value rose to $600 million from $490 million over the past year as Gucci, its largest retail tenant, increased the rent it pays, according to a valuation of Trump's wealth in July by the Bloomberg Billionaires Index. That makes it his most valuable single asset, now worth more than his building at 40 Wall St. He personally guaranteed $8 million when he borrowed $100 million against the midtown skyscraper in 2012.

And Trump Tower still has Trump.
* * *
Chris Arnold and Robert Smith | Planet Money
The third-largest bank in the country, Wells Fargo, is in big trouble. A federal investigation found that Wells Fargo was opening bank accounts without customers' permission. Perhaps as many as two million fraudulent accounts.

After the scandal broke, Wells Fargo's CEO John Stumpf was called to Capitol Hill to testify. He told the senators that the bank's upper management wasn't responsible for the giant scam. He said it was just a bunch of bad apples working at bank branches. Mostly low-level employees.

One of the low-level employees was watching her former boss testify. And she couldn't believe it. This wasn't Wells Fargo's culture? Upper management had nothing to do with it? She knew the company in branches across the country had pushed and pushed young bankers until they broke the rules. Even the law.
* * *
"Race, School Ratings And Real Estate: A 'Legal Gray Area'"
Kendra Yoshinaga and Anya Kamenetz | NPR
"A striking pattern regarding schools emerged from these sales tests," the report states. "Instead of making blatant comments about the racial composition of neighborhoods, many real estate agents told whites to avoid certain areas because of the schools. It is evident from the investigation that schools have become a proxy for the racial or ethnic composition of neighborhoods."
* * *
"Facebook Lets Advertisers Exclude Users by Race"
Julia Angwin and Terry Parris Jr. | ProPublica
Imagine if, during the Jim Crow era, a newspaper offered advertisers the option of placing ads only in copies that went to white readers.

That's basically what Facebook is doing nowadays.

The ubiquitous social network not only allows advertisers to target users by their interests or background, it also gives advertisers the ability to exclude specific groups it calls "Ethnic Affinities." Ads that exclude people based on race, gender and other sensitive factors are prohibited by federal law in housing and employment.
* * *
Alec MacGillis | The New York Times
Americans' tendency toward political self-segregation has been underway for a while now—it's been eight years since Bill Bishop identified the dynamic in "The Big Sort." This helps explain why red-blue maps of so many states consist of dark-blue islands in the cities surrounded by red exurbs and rural areas, a distribution that is also driven by urban concentrations of racial minorities and by the decades-long shift in allegiance from Democratic to Republican among working-class white voters. …

Even cities making comebacks, with restored downtown buildings and plenty of locally brewed I.P.A., have the memory problem. If a city was on the ropes when young people left it, it's frozen in that form in their image of it. "You're competing with memory," Ms. Topper said. "People look back and remember what it was like when they were there. You don't often hear about how things are moving or growing or new things are happening. That picture of when you have left is all you have."