'Let Us Give Our Families the Care We Give Your Families'
Vickie Miller, a home-care worker in Greenville, South Carolina, says her profession deserves higher pay and better benefits.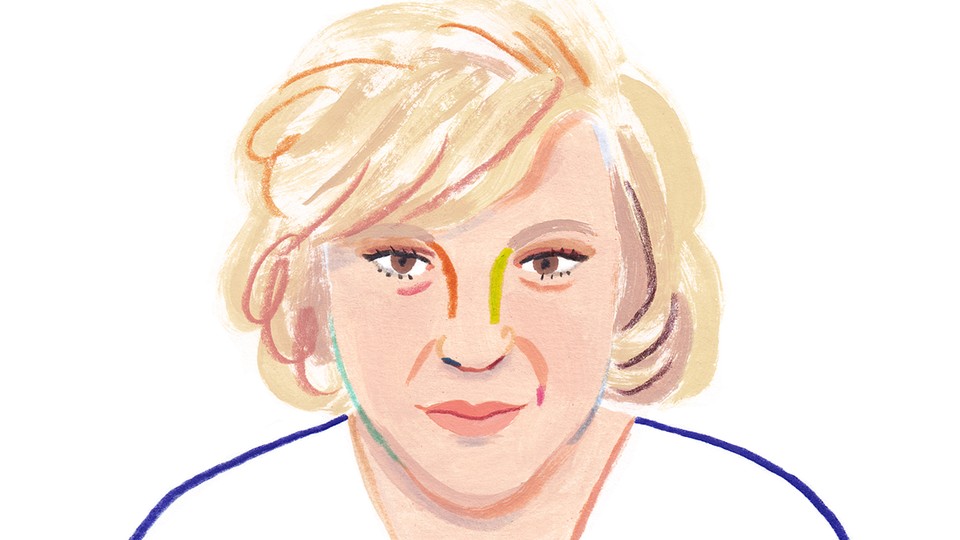 As the American population has aged over the past 10 years, the home-care workforce has doubled in size, with more people now receiving long-term assistance in their homes than in nursing institutions. Of the more than 2 million American home-care workers—including nursing assistants, home health aides, and personal-care aides—nearly a quarter are living under the poverty line and more than half are reliant on public assistance.
The demand for health-related services for older Americans and those with disabilities is predicted to grow. But it has historically been underpaid compared to other types of jobs in the field of health care. After adjusting for inflation, the median wage for home-care aides in the U.S. was $10.21 an hour in 2005. A decade later, that figure is even lower, at $10.11 an hour. And minimum-wage and overtime protections only recently went into effect for most home-care workers.
Vickie Miller is a home-care worker in Greenville, South Carolina, and a member of the Fight for $15 movement, which aims to increase wages and benefits for workers. For The Atlantic's series of interviews with American workers, I spoke with Miller about her relationship with her patients, how she deals with her job's lack of benefits, and how America is coping with an aging population. The interview that follows has been lightly edited for length and clarity.
---
Adrienne Green: What inspired you to become a home-care worker?
Vickie Miller: My inspiration is empathy, and I am a natural caregiver. I enjoy seniors especially. My whole life, I have enjoyed talking to them, learning from them and their life experiences. I care deeply for them, respect them, and I feel like they need the services that I provide. I chose to stop my job as a certified medical assistant working in a doctor's office because it did not give me the connection I needed with people.
At 45 years old, I went to school to change careers [after working in banking]. But [the medical field] wasn't what I expected, because it's like a mill where they just bring them in, and get them out. That dissatisfaction led me to try home care.
I love it. It's a hard job—it's stressful and heartbreaking sometimes—but just being able to care for someone and know that they have the opportunity to live the remainder of their lives in their homes where they're secure and safe and surrounded by their memories and friends and family, that is a huge reward for me. It makes me feel like I have purpose to my life.
Green: Under what circumstance do most of your clients need home care? What do you do with them on a day-to-day basis?
Miller: There is a huge range of clients that need home care, from the elderly to disabled citizens to Alzheimer's patients. I've worked with all of them. My current client, who I've been with for two years, had a series of broken hips. I go in, help her with meals, do light housework, and because of my medical training I can help her coordinate her medications. I can order and pick up her medications from her pharmacy, prepare them, remind her when to take them, and go to her doctor's appointments with her.
She's very independent even though she's homebound. She still likes to be in control of her life, even at 87 years old. I respect that, and we have grown very close, and I care for her much more than just a regular client.
Miller: In doctor's offices, the change I've seen is that patients are not given the time that they need, especially geriatrics; they are in and out. The doctors want to see as many patients as they can to make money because they have to bill through insurance. As far as the changes I've seen in home care, there is a movement for caregivers to organize and to have access to livable wages. [We are fighting] to be able to support our families, and to have benefits.
I don't get paid vacation days, I don't get sick time off, and I don't have a 401(k) plan for my retirement. Until recently we didn't even get paid overtime if we worked over 40 hours a week.  Home care is such a high-demand field, and people are starting to realize that our population is aging. The Baby Boomers are getting old. There are so many people turning 65 years old every single day. There are not enough home-care workers to care for these people when they need it.
We need to provide security and peace of mind for our aging population to live at home, to enjoy the rest of their lives surrounded by the things they've worked for, not just in facilities like assisted living or nursing. If they are home, they are more engaged in their lives. And that is so important for me, because that's what I want for myself when I'm their age, which is not that far away. I [probably] won't have it, but I'm fighting for it for someone else and that's probably one of the most rewarding things I can do.
Miller: I'm struggling now, and I struggled before. Even though working in home care is emotionally and spiritually fulfilling, I'm stressed. I'm stressing right now to pay my bills, my rent, to keep the electricity on, to feed my son, and put him through college. He's trying to finish up college and I'm doing that alone. His father is dead and I have no one.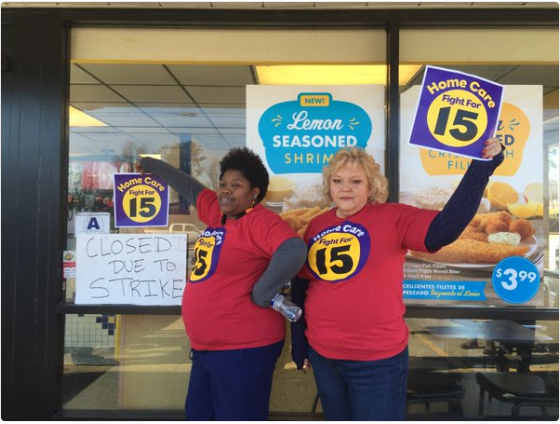 I'm not trying to inflate myself, but I feel like I do an important job for people. I help people everyday, and nobody seems concerned that I have to go home and struggle. I guess people don't want to think about the future. Nobody wants to grow old, but as they're faced with it, with their loved ones, then they start realizing, "Oh my gosh, I cannot be a caregiver day in and day out." That's where I come in. I can do that. I just want to be appreciated by them giving me the pay that I deserve. I'm fighting for the respect and the care of my client, but I'm also fighting for myself to do the job that I love.
Green: Do you connect your value as a worker to the amount of money that you make?
Miller: I think everybody does that. It makes you feel important. That's why you work: to survive. We cannot be so focused on our clients and their needs when we can't meet our own needs. I'm not asking for $100,000 a year. I'm asking for $15 an hour. People want good-quality care for their family members; you get what you pay for. We cannot be so focused on our clients and their needs when we can't meet our own needs.
Green: You said that people don't like to think about the fact that our population is aging. Why do you think that people have that regard toward the elderly?
Miller: I think it's natural for people not to want to think about getting old. It's always somebody else that is going to get old—never me. But there's going to come a time when people are going to wake up and go, "Oh my goodness, I got old and now I need someone." If they don't realize that we need to take this seriously and start getting the caregivers trained, it's going to be very hard to find anyone to care for them when they want to live in their home and they need help.
Plan for the future: Pay us so that we can have a decent life too while we care for a person's loved ones. We give so much of ourselves emotionally, physically, and spiritually to our clients, and it's not enough.
Green: How do you think your work is tied into your identity?
Miller: I'm a very calm, laid-back person, but when I see someone being treated unfairly, I'm going to fight for them. I'm going to defend my client and also defend myself. I need a fair wage and benefits and recognition to survive. That's my identity: a compassionate person that's not afraid to stand up and let people know when there's an injustice. Home caregivers do this job because we do care. Let us give our families the care we give your families.
---
This interview is a part of a series about the lives and experiences of members of the American workforce, which includes conversations with a school lunch server, a janitor, and a hair braider.