What's 'Healthy'? What's 'Natural'?
Consumers, food companies, and lawyers are curious.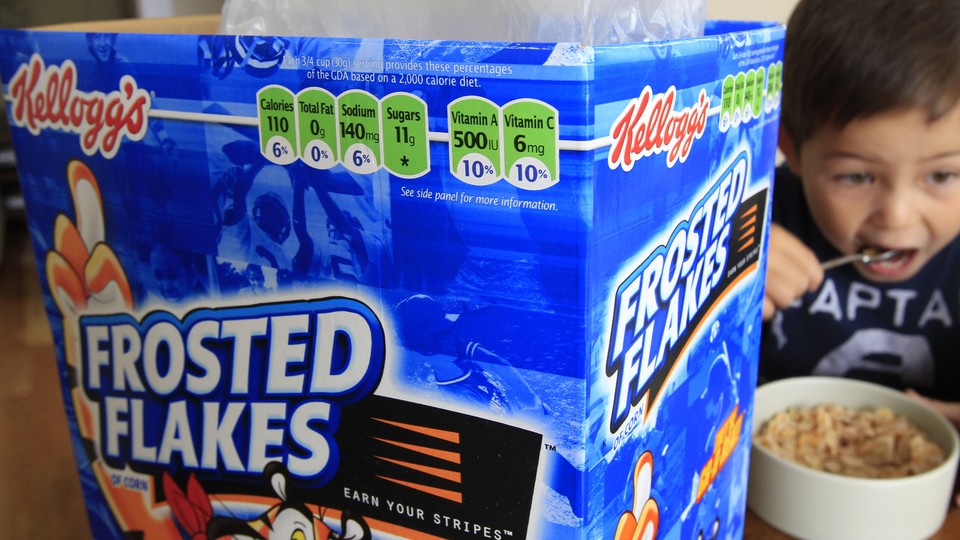 Late last month, the U.S. Food and Drug Administration invited Americans to help redefine "healthy," a perpetually squishy term that has applied to Pop-Tarts for years, but almonds as of only two weeks ago. According to the agency, the aim of the revision is two-fold: to help consumers and to pressure food companies to produce more nutritious fare. "By updating the definition, we hope more companies will use the 'healthy' claim as the basis for new product innovation and reformulation, providing consumers with a greater variety of 'healthy' choices in the marketplace," Dr. Douglas Balentine wrote on the FDA's blog.
In the meantime, the subjectiveness of "healthy" and similar claims, such as "natural," remain a matter of intense controversy, animated by two of America's most cherished pastimes: advertising and class-action lawsuits. Days before the FDA asked the public to weigh in on "healthy," Nature Valley, the General Mills-owned granola-bar maker, became the target of three class-action lawsuits over its products, which have labels that claim that they are made with "100% natural whole grain oats," but are said to contain trace amounts of pesticides. (Frustratingly for Nature Valley's legal team, the "100% natural whole grain oats" phrasing was actually the replacement copy for "100% natural," for which the company was sued in 2012 after it was determined that its products contain genetically modified and processed ingredients.)
Nature Valley's woes are hardly an anomaly. Last week, Naked Juice, which is owned by PepsiCo, was sued by the Center for Science in the Public Interest, a consumer-advocacy group, which maintains that the purveyor of sugary, bottled juice exaggerates health claims in its labeling and advertising. "PepsiCo misleadingly markets Naked Juices as predominantly containing high-value ingredients such as acai berry, blueberries, kale, and mango, when in fact the predominant ingredient in the product line is usually cheap, nutrient-poor apple juice," reads the lawsuit. Like Nature Valley, Naked Juice faced another lawsuit (which it then settled) over its use of the term "all natural" three years ago after some accused the company of using GMOs in its products.
These cases are representative of a burgeoning legal battle against food companies whose products, generally speaking, don't cause serious harm to consumers. Or as Ted Craig, a lawyer who specializes in consumer class actions, told Quartz's Deena Shanker after the snack-bar maker KIND faced three class-action lawsuits over its use of the word "healthy" last year, these suits appear to be "solely for purposes of recovering money damages and not in the name of protecting consumers."
The breadth of the roster of food companies and conglomerates that have faced labeling lawsuits in recent years is more dizzying than any sugar (or pesticide) high. It includes Kraft Heinz, Dr. Pepper Snapple Group, Campbell Soup, Trader Joe's, Ben & Jerry's, Kashi, and Skinnygirl. Earlier this year, Quaker Oats was sued over its instant-oatmeal line, the packaging of which features the words "maple sugar" and a picture of maple syrup, even though it doesn't contain actual maple syrup. Perhaps the most infamous case in this genre was one in which a federal judge dismissed a suit that centered on the fact that Cap'n Crunch's Crunch Berries are not real fruit.
While some may dismiss these legal efforts as frivolous, the question of whether a product is as "healthy" or "natural" as promised dovetails with a broader movement about what's actually in the items on American grocery shelves. Take, for example, the debate over GMO labeling, the proponents of which argue is simply a way for consumers to know what they're getting in their food, despite the scientific consensus arguing that GMOs don't pose any health risks. "What's happening here is more and more people are concerned about what they're putting in their bodies, concerned about processed foods and the things added to them," Michael Moss, a reporter covering the food industry, told The Chicago Tribune in May. Of the lawsuits, he added, "I love it that consumer agitation can cause companies to respond without government intervention."
This era of ambiguity and federal reluctance may be (very slowly) nearing its end. Earlier this year, the FDA ended a public-comment period over the term "natural" and may rule on the term in the coming months, which is good news for U.S. consumers. "Americans spend more than $40 billion a year on cereals, breads, yogurts, beverages, and other foods identified as 'all natural,'" noted Anahad O'Connor in The New York Times in May. "Surveys show that consumers seek out the 'all natural' label because they believe—wrongly—that it means the food was produced without genetically modified organisms, hormones, pesticides and artificial ingredients."
Similarly, behind the FDA's initiative to redefine "healthy" is the prodding of consumers, food companies, lawmakers, and the courts, all of which seek an update to the 1994 standards by which the term is regulated. Given that what's healthy constantly seems to be evolving and the general controversy surrounded the term, it may be years before a new definition enters the dietary vernacular. Until then, Frosted Flakes can be called "healthy," salmon can't, and I'll see you in court.