From Economist in Peru, to Janitor in America
Ciro Gutierrez, a cleaner at the University of Connecticut, talks about the struggle of white-collar immigrants who come to the U.S. but to work in blue-collar jobs.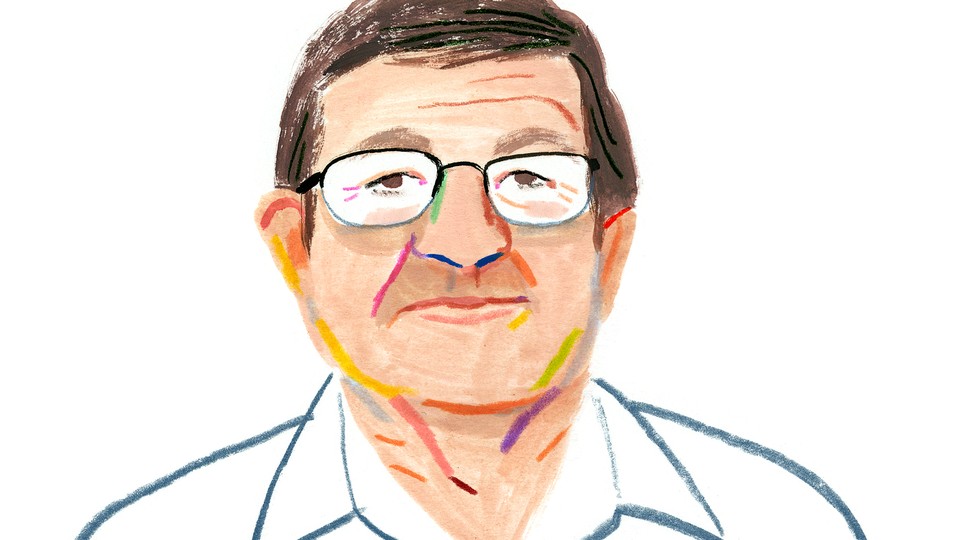 The summer of 2016 boasted two expectation-smashing jobs reports, signalling overall economic growth: In August, the the U.S. economy added 151,000 jobs, while the unemployment rate remained at 4.9 percent, a relatively steady decline since the recession. But it's also the case that unemployment numbers, which many use to gauge the health of the U.S. economy, tell an incomplete story. By focusing only on those who are presently not working but still searching, unemployment numbers often fail to paint an accurate picture of those members of the labor force who have jobs, but aren't utilizing their full skill sets or can't find enough work.
A well-known archetype of underemployment is the "college-educated barista," but other less-cited example are the immigrants who often hold degrees and were employed at white-collar jobs in their home countries. In the U.S. though, they face significant challenges—such as their legal status, occupational licenses, and language barriers—obtaining the same level of work. Certain immigrants are relegated to the low-skilled segment of the workforce.
Ciro Gutierrez came to America on a tourist visa 22 years ago from Peru where he had previously worked as an economist. He's currently employed as a janitor at the University of Connecticut, and is now a U.S. citizen.  For The Atlantic's series of interviews with American workers, I spoke with Gutierrez about the challenges immigrants face in trying to participate in the U.S. workforce, and what it was like shifting from white-collar work in his home country to blue-collar work in America. The interview that follows has been lightly edited for context and clarity.
---
Adrienne Green: What were you doing for work before you immigrated to the United States, and what inspired you to do it?
Ciro Gutierrez: I emigrated from Peru in 1994, and I was an economist while living there. I worked for the government there for about 15 years. My father was a mechanic, and he wanted to have a son who studied engineering. In school, I was good at math and science, and I was very excited about my knowledge of modern science, so I just applied to the school of engineering, and I got in. That was in 1970, when I was 17 years old. I studied for three and a half years, but I realized engineering wasn't my aspiration. At that time, I got involved in politics.
I was looking for a career that developed my critical thinking. Engineering is more related to the science (or management) of construction. I changed my career from engineering to economics because economics involves math, social knowledge, also analysis.
Green: When you came to America, what was your job transition like?
Gutierrez: I came to this country because I lost my job. The Peruvian government reduced in size, and I got laid off. I had to support my family, and the only thing that I had was a tourist visa to the U.S. I decided, with my wife, to come to this country and work for a while to give my kids the life that they deserve. My first job was a part-time job cleaner in Saint Francis Hospital in Hartford, Connecticut. Because I came to this country with a tourist visa, it didn't allow me work legally. Also, I didn't speak English when I came here so it was impossible for me to get a better job, one that was similar to the career I had in Peru or used my skills.
Green: How is life different for you now as a cleaner?
Gutierrez: Well, it doesn't matter to me what I do for a living. I always try to be the best, just for myself. Of course, I didn't clean offices or hospitals [because I wanted to], but I had to learn. It's not easy; you clean your house, but your house is a small space. You have to clean a lot of spaces when you clean as a profession. You have to do the best that you can because you receive pay for that.
I got more disciplined by working in America. Management, here in the U.S., is stricter about the way you do your job. Supervisors will follow you to make sure that you get the work done. In Peru, professionally, there is [none of that]. Here, I try to accomplish my job, but I don't feel any inspiration. But, it's been good for me because I've become a multitasker: I do my job, study, and take care of my kids. It's now normal for me to manage many things at the same time. This is the principal difference.
Green: What would you say is the most challenging part about transitioning from a white-collar job to a blue-collar one?
Gutierrez: The big difference is that the manual labor doesn't develop any of my intellectual skills. But I need the job. In my first year here, all the time I spent working as a janitor felt like a waste. When I worked as a professional economist in Peru, I had to produce analysis, case studies, and get solutions to problems. I was making decisions based on facts, and studying situations.
This job provides for me and my family. My kids need an education, and they need to be in a setting where they can be very good students. I have had to work hard, two or three jobs sometimes, to give them that environment. For example, I moved to a middle-class neighborhood with a good school system. That costs money. The only jobs I could get with my legal status, and lack of English, were manual labor ones such as a janitor. But, for my kids to have the opportunity to grow up well, I had to make the sacrifices.
Green: Would you consider your job as a janitor rewarding because it provides for your kids?
Gutierrez: In the beginning, I didn't feel like it was rewarding, but after joining the union it transformed [how I felt], because I had the opportunity, not only to get better conditions in life, but also to help people and apply all my skills. I was contributing to the development of the rules of labor contracts.
Green: Do you think that people treat you the same way in this job as they did in your other jobs?
Gutierrez: When I was working in Peru I was working very hard intellectually, but I was never rewarded. The only thing I received was a lay off, which cut off my ability to support my family. I had the skills to continue to work in my country, but every place I applied I think they thought I was too old, or they would offer me just a portion of my former salary.
That is the reason that I came to America, because in Peru I lost my job but I also lost respect. When I work here, and especially when I'm involved with my union, people give me that respect because of that support. My role in the union is also affecting the lives of migrant workers.
Green: How do you think that your work is tied into your identity?
Gutierrez: Now, I work at the University of Connecticut in Hartford. This is an environment that I like a lot because, yes, I am a janitor, but I can talk with the professors about things that I know about and that is important to me. I think immigrants deserve the opportunity to do more than work hard for a living, or illegally work two or three jobs. We must have the opportunity to develop skills. Many, many people from my country—some of whom are my friends—immigrated to this country for the same reasons that I did: They lost their jobs. They were professionals in that country, but only a few of them are still working as professionals here. The others just work as laborers, janitors, or have jobs in factories.
For me, the union gave me the opportunity to develop knowledge about the labor movement, develop my skills in politics, understand democracy, and became a real democratic citizen. I see democracy as the solution of the most labor problems. It's not easy, but I have to study and read more about the labor movement here. I'm in school again now, and I think this is the kind of opportunity this country should give to immigrants.
---
This interview is a part of a series about the lives and experiences of members of the American workforce, which includes conversations with a cleaner, a fabric cutter and a truck driver.