Donald J. Trump's Television Future
He may lose the election. But how will Trump capitalize on his political celebrity? Here are four possibilities.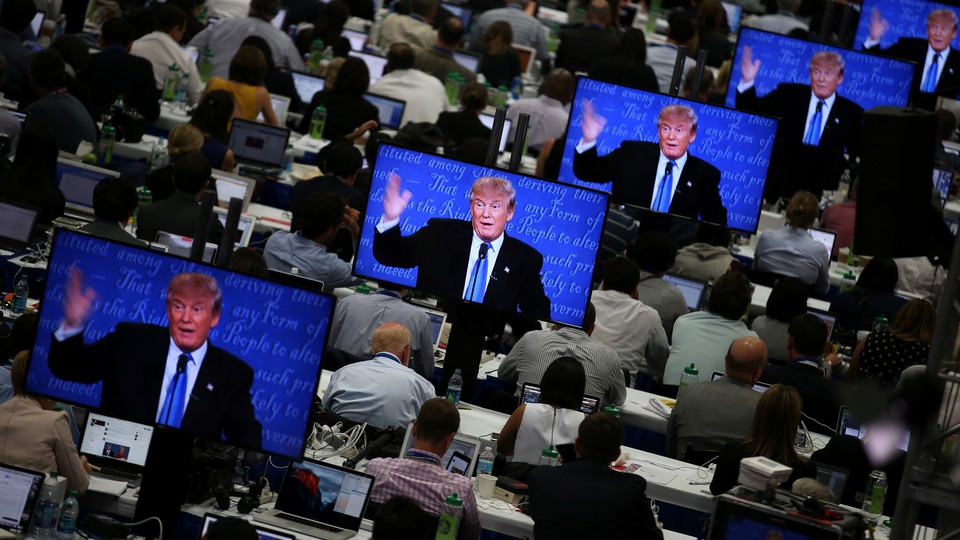 Every political campaign is a media organization. There are stars (e.g., candidates and their surrogates), shows (e.g., rallies and talking points), and distribution strategies (e.g., television bookings and get-out-the-vote efforts). But there has never been anything quite like the Donald J. Trump Show, which at times seems more like a media organization posing as a political campaign than a political campaign with an organized media strategy.
So, with Trump facing a potential wipeout on November 8, there is a growing sense that he'll start a news network in 2017. Trump has already surrounded himself with advisers who are more TV than GOTV. The campaign's chief executive is Steve Bannon, the former head of the alt-right website Breitbart. Trump's son-in-law Jared Kushner is the owner of the New York Observer. Roger Ailes, the disgraced founder and CEO of the Fox News Channel, is an adviser.
On Monday, the Financial Times reported that Kushner approached a boutique investment firm that specializes in media deals to inquire about the possibility of building a post-election television network run by Trump himself. Where is this all headed? Here are four possibilities.
1. Trump TV—on Cable
The holy grail for a defeated Donald Trump might be to exact revenge on the establishment Republican Party by building a nativist rival to the Fox News Channel on cable. Let's call it Trump Cable News.
The Trump Cable News lineup might include a primetime show with Trump himself. Another hour might include Sean Hannity, the Fox News anchor and Trump supporter whom many suspect will leave his network at the end of the year. Even Bill O'Reilly might be drawn to abandon Fox for a new venture that paid him more money. But that raises one huge problem for Trump's cable pipe dream—money. Where is he going to get it?
Trump would need upfront support from investors and ongoing support from many advertisers, because building a cable network from scratch is prohibitively expensive, even for a self-proclaimed billionaire. "It seems highly unlikely that Trump—who is loath even to spend money on polls because he believes there are plenty of public ones he can have for free—would suddenly cough up tens and perhaps hundreds of millions of dollars to enter the fraught business of cable TV," wrote Ryan Lizza, a staff writer at The New Yorker.
Several people told The Street that the costs of setting up a Fox News rival could easily run between $300 million and $800 million. Investors and television experts are practically united in their certainty that Trump has so utterly demolished his brand that few investors or advertisers would want to support his endeavor. Mike Allen reported that a source close to the investment firm that spoke with Kushner had "no interest in being in business with Trump."
What's more, the pay TV industry is both bloated and in structural decline. There are too many cable channels who want a spot in the bundle and not enough new audiences who are willing to pay. Even Roger Ailes' recent foray into cable news, Fox Business, has struggled to attract audiences despite hundreds of millions of dollars in investment.
2. Trump TV—Online
If the year were 1996, Trump's inability to secure investment for a cable news network would mean the end of his television dreams. But today there are tens of millions of U.S. households subscribing to Netflix, Amazon Video, and other "over the top" (OTT) online video options that go around the cable bundle. Trump could build a digital television network.
The prototype for Trump might be The Blaze, Glenn Beck's multimedia operation, which includes a website, radio programs, and a paid subscription digital television network. Since launching in 2010, The Blaze has seen highs and lows that suggest the road to success in digital TV is easier described than executed. In its first year, Beck's enterprise took in more than $40 million in revenue, with about 300,000 subscribers paying at least $100 a year. But since peaking in late 2014, viewership and audiences have declined significantly, necessitating layoffs that essentially shrunk the company by half, according to reporting by The Daily Beast.
But Trump's fame and the fanatical devotion of his fanbase are both an order of magnitude greater than Beck's, suggesting his celebrity could translate into millions of paid television subscribers. Even one million Trump TV subscribers paying $150 a year (or about $12 a month) for a television, radio, and website product would mean $150 million in the first year. That would probably be enough to lure Hannity at a discount and other conservative fixtures like Laura Ingraham to Trump's stable. For premium subscriptions—say, $200 or $300 a year—Trump could promise free tickets to Trump national tours, discounts to Trump merchandise and hotels, and even dubious products like online real-estate lessons. After all, Trump was desperate to merchandise his likeness and surname before the election, and with a built-in audience of about 60 million voters and hundreds of thousands of national rally attendees, he is once again poised to capitalize on his name.
3. The Trump Show
The problem with television is that it's expensive to set up a network and the cash flow is unpredictable, because it's not obvious how many Trump supporters will want to give a presidential loser $100 a year in perpetuity. If Trump gets blown out in November, his brand will be tarnished both nationally and within a bitter Republican Party (and an angry conservative media) that holds him responsible.
The least risky strategy for Trump would be to sign a contract for his own show on an existing network. It is hard to imagine a broadcast channel or cable news news network giving Trump an hour, since their advertisers might flee. That leaves channels like RT, the Russian-owned television network, or a YouTube show that airs on Breitbart.
The Trump Show itself could be multimedia programming. Trump's bluster is tailor-made for talk radio, and he doesn't seem to have much trouble filling hours of time with accounts of his victories, resentments, and grand theories. Lynne Costantini, a media adviser and veteran of The Blaze, told The Street she could imagine Vice as a template. "You could produce a show or two and sell those shows to other, well distributed networks and then make your bones that way," she said. "Vice has done that very well."
4. The Trump Purgatory
Ultimately, Trump may be frozen out of each of these possibilities. Building a successful television network requires a lot of upfront investment and cooperation from conservative media stars, which might be difficult in a period of bitter recriminations following a tough loss. Trump's pride might prevent him from doing something small-bore, like a radio show or streaming television program. But without a suitable distribution partner, Trump might be left with something like a permanent pseudo-campaign. It's not impossible to imagine him continuing to tour the country giving speeches, while asking for his supporters to pay higher prices for the tickets.
But if there is a theme to Trump's portfolio of eponymous projects, from his steaks and neckties to his university, it is that he has no problem licensing his name to products without bothering to ensure their quality. If Trump loses the election but appears to keep his audience, he may be tantalized to pursue a lazier option—for example, to license his face and surname to a Breitbart feature that also sells his merchandise. After all, for a real-estate mogul and defeated presidential candidate to reinvent himself as a network mastermind would require Trump to pull off one of the most successful post-defeat reinventions since, well, this guy. And if there's one thing America has learned about Trump in the last six months, it's that he's not gifted at pivoting.