The New Rules of Digital Cash
The Consumer Financial Protection Bureau is bringing in sweeping regulations that cover payment products like Venmo and prepaid debit cards.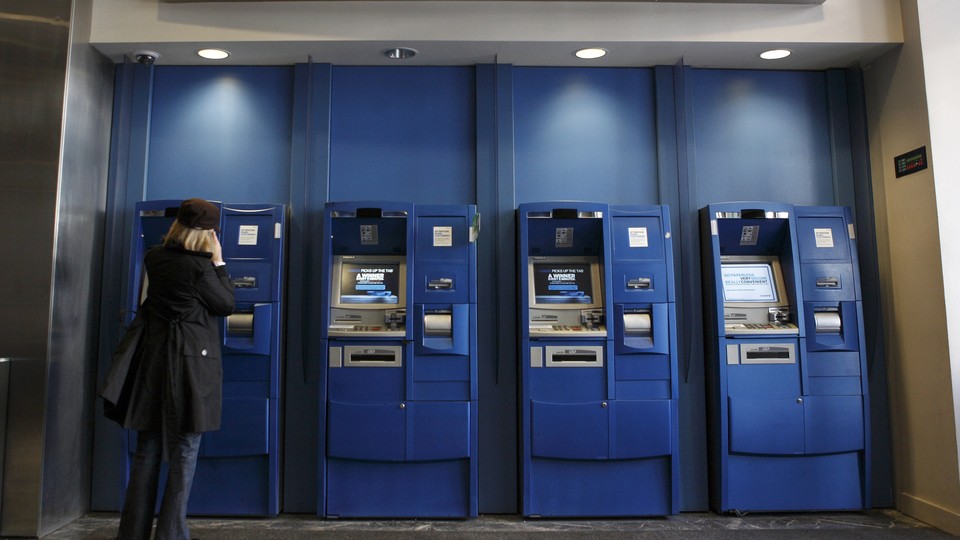 When the RushCard—a prepaid debit card promoted by the hip-hop mogul Russell Simmons—faced a technical glitch last year, thousands of its customers were left without access to their accounts. For some, that meant not being able to access paychecks and scrambling to cover rent, groceries, gas, and other necessities. The debacle highlighted how heavily some Americans rely on the largely unregulated prepaid-card market for everyday needs. Now, that's changing: The Consumer Financial Protection Bureau on Wednesday introduced rules for the industry, casting a wide net in hopes of protecting consumers who don't use bank accounts to manage any or all of their money.
The market for prepaid debit cards has grown dramatically in recent years: The number of people using the cards in addition to their checking accounts increased by 50 percent between 2012 and 2014. According to a report from Pew by 2014, around 23 million Americans were regularly using reloadable cards, and more than one-quarter of those users were Americans who didn't have bank accounts and were mostly low-income and black. For all their shortcomings, prepaid debit cards fill an important role for Americans who don't have access to traditional checking or credit accounts. These services allow them to perform basic tasks, such as paying for goods or services online or taking cash out from a convenient ATM, that many Americans take for granted.
The demographics of those using the cards now vary widely, but those without checking accounts use the cards as their primary means of managing money. Nearly half of underbanked users have a direct deposit set up on their prepaid card, and three-quarters reload it regularly. Many users say they get prepaid cards in an attempt to avoid the fees associated with checking accounts, such as those charged for overdrafts. But that's misguided, given the high and frequent fees that can be associated with prepaid accounts, including charges for loading money, using an ATM, checking a balance, and overdrawing.
Read just a few complaints about these cards on the CFPB website, and it's easy to understand why many Americans are frustrated. "I proceeded to use my card to pay bills and do things I needed to do for my family. Tonight I looked over my charges because I was short and couldn't figure out why. I have various fees for every time I used that card … I counted over $30.00 in fees in TWO DAYS," reads one complaint from a prepaid card user in North Carolina. Another complaint alleges that after a card expired, the owner simply lost the remaining funds instead of being sent a new card for the account: "I saved this card to spend on something special. $50.00 is a lot of money to lose." The complaints go on, referencing issues with fees, poor customer service, and other troubles.
The CFPB has received more than 4,000 complaints about prepaid cards since July 2011, and the bulk of those have been about issues with unauthorized transactions, fraud or scams, and managing, opening, and closing accounts.
So the final rules the CFPB unveiled on Wednesday were based on years of data collection and complaints. The new regulations—which go into effect on October 1, 2017—would require companies offering prepaid services to provide more transparency about their fee structures, to clearly state whether customers' funds are insured (such as through the FDIC), to make user agreements publicly available, and to be more responsive to customer complaints. More specifically, if a card user and a card issuer are not able to resolve a dispute within 10 business days, the issuer will be required to temporarily credit the customer's account until a conclusion is reached. And in instances of fraud or card loss, issuers would be required to limit customers' liability.
The new rule will also require prepaid operators to clearly state whether or not an overdraft option is available, and to then treat that option like what it is: credit. When providing that, issuers will be be required to do the same thing that credit-card companies do: They'll need to determine a customer's ability to pay, provide a monthly statement, and offer reasonable payment terms and fees (which can't exceed 25 percent of the total credit line).
The new CFPB rules are sweeping not just in their treatment of prepaid accounts, but in their broad interpretation of what a prepaid account is. The regulations will cover reloadable cards, cards used for government benefits, payroll cards, and some popular electronic and mobile systems. Venmo and PayPal, for instance—which allow users not only to pay each other directly, but to store money within the platform—will also be required to follow stricter guidelines and assume more liability for fraud, loss, and account errors. The CFPB has included digital-wallet options in its rules in spite of strong objections from the industry, which maintains that its products don't pose the same risks to consumers that prepaid cards do.
All of these industries will have a little under a year to tweak their products to fit the new federal guidelines—and to fight for changes or exclusions. Even if pared back, the regulations will be the first real attempt to rein in the exorbitant fees and lack of accountability that has long plagued the prepaid-card industry and further marginalized its customers.