The Return of the Avocado as a Luxury Item
Throttled by climate change and wild demand, the now ubiquitous fruit is about to become even more expensive.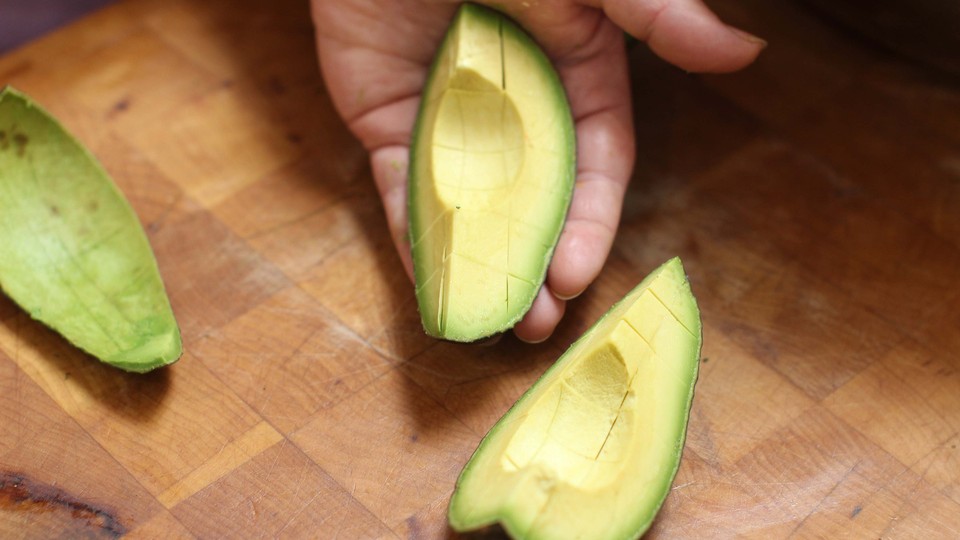 In December 2006, back when climate change was still best known as "global warming," researchers from the Lawrence Livermore National Laboratory published a study that predicted dire outcomes for California crops. "[A]lmonds, table grapes, oranges, walnuts, and avocados show moderate to substantial yield declines," wrote David Lobell, the study's lead author. In particular, the "substantial" designation was reserved for avocado crops, which were predicted "to yield 40 percent less than current harvests" over the course of the next four decades, owing to, among other things, a changing climate.
Almost exactly 10 years later, several noteworthy things have changed: The earth has seen the hottest months and years on record, there is now the specter of a decades-long megadrought in California and the Southwest, and the avocado has experienced a mushy, meteoric rise to culinary favor in the United States. "In the 1990s, the average American ate about 1.5 pounds; in 2012, he ate 5 pounds," my colleague Olga Khazan wrote in The Atlantic last year. Once known as the "alligator pear," Khazan added, it had gone from a pricy, esoteric foodstuff that the wealthy served with lobster to a cheaper, ubiquitous fruit, especially as many Americans stopped stigmatizing fat-rich foods.
Because it is particularly ill-suited to withstanding the sorts of changes that are expected in coming decades—higher temperatures, more water shortages—the avocado may soon become a luxury item once again. After another summer of intermittent shortages and price hikes stemming in part from excessive heat in California, where 80 percent of American avocados are grown, Mexico is also now facing a serious shortage following a lackluster growing season for similar reasons. "According to the Hass Avocado Board, the amount of avocados shipped from Mexico to the U.S. in the first week of October dropped from 44 million to 22.9 million pounds year-to-year," a local tv outlet in Pasadena, Calif., reported last week.
The effect on avocado prices was immediately noticeable. Earlier this week, one Southern California supplier told The Orange County Register that a case of avocados now runs about $76, "the highest the company has seen in three decades," and well above the typical price, which ranged from $25 to $35 as recently as last summer. Meanwhile, as Quartz reported late last month, in the Southwest, where avocados typically tend to be the cheapest, "the average price of $1.65 per fruit is the highest ever recorded in the region—and twice as much as it was six months ago."
The avocado shortages and accompanying price hikes that have become something of a fixture in recent years are starting to look like they might be here to stay. Back in 2014, Chipotle raised alarm when the company suggested that it might suspend its guacamole operations, which involve the use of 97,000 pounds of avocado daily, should prices get too high. Others suggest that growers may move away from the crop because its production "requires about 1 million gallons per acre of avocado trees," an increasingly onerous burden in times of heavy drought and increasingly high heat. Making matters worse, the surging American appetite for avocados has been linked to deforestation in Mexico.
These issues aren't limited to avocado growers in North America. Chile, another prominent grower and exporter of the fruit, continues its production despite drought conditions. On practically the other side of the globe, unprecedented heat is hampering the industry in Australia. "Whether it's climate change or global warming, the fact is we're seeing over [100]-degree days on the Peninsula, which I've never really noticed before," one grower told the Australian Broadcasting Corporation last week, noting the loss of his entire crop of 500,000 avocados this year. Meanwhile, Americans are consuming more avocados than ever, and their appetite shows no signs of letting up.