The Dangerous Life of a Trash Collector
Angel Veloz talks about his work ethic and why he dropped out of college to drive trucks.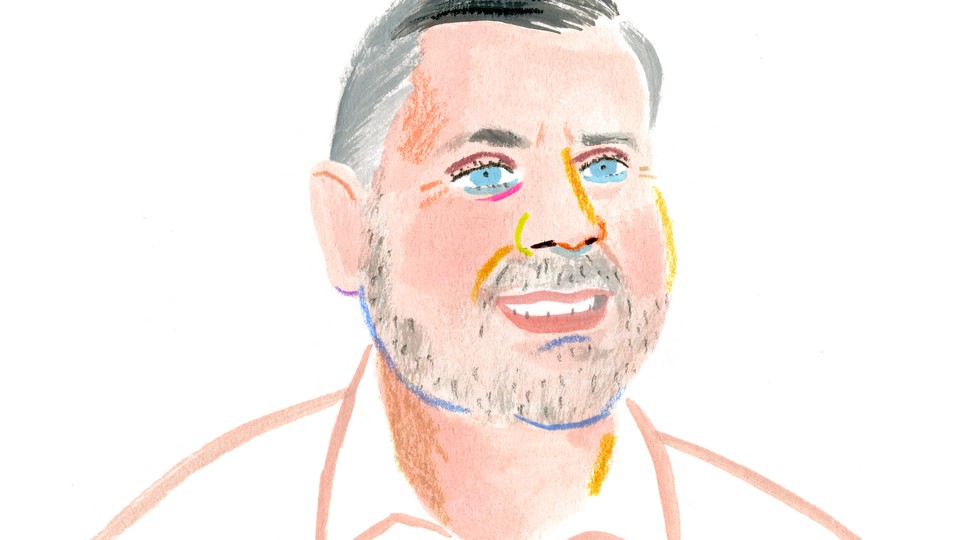 Taking out the trash is usually a chore assigned to a parent or teenager in the household. But once that trash hits the curb, it's someone else's job to pick it up. And America produces a lot of trash: According to the Environmental Protection Agency, Americans generate 254 million tons of trash a year. That trash is then hauled away by the nearly 120,000 waste workers in the U.S., some of whom make as much as $100,000 a year. Competition for these jobs is fierce in some cities; in places like New York City, the acceptance rate for those applying to become sanitation workers is just 1 percent.
Refuse collection is one of the top five most dangerous jobs in America. Waste workers deal with heavy and dangerous equipment daily, and according to the Bureau of Labor Statistics, the fatal injury rate for waste collectors is 33 per 100,000—ahead of policemen, construction workers, and miners.
Angel Veloz has been working in the waste and recycling industry for 17 years. He works at Waste Pro, one of the largest of the private companies that handle waste and recycling collection in the Southeast, and has won his company's safety award several times.
For The Atlantic's series of interviews with American workers, I spoke with Veloz about what it's like working in waste collection, and how he handles the dangers of his job. The interview that follows has been lightly edited for length and clarity.
---
Bourree Lam: How did you start working in waste collection, and how long have you been doing it?
Angel Veloz: I've always loved trucks, even as a kid. My dad ran Mack trucks and for some reason, I always had it on my mind. I went to college for about two years and I said, "This is not for me." I was studying architecture and I realized that I am not an office person; I need to be outside. I was 18-years-old and that's when I first started driving the truck and said that's it.
I have a brother that lives in Lee County, Florida, who was getting into the trash business. He wanted to get into roll-offs, an elite job in the trash industry where people [pick up big loads],  and I wanted to leave California where I was hauling beef. I came here and I started driving for him—it was a hands-on learning experience.
Now, I provide roll-offs for a waste products company. My brother bought one truck, and I worked for him for a year. Then I went into waste management for a company called Florida Recycling. Eventually, my boss moved to a company call Waste Pro, and they brought us over. I've been here [with him] ever since then.
Lam: What's a typical day of work like for you?
Veloz: The night before, I'll call dispatch and say, "Look, tell me what I've got for tomorrow's schedule." I'll get loaded—putting the roll-off container with garbage on the truck—for my first load of the day or my second load of the day. That way, if there's any kind of bad situation first thing in the morning—a truck breaks or things go bad—you're loaded. If you don't fall behind, you can finish dumping the loads at a very good time. Then, as the day goes on, I've got about seven to nine customers a day. My shift runs about 12 hours.
Lam: Who are you picking up trash from?
Veloz: Usually, I handle commercial accounts. My main customer is the Regional Southwest airport here in Fort Myers. I handle all the waste at the airport: from international flight dumpsters, to regular trash, to trash that comes out of the planes, or from their food court. I also pick up dumpsters from regular companies around the airport.
Lam: Is it surprising how much trash an airport produces?
Veloz: Oh my gosh, yes. Especially in the busy season in Florida—which is from Halloween until Easter [when people visit to escape the cold]. It would shock you. It goes through the roof. You get very busy because there are more people flying into the airport, and bringing trash. It's unreal.
During the off-season, loads average between two and three tons and [I handle] eight loads per day on average. That's about 24 tons. [...] From October to April, it goes way up because people come to Florida to get away from the snow.
Lam: Do you see yourself in the trash business for the foreseeable future?
Veloz: I do. I'm very comfortable with it, but remember, I do roll offs. Roll offs is an elite job in the trash industry. The people that go to do the residential stuff—it's a lot harder work. All I do is put a roll-off cable on a box, put it up on the truck, dump it, and then take it back to the customer. I don't have to do a lot of manual labor. I see myself retiring in this business.
Lam: Is there a hierarchy in the trash business?
Veloz: Yeah, you start off at residential and work your way up. You do that by coming in as a helper, and getting your [waste removal] license. Then, become a driver and work yourself up the ladder. That's how it usually works.
I never did that. I became a professional in the roll-off business. I perfected it and did my own thing for different companies. The first people that employed me said, "Look. We'll give you a job for three months and if you're any good, the people that are buying the contract for recycling will give you a brand new truck. They'll give you more money and a uniform." I said, "Great. I got this. I know what I'm doing." I took it from there. Then again, it takes talent, and you have to be on what you're doing everyday. You can't slack off. Slackers don't make it in life.
Lam: Do you feel like you still need to be careful, even though you're doing the same task every day?
Veloz: Absolutely. Every time you get out of the truck and go to the [trash] box: Don't become complacent. In this business, if you become complacent, you're looking for death. It's very dangerous because the cable bringing up the box is like a slingshot. If you make one mistake, and break the cable, it'll come through the window behind you and it's not going to be a good situation. You've got wires overhead, you've got trees you could hit that could fall on the truck. I take every load like it's my first time. We also get safety bonus $10,000 every three years, which I've won.
Lam: Would you say that your work at Waste Pro is an important part of your life and your identity?
Veloz: I would say yes. I've been in a truck for 33 years. I would be a fool to think that trucking is not a part of my life. However, I do have other parts of my life. My family is really important to me.
Being a professional trucker for many years makes you think twice about everything once you get behind the wheel. Once you turn your truck on, it's show time. You're in a big machine and you have to respect other drivers. Just because you're in a machine, doesn't mean you can take advantage of it. You have to be prudent and you have to give other people space so they can make a mistake and you won't hurt them. Basically, this is an office with a view and wheels.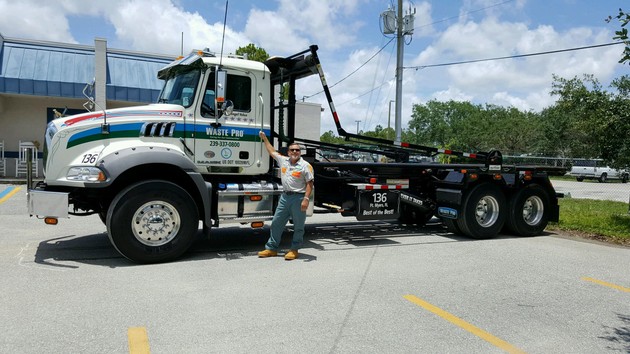 Lam: Do you see any challenges facing people who work in the waste and recycling industry?
Veloz: Some challenges I see in the new generation are turnover rates, lack of integrity, and people expecting to start off at the top without having to work for it. My generation had to earn it and you didn't expect anything. If you had it, then you would slowly climb up the ladder and be a success. But now, people don't think that way and I see that as a problem.
It worries me because you have to put your time in to be good at anything. It takes time to perfect; it's part of learning. There's a learning curve, and there's going to be mistakes but it can't bring you down. You've got to say, "You know what, I won't do that again. It happens to everyone." But some people don't take it lightly, and think that I was born behind the wheel and it's not true. I've had my share of mistakes, and I've learned from them.
Lam: Are there any misconceptions about your job?
Veloz: People think that most truckers are not very nice people, and for some reason, full of tattoos. I'm a church-going man; I've been married to the same woman for 30 years. I've raised my family and I'm a man of integrity. There are people like me out there, but people have misconceptions. When people ask what I do for a living, I'll say I'm a trucker. Then they'll say, "What do you really do?" I really do that. I've done it all my life. I like going home every night and sleeping in my bed.
Lam: It sounds like the work that you do everyday is pretty similar. What motivates you to come to work everyday?
Veloz: I look at the truck that I drive, I check it out and I crank it up. Once I crank it up, it really makes my day because I know what I'm doing. Once I get inside the cab, I'm home. I love going to work. I've been doing the same thing all my life. It's just part of me.
I am a refugee, believe it or not. I was born in Cuba, but I'm American. We came over back in 1966, my father said, "Look, we're in America now and we will make this work. This is our home." The immigrant work ethic was passed to me like white on rice. I am not kidding you. I am a workaholic. There is no stone left unturned while doing my job. I take it personal.
You have to want the success, be a role model, and be part of something good to show the next generation, say, "Look at me, you can do this too." My children have a work ethic second to none; my wife as well. As I get older in life now, sometimes I worry I made them a little too strong. But it doesn't work both ways: You're either a doormat or you call the shots. That's the American way. This is what made this country. Everywhere else, you're either poor or rich. Nothing is perfect, but you have to give America a chance. You can't get disenchanted. We have to make this work one way or another.
---
This interview is a part of a series about the lives and experiences of members of the American workforce, which includes conversations with a firefighter, a truck driver, and a paramedic.