The Real Reason Peña Nieto Fears a Trump Presidency
If Donald Trump follows through with some of his campaign promises, he could wreak economic havoc on Mexico.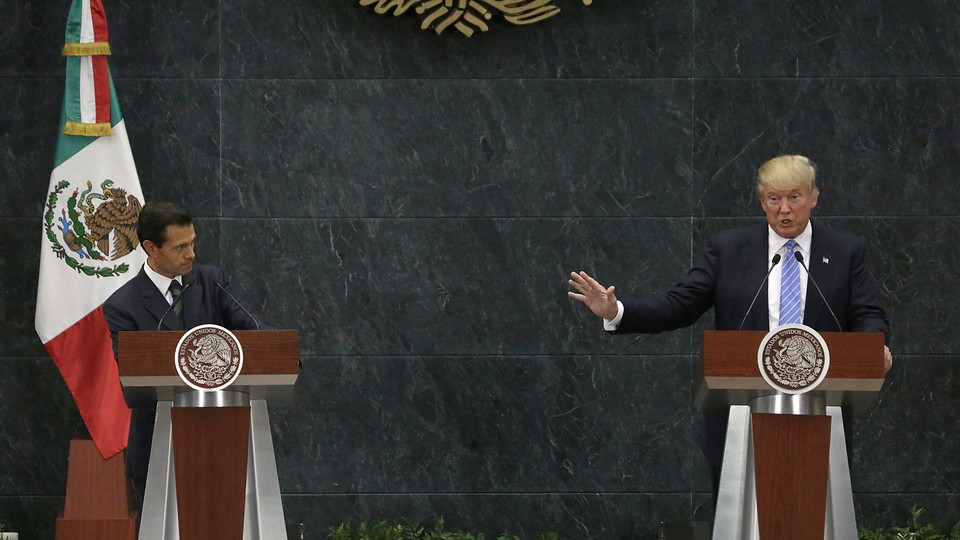 It came as a surprise when Mexican President Enrique Peña Nieto invited Donald Trump this week to meet with him in Mexico City. But perhaps no one was more surprised than the Mexican people, many of whom were insulted that their president would welcome a man who has repeatedly disparaged Mexicans on the campaign trail.
During Peña Nieto's speech on Wednesday afternoon, as he stood at a podium next to Trump, it became increasingly clear why he wanted to meet with the GOP nominee, despite the backlash he must have known would follow. Peña Nieto is terrified of a Trump presidency. The source of his fear isn't the promised border wall (let alone having to pick up the tab for it) nor the consistent slandering of Mexicans' character. Instead, he's terrified that Trump will destroy Mexico's economy. And there are two ways he easily could.
The first way, which is the most obvious one, is if Trump ended the North American Free Trade Agreement, known as NAFTA. Trump has blamed trade deals with foreign countries for job losses and low wages in the United States, and has vowed to end or renegotiate them if elected president. NAFTA, which opened trade between the United States, Canada, and Mexico in 1994, was the catalyst for future U.S. trade agreements around the world. Though economists have mixed views on the effects of NAFTA, it did provide American manufacturers with a cheap source of labor in the form of Mexico, while also creating a huge market for U.S. exports. Mexico bought about 16 percent of American exports last year, and Mexico is now the country's third-largest trading partner.
NAFTA has also made Mexico's economy heavily reliant on the United States, with millions of jobs in Mexico linked to the trade deal. If NAFTA were to be terminated, it could be devastating to Mexico, and this is one of Peña Nieto's biggest fears. That was clear on Wednesday as he emphasized all the ways that NAFTA has been good for both the United States and Mexico. "Our country buys more from the United States than Germany, Spain, France, Italy, Japan, and the U.K. together," he said Wednesday through a translator. "A lot of jobs in the manufacturing industry in the U.S. were not moved to other areas of the world precisely because, together, we have developed a manufacturing platform competitively in the North American continent ." Highlighting all the mutual benefits of NAFTA was likely one of the key messages Peña Nieto had for Trump during their private meeting in Mexico's presidential palace.
There's another, less obvious way that Trump could inflict serious damage on the Mexican economy. He could fulfill his promise to deport all the 11 million immigrants living illegally in the United States, a large number of whom are from Mexico. Immigrants—those working legally and illegally in the United States—send billions of dollars to relatives in Mexico each year. These remittances added up to $24.8 billion in 2015, surpassing oil exports as the largest source of foreign revenue for Mexico.
Trump has repeatedly threatened to deport all 11 million undocumented immigrants living in the United States if he becomes president. However, in a speech on Wednesday night in Arizona, he scaled back his previous calls to deport all of them, saying he would prioritize removing undocumented immigrants who have committed crimes and those who overstayed their visas. Still, that is about half of the undocumented population, according to estimates by The Washington Post.
Why should Trump care if Mexico's economy suffers? If for no other reason, the financial turmoil would surely send new waves of illegal immigration to the United States, and Trump has made it clear how much he would hate that.
---
Related Video