A Newly Minted MacArthur Genius on the Financially 'Invisible'
"I wanted to change the world. I didn't think I was going to do that by being a loan servicer."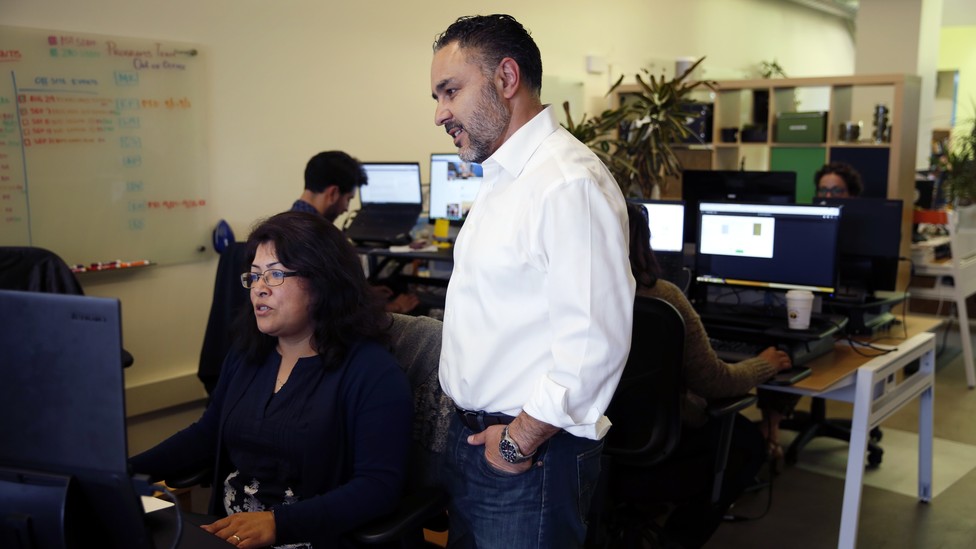 José Quiñonez has spent most of the past decade helping the financially invisible build credit and obtain loans. Last week, his commitment to helping low-income communities, which are so often excluded from the mainstream banking system, earned him $625,000 in the form of a MacArthur genius grant. He's one of 23 this year to win genius grants, which are given to people who have demonstrated unusual creativity, are highly accomplished in their field, and show they have significant potential.
Born in Mexico, Quiñonez came to the U.S. as a child after his mother died of cancer, having been unable to afford medical care; his father had passed away before that. Quiñonez is well acquainted with the hardships that can face poor, undocumented immigrants in this county. In 2007, he helped found the Mission Asset Fund, a San Francisco-based nonprofit that helps those without access to the financial system build credit and get zero-interest loans. Quiñonez has successfully expanded the organization and enlisted several nonprofit partners since its inception.
I spoke with Quiñonez about winning the award, how his childhood shaped his current path, and how the U.S. is progressing when it comes to serving underbanked populations. The interview below has been lightly edited for clarity.
---
Gillian White: First, congratulations! This is huge—how are you feeling?
José Quiñonez: I'm loving it. We should've been been talking about this issue years ago.
White: I heard that when you got the call about the award you thought it was a joke?
Quiñonez: [laughs] I did! The start of the call was odd. They wanted to verify my identity so they asked, "Are you José? Do you live here? Do you work there?" I thought it was a scam. It was one of those moments where time stretches. I know about the foundation, I know what they do, but I didn't know I was under consideration. Then they started reading why they selected me, why I was getting the reward, and that was very emotional.
White: It's a pretty big deal for someone who fights for the invisibility of a group of people to win such a prestigious, highly visible award. What does this do for the populations you serve?
Quiñonez: What I really want to do with this, what I'm hoping for, is that this will make people fundamentally question their assumptions of poor people—that poor people are lazy, or that it's really their fault, or they just don't know what they're doing so we need to teach them. These assumptions are deeply entrenched and lead to the policies we create, the programs we create. We need to recognize that those assumptions are wrong. We need to stop blaming the victim.
White: What do you think people should blame, if anything?
Quiñonez: There are a lot of products that are designed to keep people in debt traps. There are services designed to keep people in perpetual poverty. Once we look at these structural elements we can start resolving it. But we're not there.
White: I read your paper, "Making the Invisible Visible: A Strategy for Inclusion" where you talk about that. The first lines of that paper broke my heart. You wrote, "I was 20 years old when I realized that my mother had died because we were poor. She passed away when I was nine, too young to understand the complex and dangerous nature of life in poverty." Can you tell me about how your personal history put you on this path?
Quiñonez: The issue really for me is poverty and what that means and how people struggle to survive and thrive under the worst of situations. I share that part of the story because when I realized that my mom died because we were poor, I was able to hone in on that as the actual problem: Poverty is a human construct. It's something we've created. I use that as my inspiration and my drive to help people. I focused on financial empowerment and credit building as a tangible strategy to help people. I didn't go to school to become a credit builder. I wanted to change the world. I didn't think I was going to do that by being a loan servicer. But that's real. Without access to credit people's dreams go unfulfilled.
White: There's certainly been more attention on the issues of the unbanked and underbanked and dangerous products in the past few years, particularly given the Consumer Financial Protection Bureau's work and mandate. How do you think the country is doing when it comes to remedying that?
Quiñonez: I was involved with the CFPB council on this. We have this incredible new agency with authority and power to go after the bad actors in the marketplace. In the past we would just blame the consumers. But there's a lot of lenders, banks, credit unions putting out bad products. I'm glad that they did the enforcement action against Wells Fargo, for instance. What [CFPB's director] Rich Cordray and his team are doing is phenomenal.
But there's more work to be done on developing alternatives. They need to indicate what a good product is, what is the responsible product looks like. They have a financial-education department, but I think there's more that we need to do, more small-dollar loan products that banks don't want to do, more ways of getting people credit scores.
White: What would some of those solutions look like?
Quiñonez: Aside from immigration reform, which could give people a path to citizenship—I think that could be monumental—our financial institutions and banks have the ability to create products that are relevant for poor people instead of creating them for the rich and then dealing with the poor as an afterthought. We need to use our innovative power to do this. The CFPB needs to show us how to do that. A lot of banks are not going to do this without the explicit permission of the CFPB. They don't want to get in trouble.
White: A lot of the work you do is with immigrant communities, with undocumented immigrants. That group has been talked about a lot during this election cycle. How are you feeling about the upcoming election and its potential impact on your clients?
Quiñonez: There's this narrative that immigrants coming here are rapists or that they're being leeches on the country. I reject that with vigor. I know that's not true. These are families that want to give to society and help build this society. I've lived it—that's my family. I think in this particular election it will really come down to who we elect. I believe Hillary will become president and lead us into immigration reform and we can unleash human potential. I'm afraid if Trump gets elected that will scare millions of people into the shadows. It will devastate everyone, not just immigrants—our whole country. You can't have a society based on fear and intimidation. America's built on hope.
White: Can you tell me about one of your favorite clients or stories at the Mission Asset Fund?
Quiñonez: There's so many. We've worked with over 6,000 people over the years. About 30 percent of our clients start without a credit score or history. One client came in after a year of working with us and we were able to show her her new credit score. It was the first time she saw a number and at that moment she felt recognized by the system. It was such an emotional moment. We all got teary-eyed. We were handing her the key to unlock the doors to this magical place. It was extremely meaningful to her. We are talking about people's dreams here.
White: So you've won this awesome award. What happens now?
Quiñonez: Getting this award has given me jet fuel to keep moving forward. I'm so energetic about that. We will definitely continue building and expanding and improving lending circles. I want to keep talking about the lessons of our work—that way we can challenge the assumptions that we have of poor people. Challenging that and demonstrating an alternative set of assumptions, I think that will be my lifelong work. This isn't a one-time thing. This is a constant work of reframing a narrative.
White: It seems like you're still taking it all in.
Quiñonez: Recognition of this sort, of this magnitude, it really doesn't happen to people like me. It's a recognition of the ingenuity of people who have to struggle in life. There are a lot of geniuses.