Predictable Schedules Are the New $15 Minimum Wage
Following San Francisco's lead, Seattle and New York City have introduced initiatives to regularize workers' hours.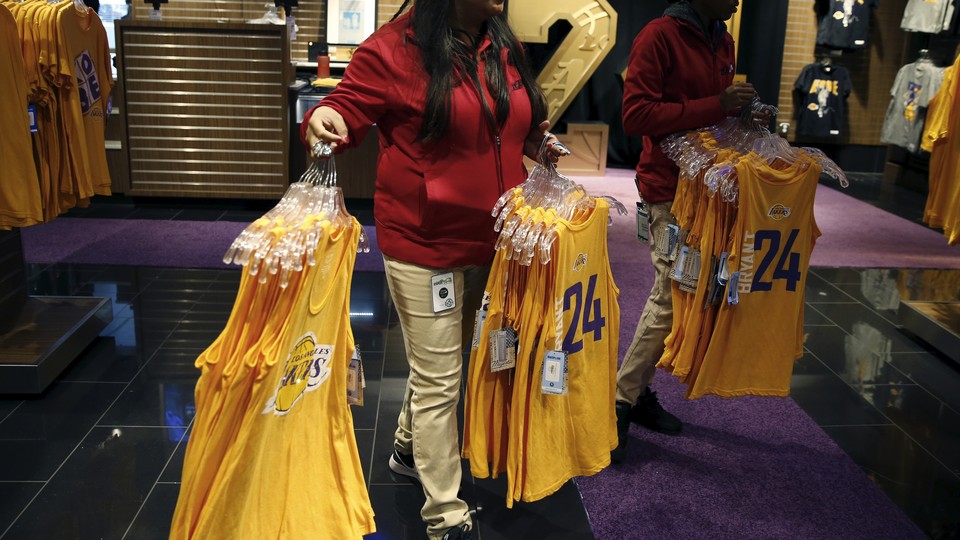 If it takes three examples to label something a fad, then San Francisco, Seattle, and New York City have collectively been some of American labor's most prolific trendsetters. In recent years, the three coastal cities were among the first and highest-profile polities to instate a $15 minimum wage, efforts that begot statewide regulations in California and New York and inspired legislation around the country. This urban triumvirate is also part of a handful of American cities to adopt paid-sick-leave policies in recent years.
This month, following San Francisco's lead, lawmakers in Seattle and New York City have set out to address another progressive cause: hourly workers' schedules. On Monday, Seattle's city council unanimously passed a proposal that will require employers to post the schedules of hourly employees at chain restaurants and large retailers no less than two weeks ahead of time. According to the city, Seattle's Secure Scheduling Proposal is meant to benefit workers who face "erratic schedules, unreliable incomes, involuntary part-time status, not enough time to rest between opening and closing shifts, and coercion from employers to take shifts." Employers, with some exceptions, will be required to compensate employees with "predictability pay" for last-minute schedule changes. The measure will go into effect next July.
The Seattle vote came just days after New York City officials announced its intentions for a similar plan, which focuses specifically on workers in the fast-food sector in what the city called a "natural next step" following the passage of a $15 minimum wage. Notably, New York's plan would apply only to fast-food workers. "In New York City, we know that most of our fast-food workers are not unionized," said Freddi Goldstein, a deputy press secretary for Mayor Bill de Blasio. "They don't have the support of unionized labor and collective bargaining behind them, which obviously helps a lot of our workers come to a better place in the workplace." She added that the city is studying and consulting with Seattle and San Francisco as it maps out the policy.
While wages and overtime have long driven advocates to gather at the barricades, the issue of erratic scheduling is a concern that has emerged relatively recently, enabled in large part by the rise of scheduling software. Tracking the plight of hourly workers in 2014, Jodi Kantor explained in The New York Times how algorithms allow employers to gauge how and when workers are needed:
Along with virtually every major retail and restaurant chain, Starbucks relies on software that choreographs workers in precise, intricate ballets, using sales patterns and other data to determine which of its 130,000 baristas are needed in its thousands of locations and exactly when. Big-box retailers or mall clothing chains are now capable of bringing in more hands in anticipation of a delivery truck pulling in or the weather changing, and sending workers home when real-time analyses show sales are slowing. Managers are often compensated based on the efficiency of their staffing.
For many workers, this software has also exacerbated the particulars of a long-standing system in the service industry whereby workers remain on-call (and unpaid) until they are needed, and scramble accordingly; technology has enabled major retailers to turn this practice into a science. (In recent months, several large companies have eliminated the practice.)
But like minimum-wage initiatives, the scheduling ordinances have vocal detractors. Opponents of San Francisco's measure, which was enacted in 2014, claim that the new policy has led to job cutbacks and reduced hours as well as less flexibility for the service-industry workforce. Ahead of Seattle's vote, retailers were particularly outspoken about their resistance to the scheduling bill. "In our opinion, the proposed Seattle ordinance would do nothing to improve upon our relationships with employees, and would impose administrative requirements that could make it more inefficient to run the business," wrote an executive from Costco, a company frequently praised for its progressive business practices. Among those also standing in opposition to the ordinance were Starbucks, Home Depot, JC Penney, and others.
The measure was also met with dissent from a group of over 1,000 Seattle-based workers at restaurants with sit-down service. "My decision to work in the Full Service restaurant industry is in part because of the freedom and flexibility it affords me to craft a schedule that suits my life," read a petition by the Full Service Workers Alliance of Seattle. It went on, "By removing this flexibility in the proposed legislation, your actions will negatively impact my life and income and create many serious problems you say you are trying to address." (New York's announced initiative, at least rhetorically, omits both retailers and full-service-restaurant workers from predictable-scheduling requirements, for the reason Goldstein described.)
The differences in the two cities' policies notwithstanding, there is a fear that the changes enacted during a period of relatively positive economic growth may be imperiled should growth taper off. Meanwhile, others maintain that more favorable conditions for low-wage workers will help stave off or mitigate whatever possible troubles the economy's schedule holds.