Kneeling for the Anthem but Not Bowing to Sponsors
The Denver Broncos linebacker Brandon Marshall has lost two deals and gained another for protesting during "The Star-Spangled Banner."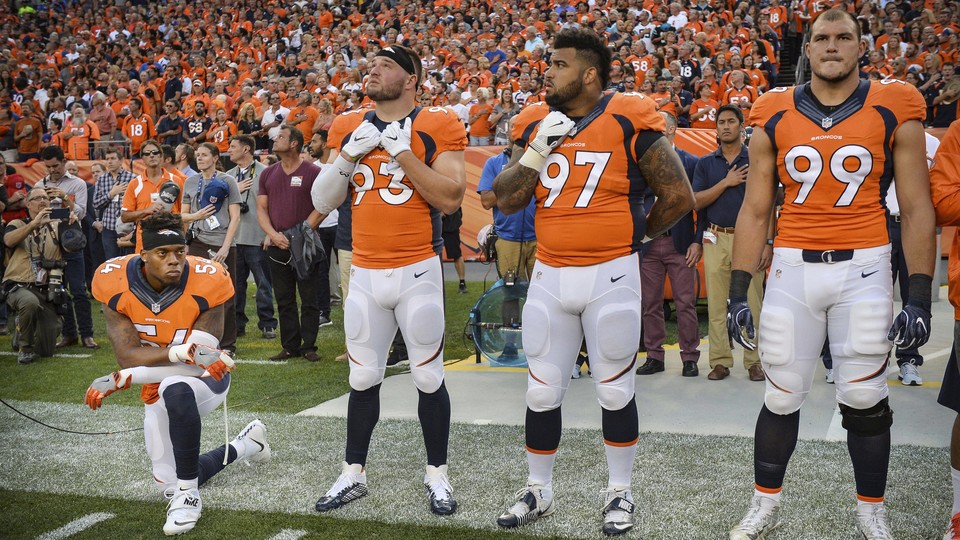 Earlier this week, Brandon Marshall, a starting linebacker for the defending Super Bowl champion Denver Broncos and who followed the lead of the 49ers back-up quarterback Colin Kaepernick by kneeling in protest during the national anthem, had his endorsement with CenturyLink, a cable and internet services company, rescinded. "We completely respect Brandon Marshall's personal decision and right to take an action to support something in which he strongly believes," a CenturyLink statement read. "America is anchored in the right of individuals to express their beliefs. While we acknowledge Brandon's right, we also believe that whatever issues we face, we also occasionally must stand together to show our allegiance to our common bond as a nation. In our view, the national anthem is one of those moments. For this reason, while we wish Brandon the best this season, we are politely terminating our agreement with him."
Not as polite was the Air Academy Federal Credit Union, which ended its relationship with Marshall last Friday morning a little more curtly ("his actions are not a representation of our organization or its members"), just hours after he decided to kneel during the pre-game festivities. "I'm still doing what I believe in," said Marshall following CenturyLink's decision. "It's not going to make me lose any sleep."
Coincidentally, CenturyLink also owns the naming rights to the stadium where the Seattle Seahawks play, a sponsorship that might have been complicated by other players' protests. The Seahawks were at one point rumored to be considering taking a collective knee before last Sunday's game, but lacking a team consensus and facing the emotionally-fraught 15th anniversary of the September 11th attacks, the team modulated its plans by linking arms during "The Star-Spangled Banner" instead. Meanwhile, rumblings that the entire Miami Dolphins team might participate in the protest raised questions about potential fan boycotts of the team as well as the loss of endorsements for high-profile players. (Ultimately, four Miami players kneeled during the anthem on Sunday.) These scenarios point to another component of the endorsement dynamic—advertisers are keeping their target audiences in mind, and what plays one way in Peoria might play differently in Miami or Seattle.
Corporate sponsors get in the game for the purposes of visibility, but, despite what they may desire, sports and its athletes simply aren't neutral. That means that sponsors might feel the need to cut ties when things cross a line. It's a fluid and subjective dynamic: An athlete can lose a $50,000 deal with Speedo for trashing a gas station in Brazil and lying about it, and still end up on Dancing With the Stars. State lawmakers may pass discriminatory legislation, as North Carolina did earlier this year, and governing college-athletics bodies may choose to move their tournaments elsewhere, as the NCAA and ACC did this week.
Even if politically charged or controversial behavior can damage athletes' appeal to some sponsors, it can also make them more attractive to others. On Thursday, Brandon Marshall gained a new endorser in Russell Simmons, the music mogul, activist, and burgeoning animal-rights advocate. "Rushcard is in," Simmons wrote in an Instagram post. "We will find Brandon, make him an offer and make him a deal." (Marshall, amid all this, has since met with police officials and pledged to donate $300 for every tackle he makes this season to unspecified groups addressing "critical social issues.")
Meanwhile, jerseys bearing the name of Colin Kaepernick, who launched this round of protests during the preseason and who still has endorsement deals with Beats by Dre and EA Sports, became the league's bestseller entering the season. (Last week, Kaepernick vowed that he will redirect money made from his jersey sales "back into the communities.") So, while his stand may be too extreme for some, many others are supporting him—players, with their affirmation of his protests, and consumers, with money of their own.