Fashion, Made in America
Emily Saunders, a New York-based designer, talks about why she works with local labor to produce her collections.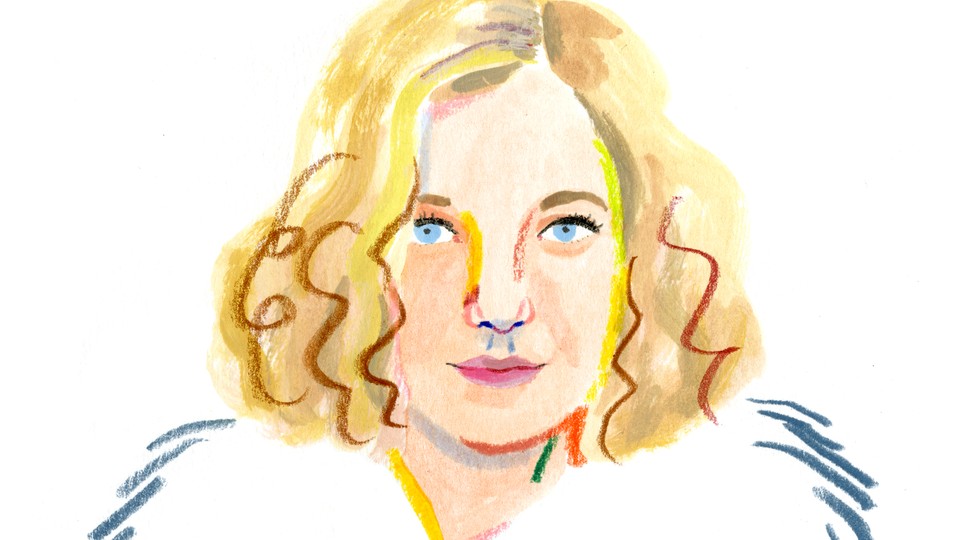 Thursday marked the end of one of the most essential events in the fashion industry for designers: New York Fashion Week (NYFW). Veteran designers like Marc Jacob were joined by newer ones like Kanye West in presenting their most recent collections at the nine-day event.
While the major annual fashion weeks in September and February are a chance for designers to showcase how they push the envelope—for example, this year the first NYFW collection to feature hijabs was presented—they also reignite discussions about how the clothing is manufactured. The industry's labor practices is a major concern of New York-based designer Emily Saunders. For The Atlantic's series of interviews with American workers, I spoke with Saunders about her brand, the process of preparing a collection, and why she manufactures all her clothes in New York. The interview that follows has been lightly edited for length and clarity.
---
Adrienne Green: What inspired you to go into fashion design?
Emily Saunders: Growing up, fashion design was always one of those professions that was on a short list of things see myself doing as an adult. When I was in college, I was really into theater, and I thought that a way to marry my interest in theater and clothing design would be to do costume design. I ended up doing a couple of internships in London that were costume-design based, one at the Globe Theatre and then the other one at the Royal Opera House. I kind of did a number of costuming jobs at my college as well.
I think after those experiences, I realized that what I actually really wanted to do was clothing design, rather than costume design. I ended up going to Parsons School of Design. I think that there was a certain amount of worry about whether this was the right thing to do, but as soon as I got into the program and started learning all of the basics—how to drape, pattern make—I knew that I was in the right place. From there it's been about just taking the next step forward.
Green: This week is New York Fashion Week, one of the busiest and most prominent for people who work in fashion. What is your schedule like?
Saunders: There are definitely a lot of different aspects to what I do, and the day-to-day definitely varies a lot on the time in the year. At SAUNDER we do two collections a year, a Fall/Winter and a Spring/Summer. There are times of extreme craziness and other times where it's a little bit quieter. I'm actually not doing a [fashion week] show this season, but if I were this time would be really crazy. I would be casting models or project-managing the actual show or just handling all of the different logistical things that go on with putting on a show for Fashion Week. The less hectic times are when I can really focus on designing a collection, going through the collections of different fabric dealers, and then making a new collection out of all those things.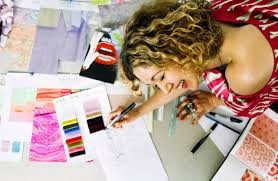 Green: What are your hours like?
Saunders: It can get extremely stressful, and you work really, really long hours. When it's less hectic, 9 to 5 is pretty standard, but when it gets more hectic, you are working from the crack of dawn to when you fall asleep over your laptop at 2 a.m. Because it's my business I have to put in all that extra time, but it's worth it.
Green: What does it take to go from the design idea in your head to putting it all the way together?
Saunders: It's actually a pretty cool process to see a sketch that you think will turn out well, all the way to the finished product. If I get an idea, I sketch it out, I'll take it to a pattern maker, and we'll figure out ways to make it the best-looking garment that it can be. She'll make an initial pattern, which will then be turned into muslin—a garment that is cut out and sewn into a garment using really cheap cotton material. We'll then fit it onto a fit model, and make any changes that we need to make. You do it out of cheap material because whatever needs to be changed, that's the time that you would be able to see it in a more abstract version of the real cloth. If it is a difficult change, then we'll go into a second muslin, but if not, we'll see the sample in the actual fabric. Then we'll do another fitting. That's the basic process.
Green: How long could that take from start to finish?
Saunders: Probably six weeks or less depending on how short or long your time schedule is. I try to leave a fair amount of time so that we can change things. Usually I'll start giving my pattern maker things two months in advance of when I really need them by, so that we have enough time to do everything with attention to detail and not have it be too rushed.
Green: How do you come up with the creative themes for your two shows a year?
Saunders: It's really whatever is on my mind or catching my interest at the time. Two seasons ago, I got really into learning about the Space Race, so I was doing a lot of personal research on what was going on at that time. The iconography of the Space Race was really interesting to me, so that fed into my collection. It was really just timing, because that was what I was fascinated by at that moment, and at the same time I needed to create a new collection. There was another collection a couple seasons ago that was inspired by Wolf Hall, because I had just seen the two plays in London, and then I went back and read the novels, and so into the history of Henry VIII, so that influenced that collection.
Saunders: As far as manufacturing goes, it's pretty clear-cut for me. I manufacture almost all of my clothes in New York in the garment district. I have very strong beliefs on the necessity of having a manufacturing process that is true to my personal beliefs and integrity. It's really important not to hurt anybody in the process of making clothes. I think society needs a bit of a wake up call when it comes to what the cost of making something is, and if something is made very cheaply it's made on the backs of poor labor practices. For me, having a product that is made with not just the consumer in mind, but the person who makes the clothing in mind as well is really important. While it is more expensive, I think I've definitely chosen to take a path that causes the least amount of harm. As a businessperson your profit margins are less than if you make something very cheaply at the cost of harming people.
It's very important that I have a product that I can be proud of, and that I know who made it, and that I can go and visit the factory, and feel like I'm supporting the people who are making the clothes, rather than not. I think that people are coming around to understanding the importance of slow manufacturing, even though there is a huge sector of the market that is fast-fashion focused.
Green: How have you seen the fashion industry change?
Saunders: I think that the retail environment has changed a lot. I think we're in a confusing time. Because of the emergence of e-commerce, now brick and mortar stores are becoming more careful in their purchasing patterns. Consumers' buying patterns have changed a lot in the past 10 years.
Then, there's also the debate of Fashion Week. There's half of the industry doing a "see now, buy now" structure, which is where you can immediately buy whatever is on offer on the runway. Then a lot of people are sticking to the old structure, which is, "See this. This is the season, what will be in stores in six months." It feels like a weird and uncertain time. Because of those things, I think that the fashion industry's a little bit in the dark as to what's next, or what's best to do.
Green: How do you deal with that at SAUNDER?
Saunders: We're still presenting a collection in that seasonal way, and then having it available for purchase six months down the line. We're doing things in a more traditional way; however, I think one thing that we're planning on doing is implementing a pre-ordering system. So, even if a consumer doesn't get the immediate satisfaction of having the product when they first see it, they can still purchase it and wait a little bit before they actually get the item. I think it's probably easier for a lot of the bigger companies who can make all that stock all at once, rather than someone like me who's a smaller designer who really needs orders in place in order to go into production and manufacture. We're still trying to navigate that.
Green: What are some of the most rewarding parts of your job?
Saunders: I think what motivates me is the fact that I get to be creative on a daily basis, or the fact that I get to do something that I really love, which is create clothing. Like I said before, whether it is a time period or whatever my creative impulse is for that season's collection, I get to really focus on that. I'm just kind of obsessed with textiles, so the fact that I get to be around textiles all day is really great. Being able to focus on that, and delve into that kind of creative influence, and then translate that into something that is tangible, and that I can share with people, and that I can make available for other people to share in if they choose to is really amazing. It is definitely a challenging job and challenging industry, but the fact that that's what I get to do on a day-to-day basis is really wonderful. I'm just kind of obsessed with textiles, so the fact that I get to be around textiles all day is really great.
Green: How is your work tied to your identity? How would you describe your personal style versus your aspirations for SAUNDER?
Saunders: I think that definitely SAUNDER and my identity are interwoven. I think that my personal style definitely reflects in the clothing that I create. When I started the collection I had to really think about what the identity of the brand would be. The brand is very caught up within my identity, and the story of the label is my story, so just having to kind of break down what my identity was in order to be able to explain what my brand is was a weird task for me. It forced me into a situation of really examining what was unique about me, and unique about my story, and how that was translated into the creation of my brand. There's definitely a lot that my identity influences my job, and I guess my job also influences my identity.
---
This interview is a part of a series about the lives and experiences of members of the American workforce, which includes conversations with a fabric cutter, a retail sales associate, and a personal stylist.