Preparing for the Majority-Minority Economy
Alejandra Castillo, the national director of the Minority Business Development Agency, talks about small-business ownership and the U.S.'s changing demographics.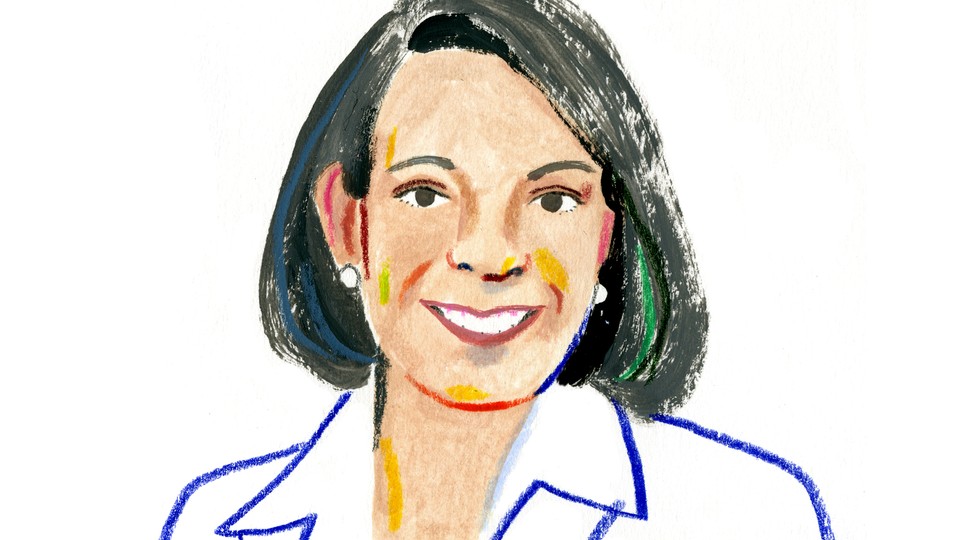 The American workforce is getting more diverse. By 2024, it's expected that the share of workers who are women will increase to 47.2 percent, up from 46.7 percent in 2014. The number of minority workers is projected to increase rapidly over the same time period, and Hispanics in particular will go on to make up one fifth of the labor force, according to estimates from the Bureau of Labor Statistics.
Meanwhile, business owners are also getting more diverse. In the aftermath of the financial crisis, business creation was sluggish: Between 2007 and 2012, the number of U.S. businesses grew only 2 percent. But in that same period, the number of minority-owned firms increased by 38 percent—driven largely by businesses owned by Hispanic women. Overall, the number of women-owned firms has grown by 68 percent since 2007, and the number of minority-women-owned firms in particular has seen a 265 percent increase since 1997.
Still, there's a lot to be done to make sure that minority workers and businesses prosper. Alejandra Castillo was appointed the national director of the Minority Business Development Agency (MBDA) at the U.S. Department of Commerce in 2014, and she is the first Hispanic woman to hold the position. Until her stint as national director ends in January, she's tasked with helping minority-owned businesses grow in size and scale and advocating for programs that could make them globally competitive. For The Atlantic's series of interviews with American workers, I spoke with Castillo about her job, how her father's small business in New York inspired her, and some of the distinct challenges minority business owners face. The interview that follows has been lightly edited for length and clarity.
---
Adrienne Green: You have a mixed professional background of policy, law, and public service. What inspired you to work with minority businesses?
Alejandra Castillo: I'm a New Yorker. My father was a small-business owner, specifically a grocery-store owner. I would go with him to the Bronx Terminal Market, where supermarkets, grocery-store owners, and restaurants buy their produce. At a very young age, I remember being puzzled by the economic activity. I majored in economics, but I was always very fascinated by cities and businesses. My parents came from the Dominican Republic, and so I was very attuned to the growing Hispanic community in New York.
One of the things that I recognized very early on when I arrived in Washington, D.C. [about 25 years ago] was that in many ways, lawyers have the first and last word: drafting legislation, implementing those policies, and then litigating them when there is a doubt. I also wanted to understand policy, so I went to the University of Texas at Austin School of Public Affairs, and then I worked at the White House under Clinton, in drug-control policy. Drugs are illegal, but they follow pretty much every business rule, like sales and marketing. This job was an invitation to bring full circle what I had witnessed with my father, who came to this country looking at the American dream not as a purchase of a home, but starting a business.
Green: What is an average day like for you?
Castillo: An average day can start as early as 3 a.m. It's hard to shut your brain off. I get the newspaper in digital form by 4:30 a.m., so I'll read the paper. Then I'll be in the office early, and it's a deluge of emails, but more importantly, it's also strategizing with the team: What are we doing? What are some of the initiatives that we want to put in place? I don't like events for the sake of events. I want to make sure that if we have an event, it's because there's an initiative that's anchored in policy and budget.
Lastly, I love partnerships and collaboration. Within the Commerce Department, there are 12 different agencies. It's been a goal of mine to make sure that MBDA is collaborating with most of those agencies. For example, we partner with the International Trade Administration, so that when we talk about exporting we are also emphasizing that minority firms are twice as likely to export because of linguistic and cultural ties.
Green: How many hours do you work a week?
Castillo: I've never even tried to count, because then I would have to face the idea of work-life balance, which is a very elusive concept for me. I believe I'm always working, because I'm always thinking about what can I do. I love what I do, and I don't see the divide.
When I go out to dinner with my nieces, they sometimes get upset at me because I always question them, "If you were the owner of this business, what would you do differently?" Again, even when I'm having dinner with my family, I'm always thinking about how a business can be better. I don't see it as a problem. If this was a much longer-term position, it would become a problem, but my quest right now is to maximize the time that I'm here.
Castillo: Yes, I still see the same issues that my father dealt with. When you're at the beginning stages of your business, you're learning how to be an entrepreneur. When you look at minority business owners, they go through the same challenges. How do we get to the first $10,000? How do we find the first five clients that are going to keep the business going? How do we identify those first employees? Those are classical challenges for small-business owners.
What I'm struggling with is not just looking at the startup issues, but how do we get minority businesses to the $1 million mark, and then that first $10 million, and then the $100 million? We don't have enough minority-owned companies of that size and scale. That's problematic because these are the companies that are creating jobs in communities that need them the most. As we talk about how the country is going to be majority-minority, we have to figure out, who are the employers of the future? The companies that are able to innovate and incorporate technology are the ones that are going to be able to survive the changing face of business today. We want to make sure that minority businesses are not relegated to 20th-century business sectors, but that they're actually at the forefront of the 21st-century economy.
Castillo: Yes. Some of the challenges can be, at times, traditional ones, such as access to capital. There are also challenges in terms of how we see businesses. At times, we see our businesses like, "It's my baby." I try to get minority businesses to understand that this is not a baby. This is not an extension of your body. This is an endeavor, and it has to be a for-profit endeavor. If somebody comes to you and says, "I want to buy your business," contemplate it. When you have a business, you have to always think about it as an effort to generate money and to generate wealth and to create jobs and to move forward. It's not something that you hold on to.
We have to help businesses talk about succession planning. There are many companies around the country where the founder may no longer want the business for a variety of reasons. That business may be prime to be acquired. You don't have to start a business, necessarily, from scratch. Sometimes because there's no succession plan, the founder may have thought that their children would want it, and they don't, and then equity of that business dies. We cannot afford to have this start-and-stop entrepreneurial vision.
Green: Your parents are immigrants, and you are the first Hispanic woman to lead the agency. How has that influenced your perspective about your job?
Castillo: The progress for women in entrepreneurship has been slow. However, we're seeing some really amazing outcomes. The fact that I can advocate on behalf of businesses as a woman is always a testament to the work that has been done by so many people before me. My goal is that I'm obviously not the last woman or Latina in this position. At times, when people say "the first," I cringe, because it could be confused as an achievement. I want to make sure that I continue to build on the amazing work that others have done to make sure that more women are in positions to represent.
The data tells us that minority women who own businesses are growing at a very fast rate. I want to reach out. I want to make sure that these minority-women-owned businesses have the right technical assistance. There tends to be at times a bit more of a drive, because I also know that many of these women can also be single heads of households. Their success is amazingly important. Is being a woman all that rules my decision-making? No. But there are elements that come in, in terms of how I lead, what type of a manager I am, and how I set the stage.
Castillo: At times, I'm still amazed that I have to make the argument on behalf of minority businesses. I'm challenged that I still have to convince people as to why it is so critically important to support minority-owned firms. I'm very clear; I'm not making an argument from an altruistic perspective. I'm making a business case. Especially as we see the changing demographics of our nation, it is challenging to me that I still have to articulate why minority businesses have to be in every policy conversation and every policy discussion.
I'm a big believer that the economic strength of our communities is critical. Sometimes we tend to forget that. The economic opportunities or the lack thereof—particularly with what we've seen recently in Ferguson, Baltimore, and Charlotte—are a portion of that equation that we're not addressing as much.
What's rewarding is when I see a company that has been able to secure a contract and hires two, or three, or four more people. That, to me, is two, or three, or four more families that are now having a chance to change their lives. There are tremendous things that are extremely rewarding, and they outweigh the challenges.
Green: How would you say your job is tied to your identity?
Castillo: I was the first one in my family to learn English, so I was a translator from a very early stage. The fact that my first language was Spanish and the fact that I understand the value of being a translator, I've taken that to so many levels.
I always say that you can take the girl out of New York, but you can't take New York out of the girl. Because I was the firstborn in this country, I've had a very unique role, and that's to be the bridge. That's also what I think my life here in D.C. has been: to bridge what Washington does and why it impacts the rest of the country, and what's happening on the ground. Some people tend to forget what government does. I travel this country extensively, and I hear what people are grappling with. By bringing that back to D.C. I'm able to formulate policies, programs, and initiatives that can be responsive to those needs.
---
This interview is a part of a series about the lives and experiences of members of the American workforce, which includes conversations with a parking garage owner, a CEO, and a human resources manager.