Inequality in American Public Parks
A civil-rights movement unfolds in Minneapolis, the city with the most-celebrated urban green spaces in the country.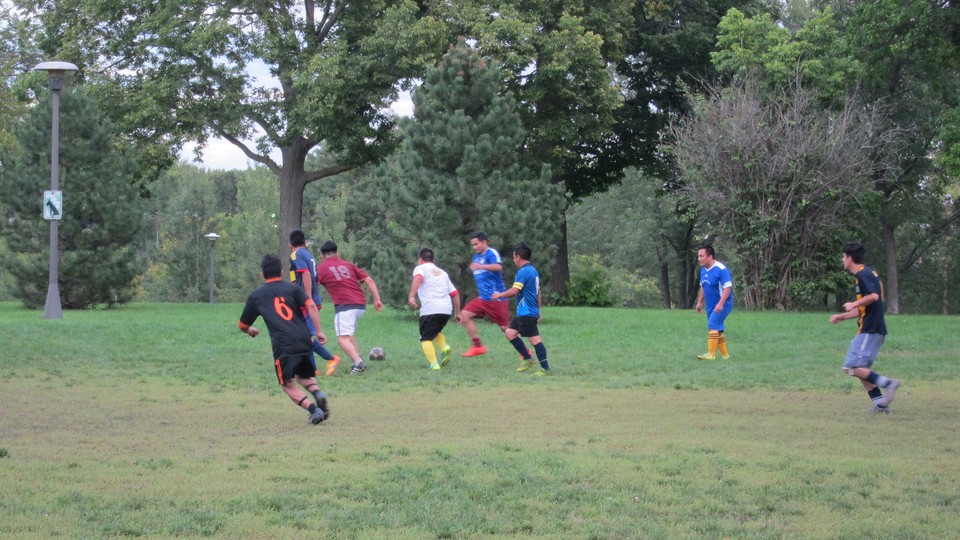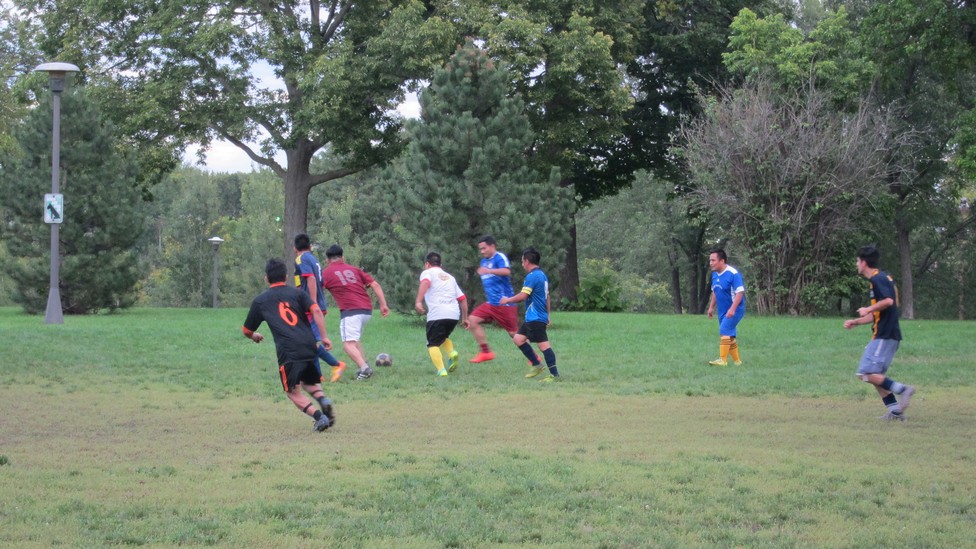 Updated on September 30, 2016
MINNEAPOLIS—Racial and economic inequalities are well documented in American housing, education, and criminal justice. But little attention has been paid to disparities in access to the country's public parks. In America, bike trails and baseball fields are luxurious perks of many affluent neighborhoods, boosting property values and creating a sense of community. Meanwhile, in many inner cities, public parks are magnets for crime and casualties of disinvestment.
With this in mind, it was probably only a matter of time for a civil-rights movement to brew in Minneapolis, which for three years in a row has snagged the title of best parks system in the US, as awarded by The Trust for Public Land, a nonprofit. It's an honor that the city is quite proud of, as most residents can find a well-groomed park within walking distance from their homes. But the city's serene lakes, smooth jogging trails, and manicured fields have become the backdrop for a bitter racial battle, with Minneapolitans of color saying that the parks system—access to it, spending on it, and staffing of it—is primarily geared toward the city's rich, white residents.
It would be hard to find a city where residents are more passionate about their public parks, or where the parks board wields more power. Unlike most cities, where parks are managed by a department within city hall that answers to the mayor, the Minneapolis Parks and Recreation Board is a semi-autonomous agency with nine elected commissioners and one superintendent.
During a recent visit to Minneapolis, I attended the parks board's bi-weekly meeting, which in any other city would likely have been a dull affair. I had been sitting there for hardly longer than 10 minutes when a group of young black men walked in, carrying signs that read "MPRB, Separate and Unequal" and "Hell No! To Jim Crow." They didn't say anything, but their presence was felt. The board was on edge after the last meeting, when police officers removed black protesters from the meeting for disorderly conduct, and issued citations to four of them.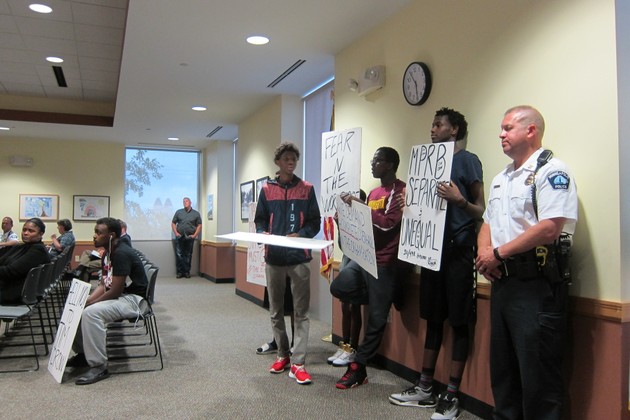 The protesters have many complaints. For one thing, there is the issue of staffing. The local chapter of the NAACP has been a vocal critic of the parks board, arguing that workers of color face discrimination in hiring, promotions, and on-the-job disciplinary actions. Jayne Miller, Minneapolis's parks superintendent, says she has listened to employee grievances and now trains staff in recognizing bias in the hiring process. She points out that the percentage of employees in the park system who are of color has risen to 25 percent, up from 21 percent when she started six years ago. However, the parks board was unable to say exactly how many held supervisory positions.
Then there's the issue of park funding. The neighborhood parks that get the least money for certain types of recreational spending, such as lessons, supplies, and maintenance, are disproportionately in north Minneapolis, according to data provided to me by the parks board. Some of the city's poorest communities are located there, with a large concentration of ethnic minorities. Four of the 12 neighborhood parks that received this stream of spending in north Minneapolis received less than $85,000 last year, and three got less than $25,000. Meanwhile, no neighborhood park listed in the city's affluent southwest area received less than $150,000. To be fair, three of the northern parks did get some of the largest chunks of money from the board last year, but the variation in funding in north Minneapolis is quite stark, while it is consistently generous in southwest Minneapolis. On the other hand, the parks board does disproportionately spend more money on youth development programs, such as mentoring, at neighborhood parks in north Minneapolis. There were ten parks that received this stream of spending in north Minneapolis, compared with two in southwest Minneapolis.*
At the board meeting I attended, the public-comment period became heated as some black residents chastised commissioners for doing too little to address racial inequality. Nekima Levy-Pounds, a civil-rights attorney and the president of the local NAACP chapter, had some stinging words for commissioners about their actions the previous meeting. "If we were white residents from Southwest, there is no way you would have the police come in and arrest us like trash," she said. Levy-Pounds told me she has been attending these meetings all summer, and scoffs at Minneapolis's claim to having the best parks system in the country. "It's the best parks system for white people," she said.
It's an issue that is starting to get national attention. This year, U.S. Secretary of the Interior Sally Jewell acknowledged that the country's national parks systems serve mostly older, white Americans, and that they need to reach America's younger, more diverse generations. Minneapolis is now poised to be the first city to seriously start addressing the issue, largely as a result of public pressure. It's no longer the homogenous city it once was: Now it's 66 percent white, compared to 87 percent in 1980, with a growing number of black, Native American, East African, Asian American, and Latino families settling in. The parks board is still all white.
I met with community organizers who have been pushing for racial equality in the parks system for years. Jake Virden, Emmanuel Ortiz, and Ashley Fairbanks met me at Peavey Field Park, an inner-city green space that they say has been historically neglected by the parks board. The large park looked well maintained, but hadn't been renovated in a while. "We grew up in these parks," says Fairbanks, who works for Voices for Racial Justice, a local nonprofit. "For people who didn't have money to go to camp in the summer, this is where we came." Among the parks' perks is that many provide children with free lunches in the summer.
Voices for Racial Justice and Hope Community, another nonprofit, are some of the groups that have pressured the parks board to prioritize spending money in places like Peavey, and they've had some success. This year, the parks board adopted new criteria to decide where to spend its money on infrastructure projects. Before, the board didn't determine which parks got what money for upgrades in any systematic way, Miller told me, though it tended to focus on modifying playgrounds and splash ponds to meet safety standards. That new ranking system placed Peavey Park near the top of the list for investment, which means that it will get millions of dollars in renovations it otherwise wouldn't. Miller says Minneapolis is the first city-park system to prioritize infrastructure spending in poor neighborhoods with large minority communities, in neighborhoods with large youth populations, and in neighborhoods where parks are in the worst condition.  "We are doing a lot to make sure we are investing equitably in our parks and we are engaging diverse communities in our parks," she says.
When Miller took the helm of the parks board in 2010, she says she became aware of perceptions that the parks system did not properly serve minority and disabled residents. She hired a Michigan-based consultant to assess the scope of the issue and come up with recommendations. And she created a community-outreach department in 2011 to engage underserved communities and get their input, such as what kinds of activities and sports fields they would like to see in their parks.
The effort is commendable, and has led to cultural-competency training for park staff, yet it's unclear how effective the initiative has been when it comes to outreach. I asked a group of Ecuadorian immigrants playing soccer in Powderhorn Park, in the southern part of the city, if they ever attended a public meeting about the park. After all, they've been playing there twice a week for more than five years. "No," said 31-year-old José Encalada, who didn't even know there was a parks board. "No one ever invited us or told us about anything."
The state of Minnesota wants Minneapolis and other cities to spend more money on advertising and outreach to communities like Encalada's. The Twin Cities area's most picturesque regional parks, such as the Chain of Lakes, attract millions of visitors each year, though only about 3 percent of them are people of color. The Metropolitan Council, a local agency of state-appointed regional planners, which funds many of these parks with state money, created focus groups and discovered that lack of awareness about the parks was the biggest factor in keeping minority groups away. As a result, the council has proposed requiring cities like Minneapolis to spend more of their state funds on drawing new visitors to regional parks, such as by buying advertising in local ethnic-media outlets.
That prompted backlash from the parks board. In an open letter to the Metropolitan Council, part of which was published this month in the Star Tribune, Miller wrote that spending $300,000 on flyers and marketing materials instead of park maintenance and construction "would be seriously questioned by our constituents." Miller told me she is not against spending money on reaching underserved communities. She just thinks that there needs to be more discussion about the best way to do that.
One discussion that few are having is whether having an independent parks board is the best way to serve Minneapolis's changing population. It has not managed to produce a board that truly represents the city it serves. Or maybe the parks board needs to redraw its six voting districts, to avoid diluting the power of minority voters. The parks board does not keep track of demographic data within its voting districts (which are separate from the districts used in other political elections), so it's hard to know whether minorities make up a majority voting bloc in any of them. Maybe it's time they should start paying attention to that. When a third of a city is made up of people of color, their governing institutions should reflect that.
---
* This article has been updated to reflect new information about recreational spending provided by the parks board.