A Radical Idea: Four City-Dwellers Share All Their Money
Four unrelated adults in a neighborhood of Washington, D.C., have taken the radical step of sharing not just their home and their car but all of their money as well.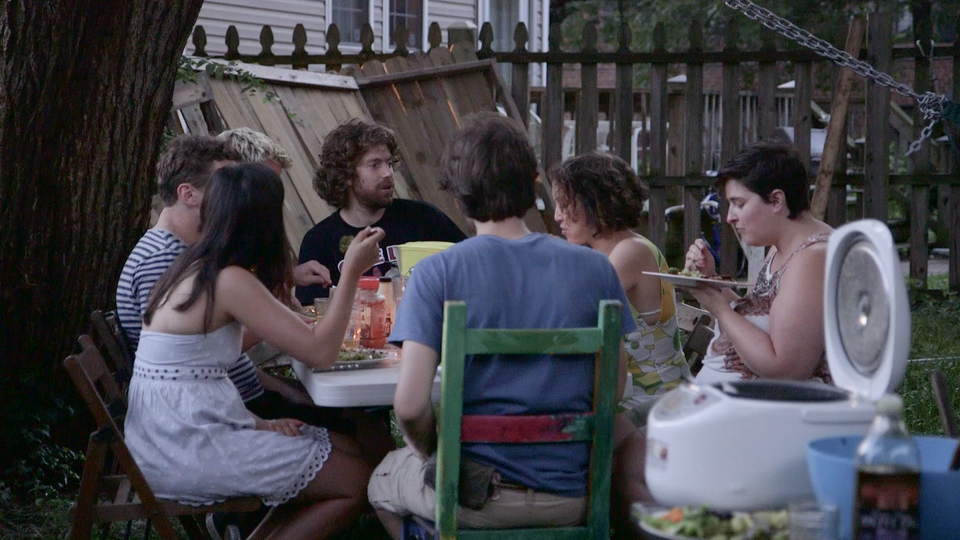 WASHINGTON, D.C.—This unassuming house on a quiet street in Northeast D.C. is cramped but welcoming. There are several bikes lined up on the porch, overflowing bookshelves, personal belongings in almost every corner, and a refrigerator that's packed to the hilt. When I visit, four people are in the living room chatting and joking with each other like friends who have known each other for years. But they haven't. The group has known each other for only a year or so, and they aren't merely friends—they are engaged in a bold and unusual experiment, sharing not just their home but all of their income too.
Their commune, which they recently named Compersia (a spin on the term "compersion," made up by a commune in the 1960s to represent the opposite of jealousy), is located in D.C.'s Ivy City neighborhood, a historic area sandwiched between the newly revamped Union Market, the old Mt. Olivet cemetery, and New York Avenue, a bustling thoroughfare. The Compersia house isn't the sprawling, country scene one might associate with communal living. It's just one of the many single-family homes on this block, and it's owned by a 38-year-old attorney named Jenny (who asked that we identify her only by her first name to protect her privacy). Her three kids—ages 8, 9, and, 13—live here too, along with the two other commune members, both of whom are 32 years old: Connor Scalzi, who works as a video editor, and GPaul Blundell, who holds down a series of odd jobs, including handyman, medical-test subject, and historical preservationist. Steve Watkins, also 32 years old, is an entrepreneur who spends most of his time here, working and hanging out. He too is a member of the income commune; there just isn't enough space for him to live here as well.
The commune officially started in March of this year. Members pooled some of their existing money to pay for home renovations and other expenses, but mostly kept the assets they had before joining separate. Since March though, they have agreed to put 100 percent of their earnings into a joint bank account, which is used for everything from mortgage payments to clothing to happy-hour drinks to braces for one of Jenny's kids. For purchases of more than $100, they consult with each other. For everything else, they use their own discretion.
They are saving for a bigger house but first want to refine their accounting system. They're also hashing out what happens if a member leaves. If it comes to that, they said, they'll try to provide that person with enough money to help them move and get started somewhere else. In the future, they want to be able to provide savings accounts and potentially retirement accounts for each member as well.
Compersia's founding was the end of a series of conversations that started during meetings organized by Point A, an group founded by Blundell in hopes of forming more urban communes.  Jenny and Blundell met at a conference at the Twin Oaks commune in Virginia, one of only seven communes in America to be recognized by the Federation of Egalitarian Communities. The duo got the word out that they were trying create a commune in D.C., figured out where they would live and how many members they could accommodate, and started building a community. The concept of income-pooling isn't unique, but attempting to build a commune in one of the most expensive cities in the nation and opting to share 100 percent of money earned is a fairly radical proposition.
Most communes within the U.S. are in rural locales, where the living is cheaper, there's plenty of room for expansion, and members have the opportunity to farm or raise animals, which can decrease costs significantly and help the commune bring in money as a group. But husbandry isn't possible at Compersia on any significant scale. So in addition to dividing up household chores, including some light gardening, members share the money they make in their jobs. The requirement of turning over any money earned to the commune was extreme enough that it alienated some would-be members, Scalzi tells me. "That was sort of a dividing line where, some people, when we decided we were going to do full income sharing, there were some people who were like, 'Ok, well, that community's not for me,'" he says.
Most research on income pooling focuses on its most common applications—between members of couples and families. And even when it comes to sharing money with family members, data shows that individuals' satisfaction with sharing incomes can change based on who is earning, who is spending, and how decisions are being made. Researchers attempt to dissect these complexities by splitting the work into two areas of study: the sociological side, which investigates the personal impact of income pooling on household members, and the economic side, which investigates the economic choices a household that is sharing its income makes. Studies have found that in households that pool incomes completely, consumption is spread more evenly between partners: For example, a spouse who brings in only 40 percent of the income might be responsible for half of household spending. Among couples who share expenses, but don't fully pool resources, consumption and spending are more heavily dependent upon how much each individual makes. More recent research suggests that as instances of cohabitation without marriage rise, income pooling may well be on the decline, with more and more couples opting to combine funds only for shared expenses while maintaining individual accounts for everything else.
The idea of sharing all of one's money can be a difficult prospect, even for those with intimate ties. So how then, does this arrangement work among a group of people who hardly know each other? Compersia's members insist that navigating the emotions and cultural expectations surrounding money is much more difficult than actually handling the communes' finances. Jenny brings in significantly more money than the other commune members. She says that some have been critical of the arrangement—the suggestion being that the guys are basically freeloading off of her. She doesn't see it that way at all: "My needs are much greater than theirs," she tells me. "There have been times when I don't want to ride my bike home in the rain and I've taken a taxi. I struggle with feeling like I shouldn't, because it costs money and I had this fear of judgment. But I've realized it's an issue of trust."
Salzi notes that while he worries less about tallying up his finances, he's replaced that concern with different ones. "I find myself thinking more about labor and sometimes I think I've transferred some of that financial anxiety," he says. "Part of what we're trying to do is say that, 'Your work is as important in my work, even if they're doing things that society values very differently.'" The prioritizing of different values is yet another part of why Jenny isn't concerned with the fact that she earns significantly more. She was drawn to the commune lifestyle because it would give her and her kids a sense of family after her divorce. That's a hard thing to put a price on. And the desire to focus on things that can't easily be commoditized is a driving force of the commune.
The members believe that this type of egalitarian community has the ability to change the way people think about America's traditional ideas about living—either as a single person or as a nuclear family. It's not like that in many other countries where sharing—homes, food, and money—is part of the cultural norm. In a recent essay in The Atlantic, the novelist Dinaw Mengestu wrote, "In Ethiopia, one of the organizing principles of civil society is the formation of loose social networks among friends and family to help bear the particular costs that come with life: death, marriage, the purchase of a home, car."
Jenny and her housemates want to bring some of that sentiment to the U.S., especially to America's cities, which often breed staggering levels of inequality, isolation, and poverty. "There's a lot of people here who make way too much money and a lot of people here who are struggling. By sharing our resources, we can have a range of economic circumstances living together," Jenny says. Watkins says it's important that Compersia exist in a city, so that its members can participate in the political conversations that could help bring about wider change. Communities where residents are all able to contribute in accordance with their abilities, they hope, could be the start of that.
Compersia is a clever attempt at combating the effects of inequality, but knowledge of communes like it and Twin Oaks tends not to make it to those who suffer the most from poverty. "The intentional-communities movement is largely white and middle-class. Not exclusively, but largely," Blundell admits. At Compersia, at least, the members are not those who have been most harmed by high unemployment rates, escalating rents, or economic discrimination. And that's not the way they'd like it to be. "We ultimately want to have a community that reflects the larger community that we're in," Jenny says. The group is trying to be proactive about seeking out diversity when they go to conferences and expanding their pool of potential applicants. So far, they came close to bringing in a black woman, who couldn't join immediately because she accepted a Fulbright grant for a year.
There's much work to be done when it comes to diversifying the demographics that make up these types of communities. Watkins says that being aware of the trappings of privilege and how that can make some characteristics of commune life—such as crowded or dirty spaces—feel unappealing to those who grew up in less privileged situations and want nothing more than a different life.
The members of Compersia want to promote egalitarian ideals and show people that there's the possibility of living differently without going off the grid. That's one of the reasons they've opted to live in D.C., rather than going to a city that's struggling. They want to prove that this specific type of alternative lifestyle can work in an expensive, thriving city. There's no guarantee that it will work. They want to grow their membership from four to between 10 and 30 commune members, and move to a much larger and more accommodating space. Those goals will take time, plenty of money, and an ability to find more members who are onboard with their ideals. That's a tall order, but they say that right now, during this period when so many Americans feel fed up with the status quo, is precisely the time to affect change.